by Texas Homesteader ~
It's no secret I have an environmental bend. But many people think that 'going green' is complicated or requires special equipment. Here's the good news – you don't need special equipment or to do anything complicated to be Eco-friendly.
I thought it would be fun to rattle off things that are a typical day that just flow with my regular chores. No extra effort needed, no special equipment.
On this day we have a few errands to run and I need to make yogurt for breakfasts & a supply of boiled eggs for RancherMan's snacking. Let's see how smoothly this environmental thing can be done without much thought at all!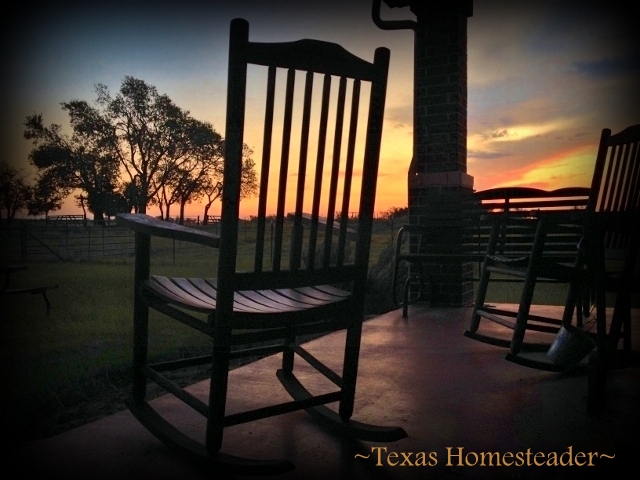 Now I'm not casting stones here, back in 'the day' I'd buy those highly-marketed convenience items with nary a thought. But I've come a long way in my environmental-awareness maturity over the years. And maybe there's someone else out there that had never thought about how easy it really is in their regular ole day-to-day.
Combining Errands
Although it was time for me to make yogurt, we were out of milk. Seems like the perfect time to run to the store. But instead of hopping in the car & going to the store, we combined all our errands into one big loop.
First off to the hardware store to pick up supplies for another water barrel project. Then we needed to stop by the thrift store to drop off a few things in our continuing effort to Declutter And Keep It That Way. And finally to the grocery store to pick up the few items I needed. By combining errands we saved both gas as well as time away from our Homestead.
No Single-Use Plastic Bags When Shopping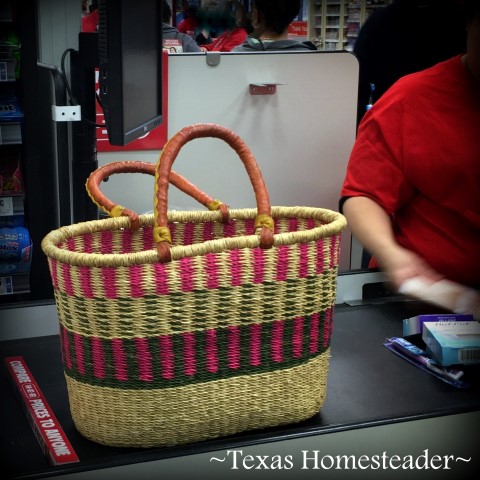 When shopping I refuse plastic shopping bags. I love to use my handmade Wicker Basket When Shopping. I'm able to carry my planned purchases around the store with me & take them up to the counter in this basket.
Once I'm at the register I unload the basket and request the clerk reload as they scan each item. They love that it stands wide open to easily pack away those items. I always get many compliments on it.
And best of all? No disposable plastic shopping bags. Eco Score!
Making Homemade Yogurt
Now that we're back home it's time to make the yogurt, I typically make a half-gallon of yogurt at a time.
But wait a minute Tammy, isn't making yogurt complicated?
I dunno, you tell me: Heat milk to 185 degrees Fahrenheit; chill to 110 degrees Fahrenheit, stir in yogurt culture (available at any grocery store); pour into 1/2-pint glass jelly jars, incubate in warmed oven for 4-5 hours. DONE! Yep, making yogurt really IS just that easy!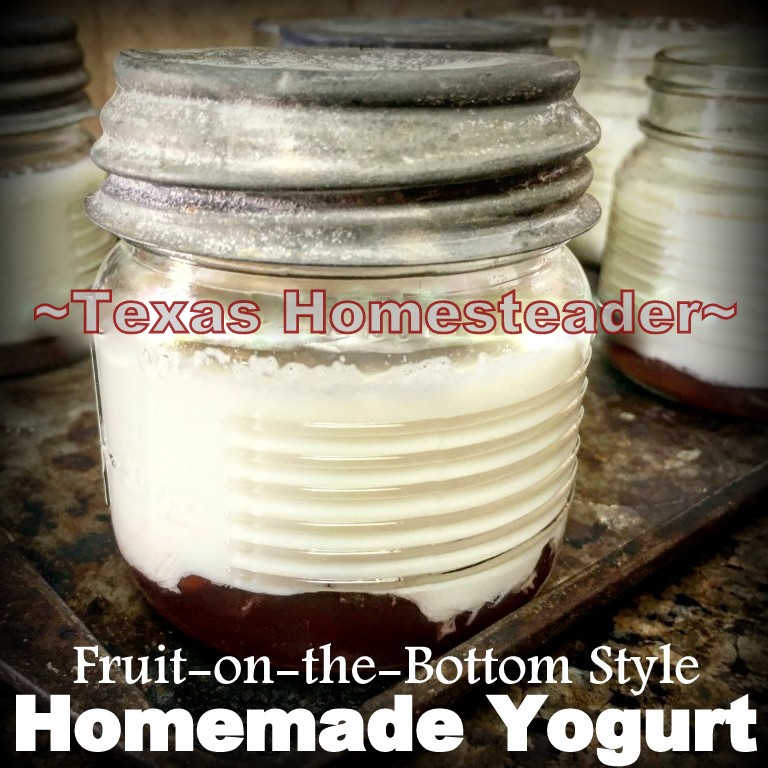 (You can find my homemade Yogurt Recipe Here) Since I'm making it in repurposed 1/2-pint jelly jars I still get single-serve convenience without all the trash of plastic yogurt tubs. Chalk up another Eco score.
But before starting to make my yogurt I poured that milk into my lidded pan and sat it out in that hot Texas sun for about 15 minutes to get it closer to room temp. During that time I put away groceries from our shopping trip & gathered my supplies for making yogurt. That stint outside took the chill off the milk for me, sped up the time it took to heat the milk to 185 degrees and of course used less propane too. Eco score coupled with time-saving score!
Frozen Water Bottles To Chill My Water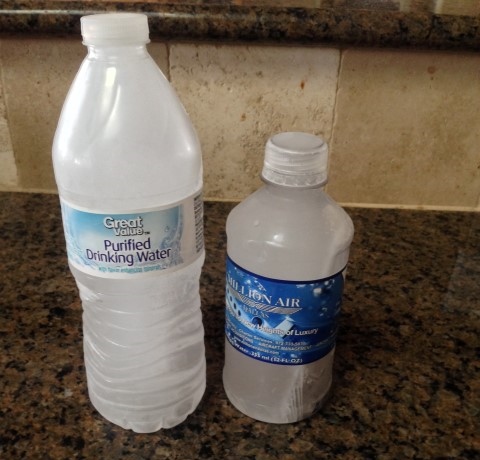 After the milk was heated it was time to cool it before adding my yogurt starter. I have a large bowl that I've already filled with water. I dropped in 2 frozen water bottles (saved for me by family members), gave a little stir & gently lowered the pan of hot milk into the water. These bottles chilled the water, which then cooled my pan of milk.
That way I'm not having to use that precious ice that RancherMan & I need to stay cool during these dog days of summer. When the milk was cooled, a quick rinse of the bottles & they go back into the freezer for next time.
Boiling Water to Kill Grass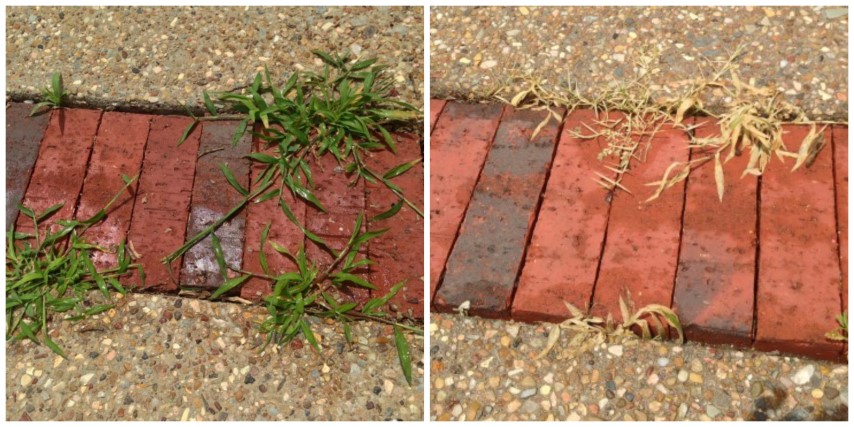 Next on the chore list is to boil up some eggs. I've learned to bring the water to a boil, then lower the chilled eggs into the water. The pan is then covered & I bring the water back to a boil for 3 minutes. Finally I turn off heat (conserving propane) and set timer for 10 minutes. The eggs finish cooking in that water that's already been heated up, no additional fuel needed!
(Save propane? Check!)
After that time, with a large slotted spoon I move the hot boiled eggs to the same bowl/frozen water system I use for chilling my yogurt. While the eggs are cooling I take the pan of near-boiling water out front & pour it on the cracks between the bricks on our sidewalk. Bye-bye weeds! No need to pour that water down the drain when it can serve yet another purpose!
Chilled Water to Water Potted Plants
When my yogurt is incubating and my boiled eggs are in the fridge I began straightening up the kitchen. The small amount of now-room-temp water from cooling the yogurt and eggs was carried to the front porch to water the planters there.
How 'bout that – even the cooling water wasn't wasted!
Sun Tea Brewed On Picnic Table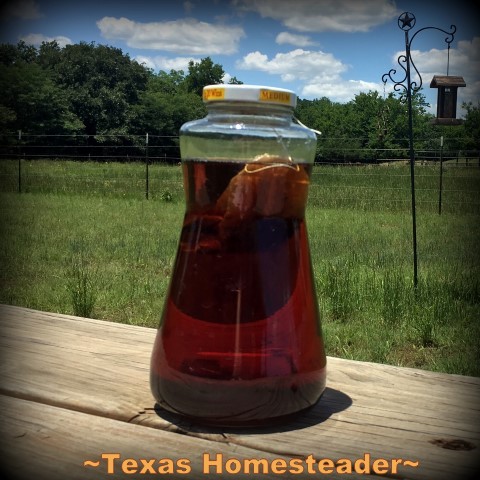 I also have a repurposed picante jar filled with filtered water and a tea bag on our picnic table. That's how I brew sun tea for RancherMan! No fuel is needed to brew the tea, that Texas sun is plenty hot enough #thankyouverymuch.
And tea is a much more eco-friendly choice than other beverages sold in plastic or even glass bottles. Remember, recycling is good, but PRE-cycling is even better!
After my tea is brewed the used tea bag is tossed in my compost to make more of that black gold compost for my veggie garden! No trash produced for this delightfully cold summer drink. And it costs only pennies too.
Large Plastic Pkg for Waste Basket Liner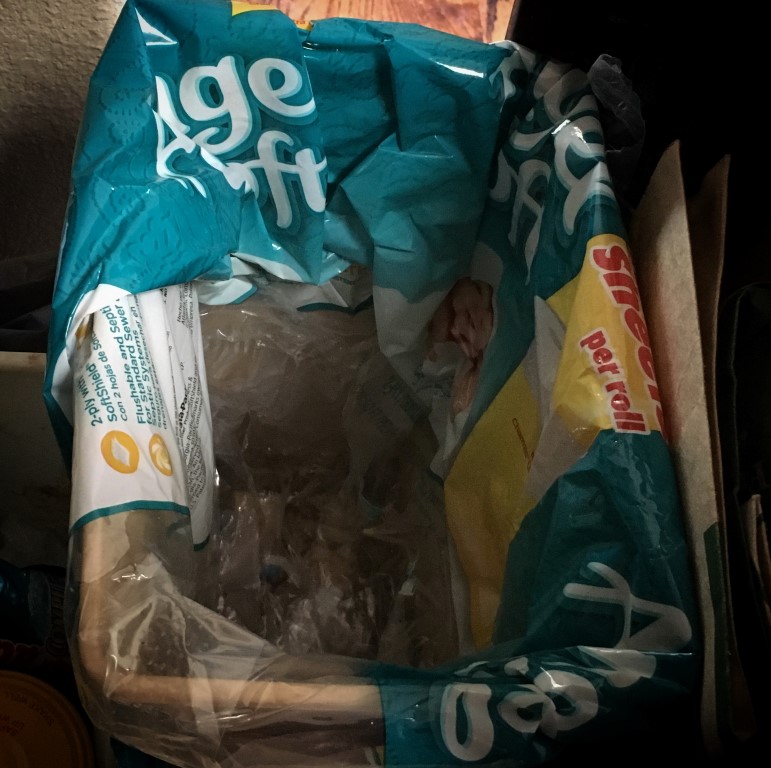 Our household trashcan is tiny, the size of a bathroom waste basket. With a desire to reduce plastic, we buy the jumbo family size bathroom tissue. It's still encased in plastic but at least it's less than buying the same quantity in 4-roll packs that are wrapped in plastic. Plus these bags are big enough for us to put to another use.
The package is carefully opened & when it's empty I use that packaging as a trash bag. No new plastic is purchased by us just to hold trash. An eco-friendly as well as budget friendly option!
So Many More…
So in these few tasks alone I've made eco-friendly choices in the natural rhythm of my day. There were of course many more that are just part of our lives now. Writing about each one of them would make this post way longer than it already is. But add that this morning after I brushed my teeth I used my own Homemade Minty Mouthwash. Then I got dressed in my cute thrifted garb – nice jeans and a cheery top. We ran those errands in a car that we specifically bought because of its great gas mileage.
When we got home we enjoyed several eco-friendly things about our house. For instance we keep our AC set on the highest temperature where we can remain comfortable, utilize the passive-solar design of our home for lighting instead of turning on lights. And the lights that are turned on are energy efficient LED's.

Then we enjoyed a homemade meal. It was easy since I pulled out pork roast from my previous Cook-Once, Eat-Twice cooking session. Just pull meat from freezer, add a couple of sides, pour some of that delicious sun-brewed iced tea and DONE. Homemade, delicious, inexpensive and FAST. Plus I pulled out more than we would eat tonight so I can bibbidi–bobbidi–BOO turn that leftover roast today into Carnitas Tacos tomorrow So supper tomorrow night will be on the table fast too. Planned leftovers, baby!
Now You Share Too
My point is this: Once you start down the Eco-friendly path, it's beyond easy to incorporate it right into your life seamlessly. It doesn't take thought for us anymore. It's just our natural rhythm.
These are a few things I did today, but I'm sure there are lots of things I haven't even thought about. We can all learn from each other, what did YOU do today to give good Ole Mother Earth a big wet kiss right on the mouth??!
~TxH~
This post categorized in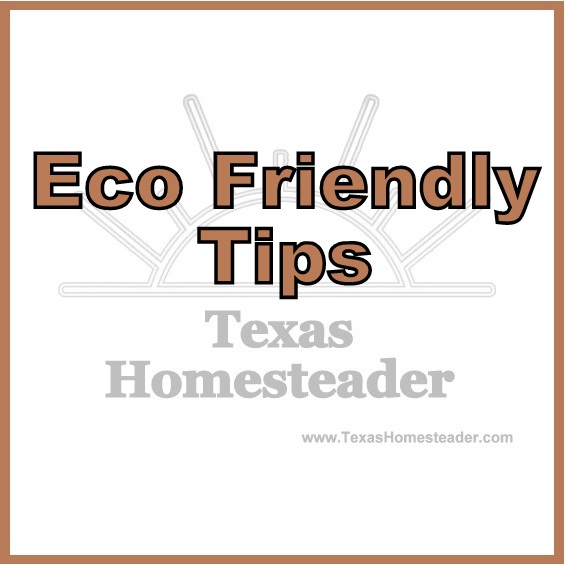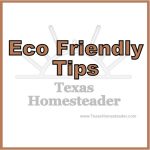 Links In This Post
Carnitas Tacos From Leftover Roast
Other Great Posts About Reducing Plastic
Reducing Household Waste
…and Many More Repurposing Posts


C'mon by & sit a spell! Come hang out at our Facebook Page. It's like sitting in a front porch rocker with a glass of cold iced tea – lots of good folks sharing! You can also follow along on Pinterest, Twitter or Instagram.
If you'd like to receive an email each time a new blog post goes live it's EASY to Subscribe to our blog!
Save
Save