by Texas Homesteader ~
Usually by August the vegetable garden is burned up & gone. I'm typically all too happy to let it go instead of fighting and still losing the fight. But although it's been hot & dry here in NE Texas, between me breaking my "no potable water on the ground" rule because of the cistern mishap this year (our hose split & emptied all the irrigation rainwater from our 18′ deep cistern), plus the fact that there have been just enough sporadic short showers to keep everything limping by, I'm still harvesting heavily every day.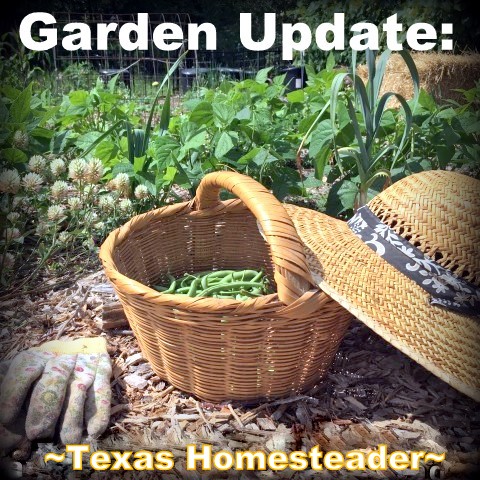 Wood Mulch For Functionality and Conservation
Remember my actual garden-area layout was completely changed this year in an attempt to (finally) win the war so valiantly fought and lost each & every year – the battle against Bermuda grass but it took lots of wood-chip mulch. LOTS. The good news? It was absolutely free and it kept this precious material from just going to the landfill.
Did I get a tree-trimming company to come dump chips in my yard? No.
Did a long-lost uncle who was a mulch magnate die & leave me his mulchy riches? No

.

Did the mulch fairy pay me a visit? I wish!
But I was surprised to discover this pot of gold offered by my county – maybe yours too? In any event it's enabled me to spend much more time in the garden doing gardeny things and less time on my hands & knees pulling grass and weeds. SUCCESS!
Goin' Good In August!
The garden itself is still growing great. I'm ready to harvest several heirloom pumpkins, spaghetti squash and watermelon. I'm harvesting summer squash, zucchini, cucumbers and tomatoes every day. Although the single cucumber vine in the garden is cranking out cucumbers, it's not enough to fire up the canner for. So I've been making refrigerator pickles one quart at a time. RancherMan likes sweet pickles, but I don't care for the syrupy sweetness they typically have. My sweet pickle recipe balances our tastes – crispy & sweet enough for him without being TOO sweet for me. PERFECT!
And I've never seen my cantaloupe this huge, and they're volunteers that sprung up & I allowed them to stay so they'd act as a living mulch for the rest of the garden. (and yes, I've saved seeds from the largest one to replant next year!) This year these volunteer cantaloupe have been the real workhorses in the garden!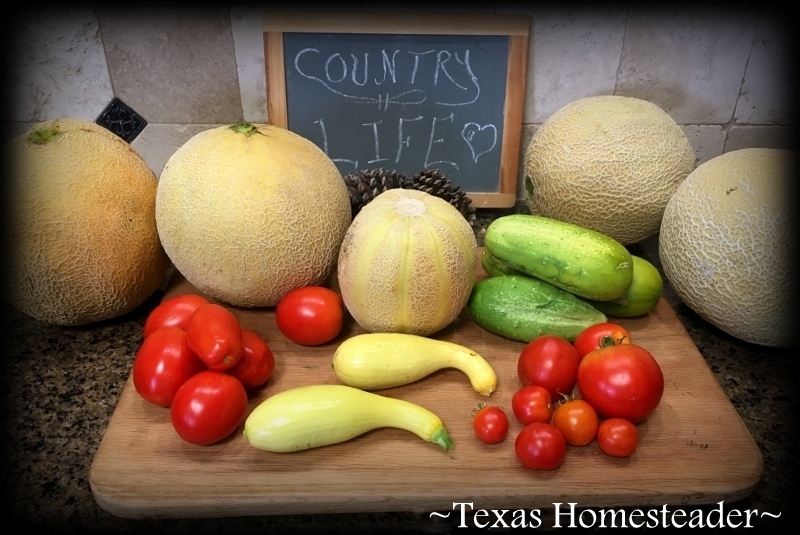 Puzzling Die-Off?
But it's not all rosy sunshine in the garden. Sometimes when I go out to water I see a plant with the leaves hugging the stems just overnight while the others around it seem just fine. I noticed one of the bell pepper plants in the line of planted bell peppers was doing this and there was just no saving it. Then another not far from it a week or so later. Then a jalapeno plant on the other side of the garden. Then this jalapeno plant somewhere in between the two areas. Several of my tomato plants suffered the same odd die-off at the first of the season. Although I can see nothing amiss I wonder if perhaps I have an underground burrowing critter causing this trouble? It's puzzling!
And I'm trying to keep all my plants watered and so far the rogue shower (rare for July around here) has helped, but you know how quickly the container gardens and potted plants dry out! I've been given a Malabar Spinach plant by a sweet friend and I've been able to keep it happily watered despite its confined quarters using this easy Homestead Hack. You know my battle cry: "Use Whatcha Got!" This has worked out so well for this vigorously-growing plant.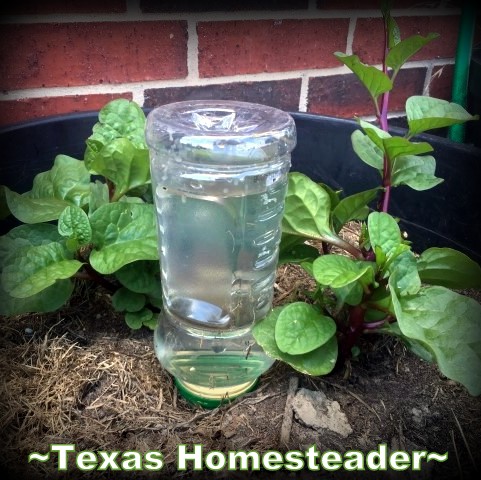 Harvesting Every Day
All in all I'm extremely pleased with the production of our veggie garden this year. Recently our youngest daughter kept (and thoroughly spoiled) our Mini-Schnauzer Bailey for several days while we were away. What a great kid she is… So how's a country girl to repay that?? From the garden of course! I took her a basket of goodies such as fresh tomatoes, yellow squash, bell peppers, cucumbers, cantaloupe, spaghetti squash and added a dozen fresh eggs from our hens!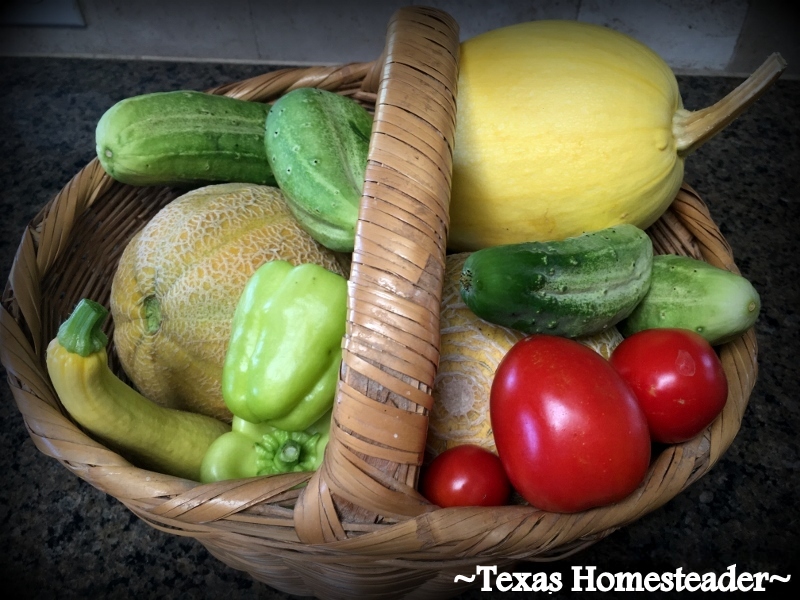 So there ya go – our garden has surprised us this year in a good way. Is your veggie garden still producing this later into summer?
~TxH~
C'mon by & sit a spell! Come hang out at our Facebook Page. It's like sitting in a front porch rocker with a glass of cold iced tea – lots of good folks sharing! You can also follow along on Pinterest, Twitter or Instagram.
If you'd like to receive an email each time a new blog post goes live it's EASY to

Subscribe to our blog!
Save
Save
Save