by Texas Homesteader
*this post contains affiliate link
Last year we dipped our toe into the raising-chickens waters. We bought day-old chicks and raised them until fall when we sold them (we didn't want to attempt to overwinter last year) Oh how much fun they were to raise! We free-ranged them and they made quite a dent in the grasshopper population and an incredible impact on the fly reduction on our cows in the barn pens.
Oh yeah, and they gave us FRESH EGGS! We knew that as spring drew closer we'd consider again if we wanted to raise chickens. The verdict is in: Um, YES PLEASE!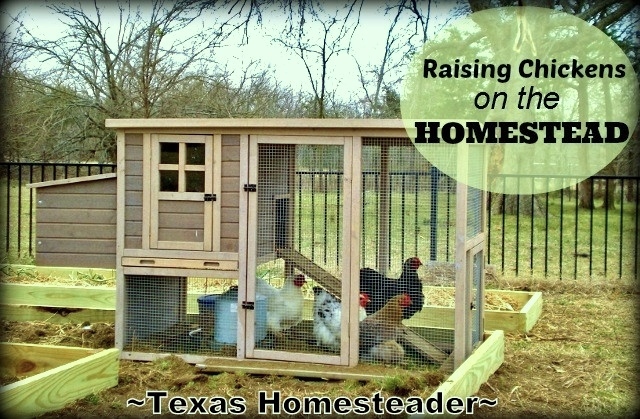 Last year I learned to preserve the egg-production overage and even though we sold the hens last fall we're just now running out of frozen eggs. So the timing couldn't be more perfect. This year we decided we'd buy four, but we'd buy them as hens instead of chicks. A sweet friend offered to sell us four of her young hens that she hatched out of her incubator last June. She told me that she hatched out various breeds including Australorps, Buff Orpingtons, Delawares, and Bantams.

When we got the hens back to the ranch we initially set them up in the chicken tractor and placed it in the new veggie raised-beds RancherMan built. The chickens are really enjoying the green rye grass that's sprouted in the garden. RancherMan & I simply move the *chicken tractor
at least once each day to fresh ground.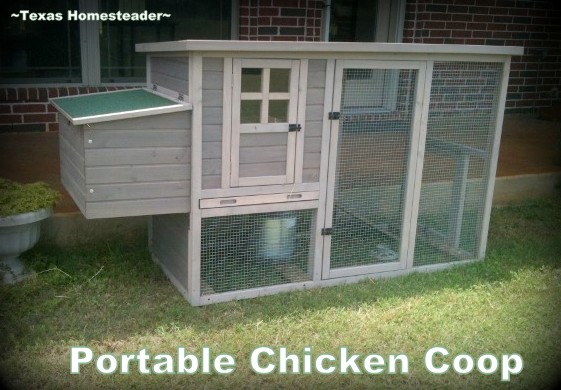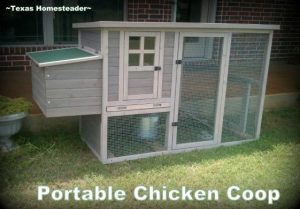 They'll only be confined to the chicken tractor while they do their job in the garden. In a few days we'll move them to the chicken coop in the barn and they'll go to free-range status. Come see how we Train our Free-Range Chickens to come back to the barn to roost each night.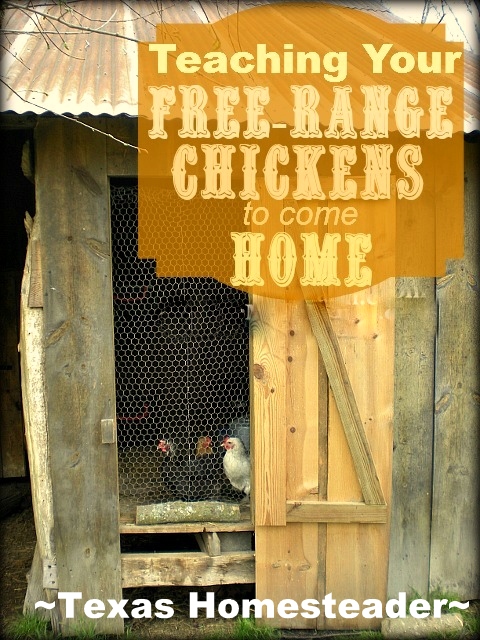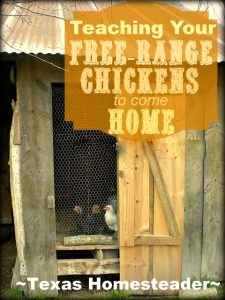 I loved raising chickens last year and it looks like this year is going to be a blast as well. Now c'mon veteran chicken raisers, help a girl out with some proper identifications!
~TxH~
Chicken-Care Posts


C'mon by & sit a spell! Come hang out at our Facebook Page. It's like sitting in a front porch rocker with a glass of cold iced tea – lots of good folks sharing! You can also follow along on Pinterest, Twitter or Instagram.
If you'd like to receive an email each time a new blog post goes live it's EASY to
Subscribe to our blog!
* A word about our Affiliate Link – We are currently enrolled as an Amazon Affiliate. Occasionally I will insert an affiliate link into one of my posts if I think it may be of interest to you and both of the items linked in this post really help me in my canning endeavors! I receive nothing from the manufacturer, but I love my Tattler lids & thought you might too. If you click on any of my affiliate links and buy something (almost anything, not just what was linked) I get a small referral percentage from Amazon. But here's the really important part – the price you pay for your items is UNCHANGED.
When you buy something through the affiliate link it's a great way to support this blog without anything coming out of your pocket so please click often!