by Texas Homesteader ~
*contains affiliate link
Last year's pumpkin harvest was truly out-o-control!  I harvested so many pumpkins!  I shared several of them with family & friends but still ended up with mountains of my own.  I love to use these heirloom pumpkins for puree in my Pumpkin Granola so I cooked 'em up & pureed them.  They were measured out into 2-cup measurements and frozen for future use.
But RancherMan was the wild-hog-hunting KING and our freezer was filled to capacity with wild pork.  But I still had two remaining pumpkins…  They had some staying power, still looking as fresh as the day I harvested them.  But I really needed to do something with them before they started to deteriorate.  But with no freezer room, what will I do? I decided to Dehydrate the Pumpkins.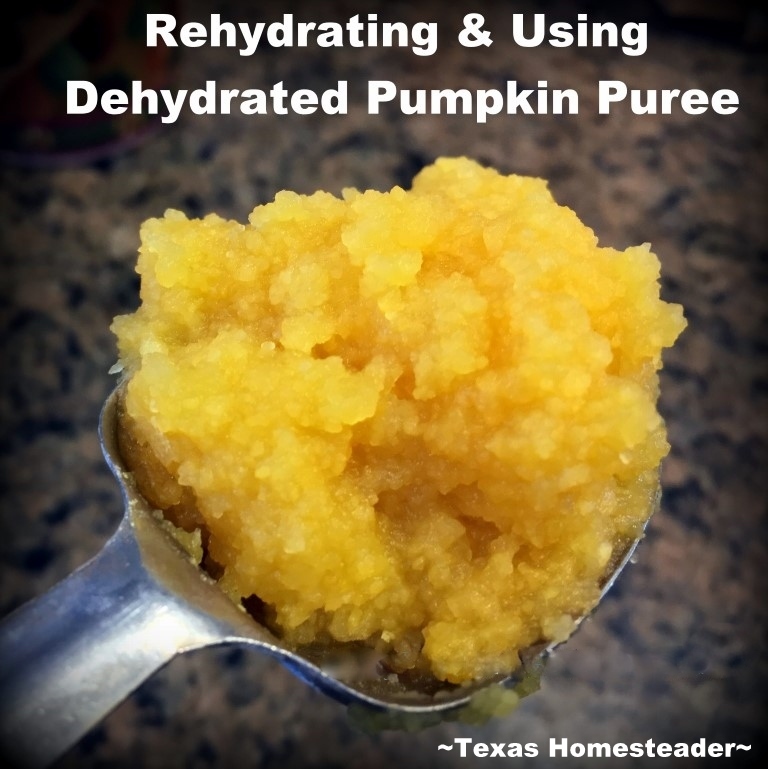 I cooked the pumpkin outside and then pureed the cooked pumpkin flesh.  Then I used my *Excalibur Dehydrator to dehydrate the pumpkin puree.  Finally I powdered it with a *Coffee Grinder I keep just for this purpose.
Now I'll admit I'm loving the dehydrated pumpkin puree!  One whole pumpkin didn't even fill up this tiny 1/2-pint jar!  That right there is an example of some mad food preservation skills #amiright??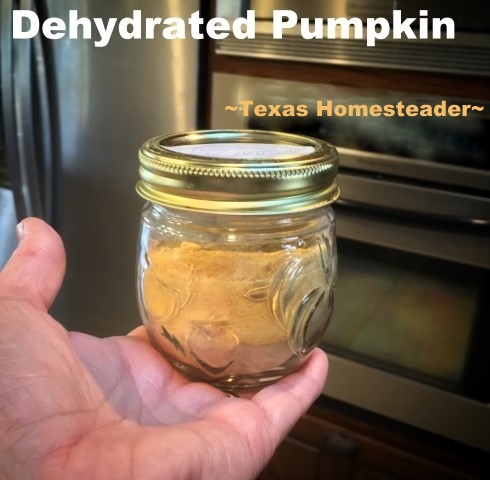 And even better, there's no additional energy required to store this pumpkin puree in my pantry.  Sealed tightly in the canning jar, I'm assuming this dehydrated puree will be good for a year or more!
Rehydrating The Dehydrated Pumpkin
But now I'm sharing how to put that dehydrated puree to use.  Let's try rehydrating pumpkin puree & see how it works.
To rehydrate, I measured 4 parts water to 1 part dehydrated powder. 
Complicated Instructions:
Boil water, stir in dried, powdered puree and allow to rehydrate.
Some people say after you stir the puree into boiling-hot water, you should then allow the whole thing to cool as it rehydrates.  This allows your dehydrated puree to soak up the liquid.
But my experience was as soon as I stirred the puree into the boiling-hot water, it rehydrated right then!  Perhaps it's because I used a coffee grinder to grind my puree into a fine powder?  For whatever reason, my pumpkin puree was rehydrated within about a minute!  (high-fives all the way around!)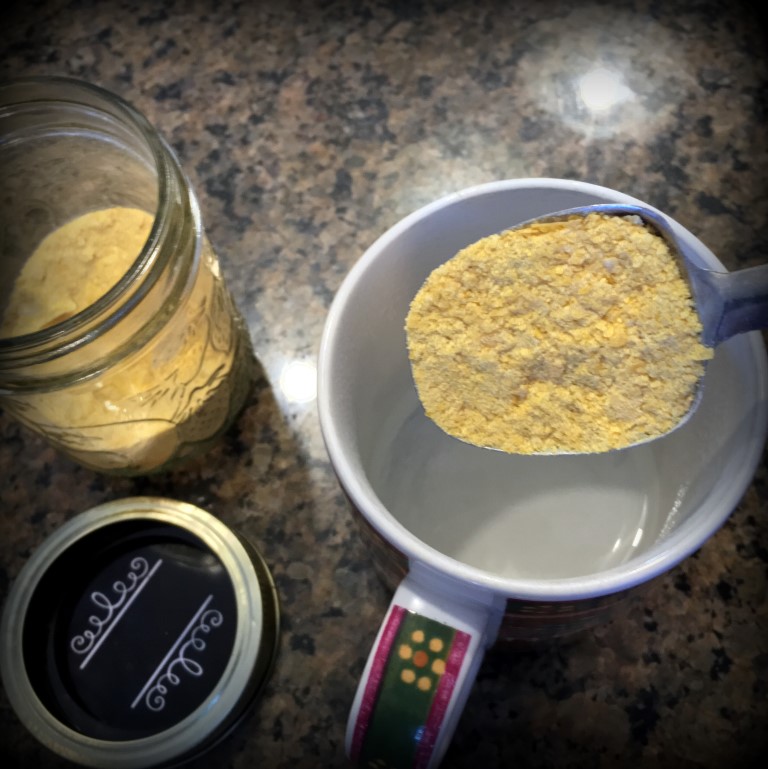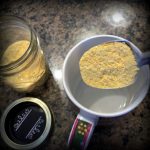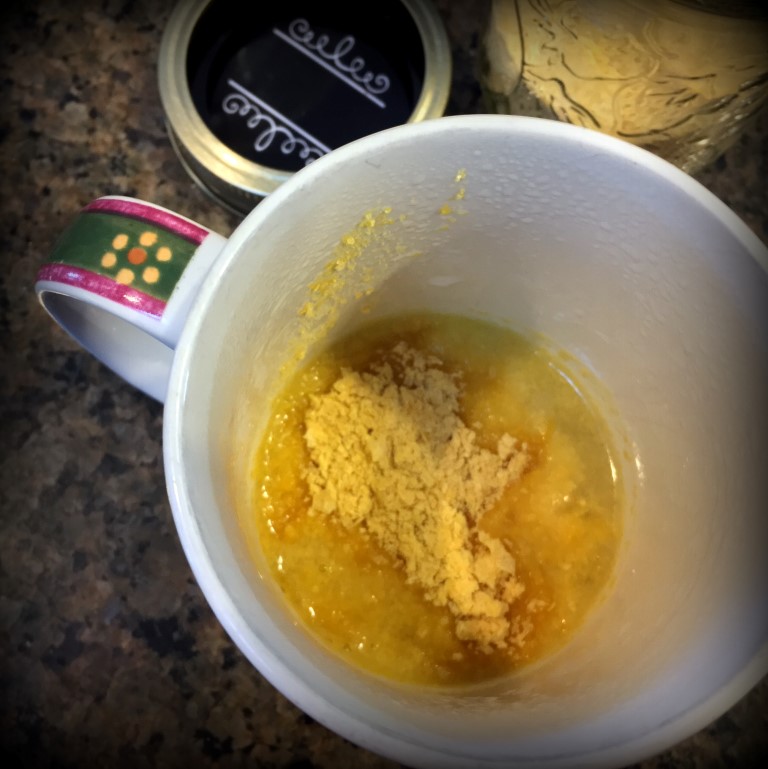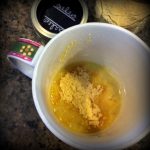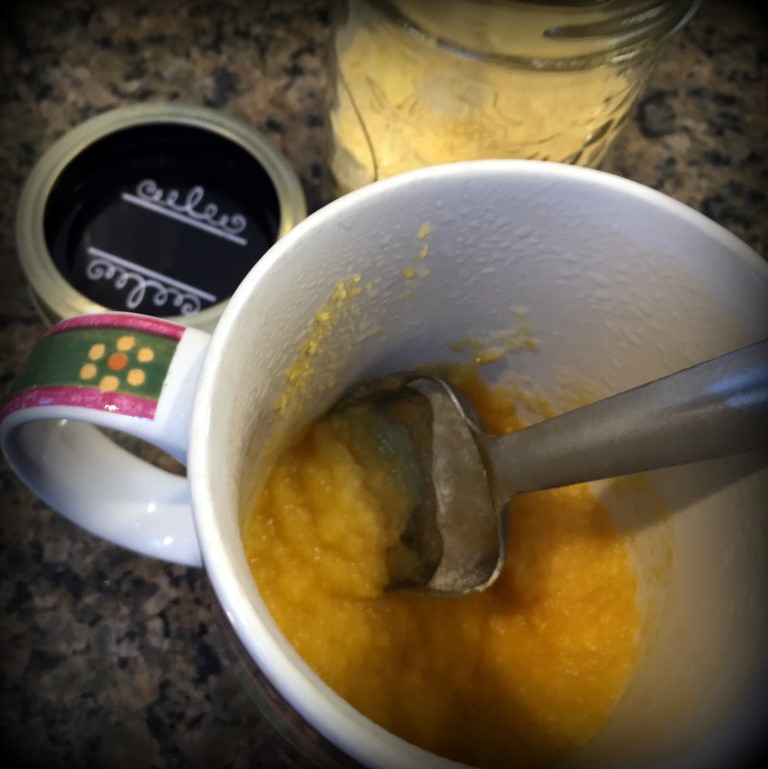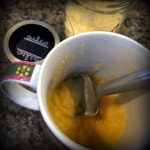 Amazing! So from now on I'm not even going to attempt to freeze my pumpkin puree.  It will be dehydrated every year from now on!
Links In This Post:
Other Pumpkin Articles
~TxH~


C'mon by & sit a spell!  Come hang out at our Facebook Page. It's like sitting in a front porch rocker with a glass of cold iced tea.  There are lots of good folks sharing! 
And you can also follow along on  Pinterest,  Twitter,  Instagram
If you'd like to receive an email when a new blog post goes live,
subscribe to our Blog!