by Texas Homesteader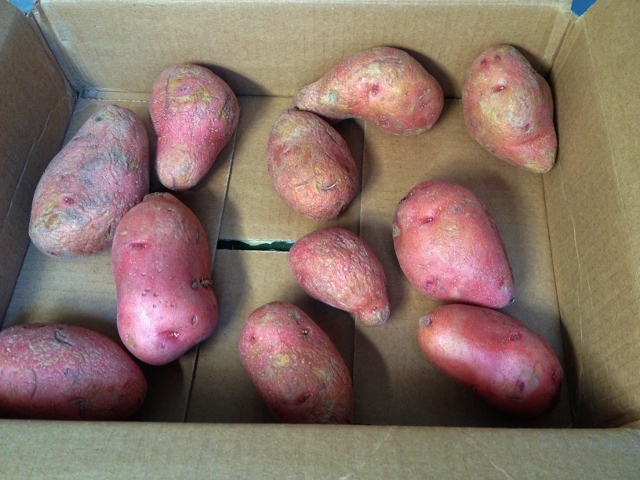 Like many of you, my veggie garden is the focus of much of my energy lately. After a long winter's sleep it's now time to pull back the old mulch that has protected the soil over the cold months and pull any spring weeds that are threatening to take over.
I purchased a five-pound bag of red seed potatoes weeks ago and It's finally time for me to get them into the soil.
Last year I sectioned off a wasted corner of my enclosed garden and raised up a section there to plant potatoes. There are only two of us here so for now this produces an acceptable quantity of potatoes although I see myself expending this bed in the future.
NOTE: These Days I prefer to plant my seed potatoes in a trough. It's even easier to harvest them that way!
But the procedure is the same as planting in the garden. Read on, dear friends…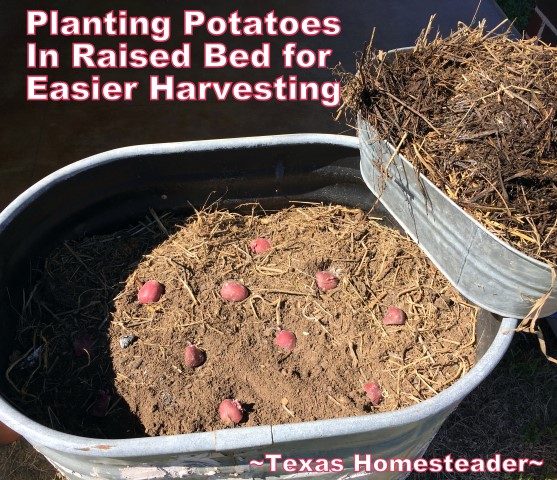 So to prepare to plant I pulled any wayward grass/weeds and raked the area smooth. Bermuda grass is a constant battle for me. Great grazing forage, not so great in the garden! But the soil in this bed is beautiful this year.
Next I cut the seed potatoes into chunks with at least two eyes (ie: sprouts) in each chunk. Then I allowed them to air dry for a couple of days to callous the cut areas.
This keeps the potato from rotting as easily in the soil.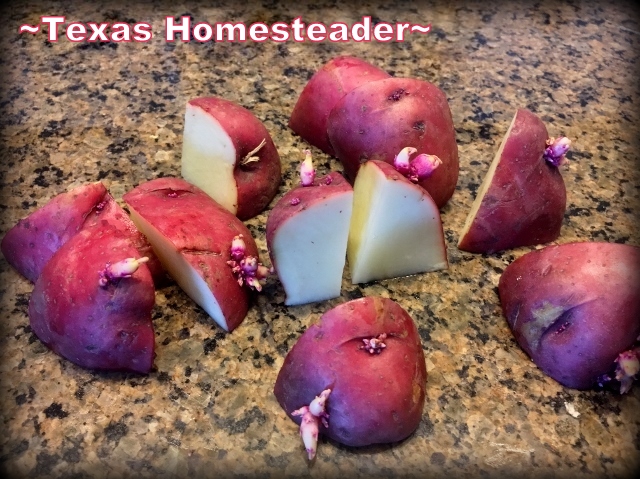 When I got a warm day to play outside I took these pieces into the garden and placed them firmly into the now prepared bed. The soil was still slightly moist and perfectly loose. I placed them pretty close together – probably closer than recommended. That's just me – flying by the seat of my pants!
Then I pressed them lightly into the soil and covered them with soil. Potatoes rely on loose soil to make an abundance of potatoes so I don't plant them too deep. I then lightly covered the soil with reserved grass clippings to keep the soil from drying out during our typical windy spring weather.
Side note: I love the old Bois D'Arc posts I used to angle this raised bed. They were originally old fence posts in the barn paddock and when we tore down the rotting wood and corrugated steel we kept the posts with the intent to repurpose them. Love it! You can see that story here.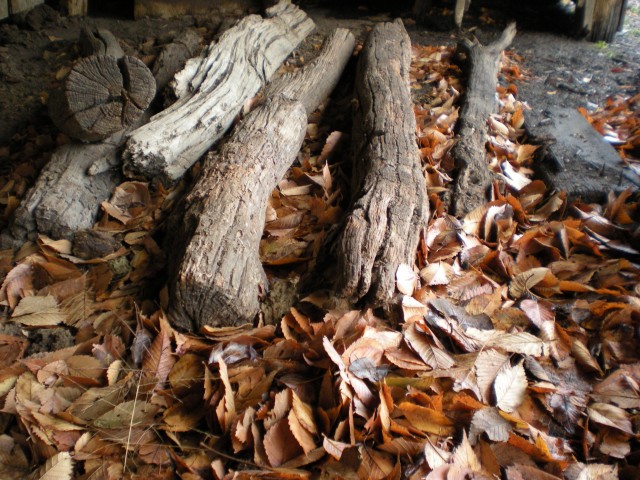 Anyway, when all was planted I gave the ground a light sprinkle of rainwater to finish up.
These potatoes will sprout soon and as they grow I will continue to cover 80% of the height of the plant with grass clippings or spent hay until it blooms.
The more you can keep the stem itself covered, the more potatoes will be made along that stem.
When the plant dies around the end of June I'll take the garden fork and easily pull my fresh red potatoes out of the soil and enjoy the home-grown goodness!
~TxH~
My Favorite Garden Hacks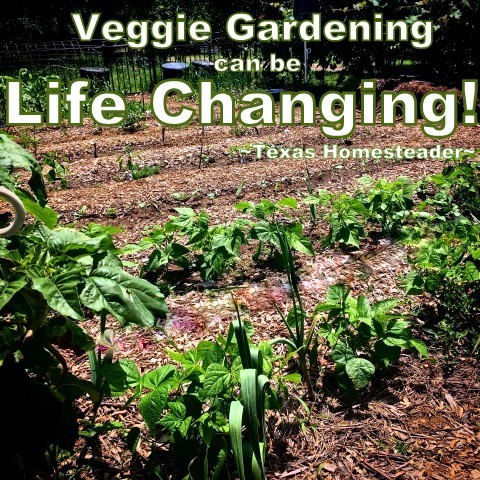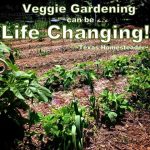 C'mon by & sit a spell! Come hang out at our Facebook Page. It's like sitting in a front porch rocker with a glass of cold iced tea – lots of good folks sharing! You can also follow along on

Pinterest

, Twitter or

Instagram

.
If you'd like to receive an email each time a new blog post goes live it's EASY to
Subscribe to our blog!