by Texas Homesteader 
In November 2010, RancherMan became a certified A.I. technician. Our plan was to sell our registered black Angus bull and start producing our calves using A.I. instead. In April 2011 we began to A.I. our registered Hereford cows. That cow bred with her first A.I. The result was our very first A.I. calf. How exciting!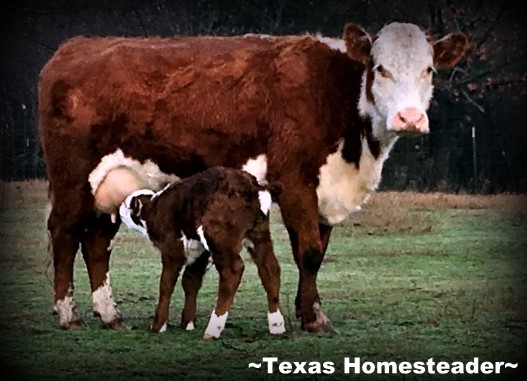 We were so proud of her and of ourselves for accomplishing this task.  Her mama is a good cow – attentive and nurturing.  She helped this little girl grow healthy & strong.
We made sure she had all her immunizations then took her to the vet to receive her permanent ID and BANGS vaccination.  Our little girl was growing up!
We recently received a call from a local rancher wishing to purchase her. He exclaimed as he drove off with her in his trailer "Wow, she sure is pretty – what a great addition to my herd".
And THAT my friends is the full circle of why we do what we do.
I've been asked many times how I can keep myself unattached enough to be able to raise and then sell these animals. Especially since so much input is necessary to just produce the calf. I'm proud of this girl, the job her mama did, and the hand we played in getting her to this point.
Goodbye girl – you've gotten a great start!
~TxH~
Other Ranching Articles


C'mon by & sit a spell!  Come hang out at our Facebook Page . It's like sitting in a front porch rocker with a glass of cold iced tea.  There are lots of good folks sharing!  And you can also follow along on Pinterest, Twitter or Instagram
If you'd like to receive an email when a new blog post goes live,
subscribe to our Blog!