by Texas Homesteader ~
Well guys, my garden was put behind schedule this year due to a colder/wetter than normal spring. There was plenty of water, but no warmth or sunshine!  But now that it's starting to dry out a bit & warm up too, things are finally starting to grow.  C'mon in and take a look!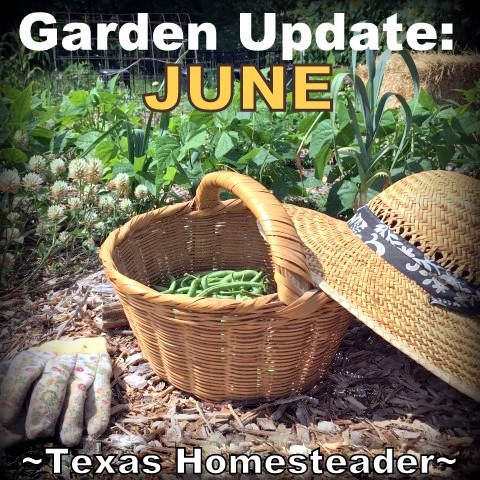 Plan For Long Season Supply Of Green Beans
Our favorite fresh veggie to enjoy is green beans.  So I typically plant a row of green beans, and a week or two later planted another row.  Then another a couple of weeks later.  PLUS yet another a couple of weeks after that!  The premise is that by the time the first row of beans is petering out, the others will be in full production.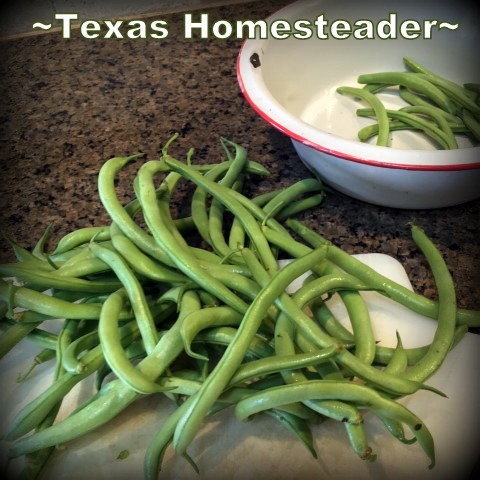 I've harvested a few green beans already. Now that the temps are heating up and the sun is finally shining I'll go ahead & plant another row next week. I'm certain before long we'll be having fresh green beans with every meal!
Squash Plants & Uninvited Guests
But what about the rest of the garden.  Well, I've been able to pick several summer squash that I sauteed with Herb Bombs & enjoyed for supper. And my spaghetti squash is finally starting to grow. Oh and the zucchini I planted TWICE is finally making an appearance too. So we'll have plenty of squash soon
Of course I started early looking for the dreaded Squash Bug Eggs. And as I knew would happen, there the little beasties were. Hiding beneath the leaves in an attempt to take over my garden. Oh no you don't!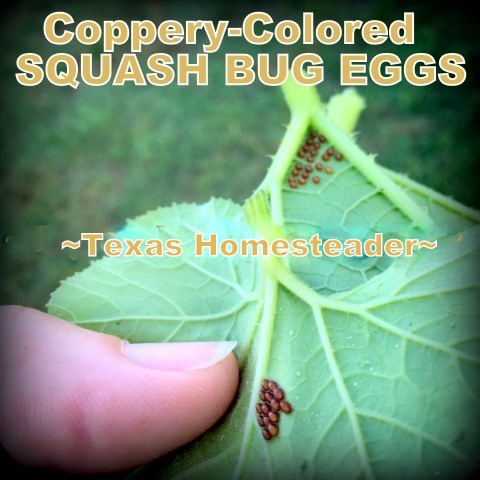 So I deal with Squash Bugs the way I always do and so far I've not had much more trouble with them.  I know spaghetti squashes take longer to mature than summer squash or zucchini, but they also last much longer in storage.  So although I'm assured of having plenty of spaghetti squash for RancherMan & me, I'll also have plenty to share in my weekly blessing basket too.
Tomatoes Lagging Behind
My tomato plants are finally starting to grow, there are even some tiny green tomatoes on some of the bushes. Hopefully I get a few before summer temps keep the fruit from setting. I'm much anticipating that burst of fresh tomato flavor.
Self-Planting Onions
The onions & garlic have been rocking it as they always do!  My walking onions have already put on their walking shoes and are providing me with next year's harvest too.  How much I love that I don't have to replant my onions every year, they replant themselves!
Peppers
The peppers have pretty much stayed the same seedling size as when I planted them in April! But now with the sun & warmth they're also finally starting to grow.
I have several tiny poblanos, red bells & anaheim pepper plants.  Like everything else, they're just now starting to grow. I know they're usually pretty good about producing during summer months so I'm still anticipating that.  I purposely planted those poblanos so I could provide RancherMan with one of his favorite dishes – lazy-cook's Chile Relleno.  So c'mon….PEPPERS!
Concord Grapevine
The concord grapevine is once again loaded with immature grapes.  It's my screaming success every year. It must just love where it's planted, I really do nothing special to it. Those grapevines grow several inches every day!  I'm thinking this year I may make grape jelly with those grapes.
Fresh Herbs
I make sure to include pollinator-friendly flowers and lots of herbs in my Edible Landscape plan. The herbs are going crazy!
I'm harvesting fresh stevia almost every day and using it when making RancherMan's sweetened sun tea.  He loves it and it's replaced the copious amounts of granulated sugar he used to dump into his tea.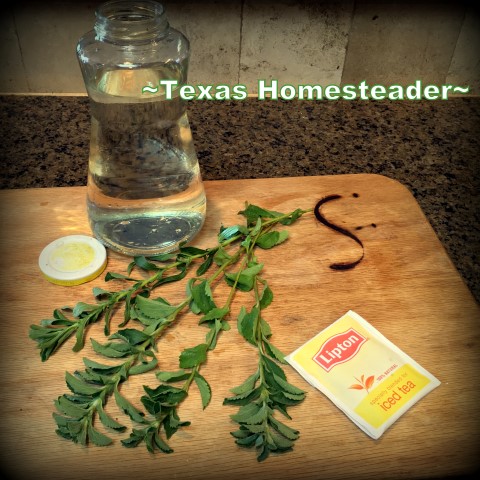 And the thyme is looking really good and it's blooming too, as is the sage, basil and oregano.  All growing like crazy! I'll be harvesting armloads of them soon to dry for my pantry.
Other than that, not much harvest from the garden yet.  The corn I planted is struggling and the cantaloupe & watermelon are just starting to grow.
So yeah, I've got things going on in the garden but really looking forward to harvesting some fresh home-grown produce soon.  How's your garden going?
~TxH~
Links In This Post
My Favorite Garden Hacks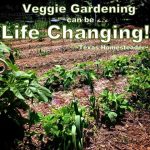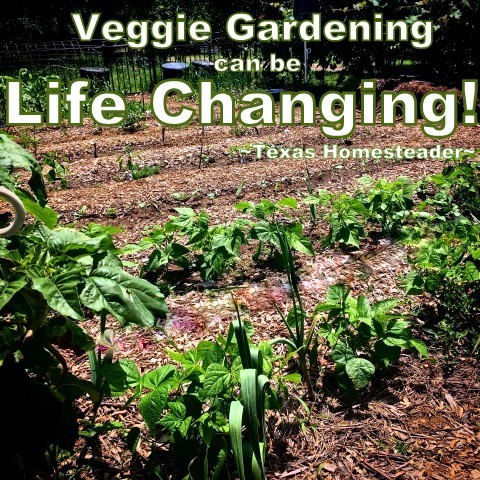 C'mon by & sit a spell!  Come hang out at our Facebook Page. It's like sitting in a front porch rocker with a glass of cold iced tea. Lots of good folks sharing!  You can also follow along on Pinterest, Twitter or Instagram.
If you'd like to receive an email each time a new blog post goes live it's EASY to subscribe to our blog