by Texas Homesteader ~
*contains affiliate link
Well guys, my garden was put behind schedule this year. I thought it was due to a colder/wetter than normal spring. There was plenty of water, but no warmth or sunshine!
But now that it's starting to dry out a bit & warm up too, things are finally starting to grow. Still the garden's lagging behind is a mystery. But I think I may have finally figured it out.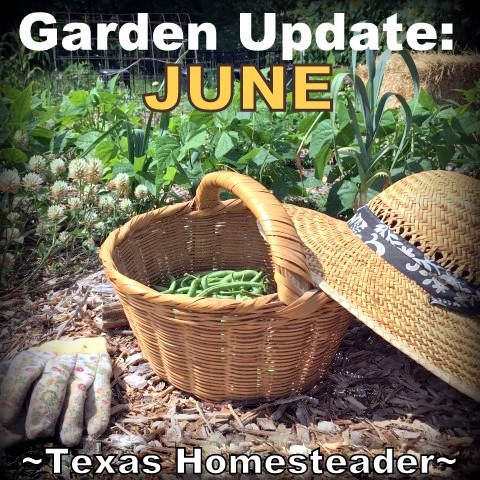 Affiliate disclosure
Note: Some links in this post are for further information from earlier posts I've written. But links preceded with * are affiliate links. If you click them and buy something (almost anything, not just the item noted) I could receive a small purchase. But the price you pay will NOT change. It's an easy way to support this blog without anything coming out of your pocket. So click often! Thank you!
Solving The Slow-Growing Puzzle
Two years ago my garden got off to a slow start. But why? Too wet? Too dry? Not enough sun? It finally picked up & did fine later in the season.
Last year was even worse than the year before. But again, why? Thinking the Crape Myrtles and Red-Tip shrubs we planted along the driveway were growing tall enough to cast too much afternoon shade on the garden, I hacked them back ruthlessly. (as in 2-ft tall!) The garden seemed to finally pick up & at least produce a small amount last season.
This year is the worst it's ever been. The seedlings I planted at Easter died, and the seedlings I replaced them with a month later died too. Seeds I planted at the same time as the replants didn't even germinate.
Grasping at straws I looked around. Nothing is growing like it should. Yet I'm seeing local friends on FB are harvesting from their garden daily. Why would theirs be so vastly different than mine?
Then I looked up. This tree has been here since before we bought the property. I believe it's finally just grown large enough that it's blocking too much sun.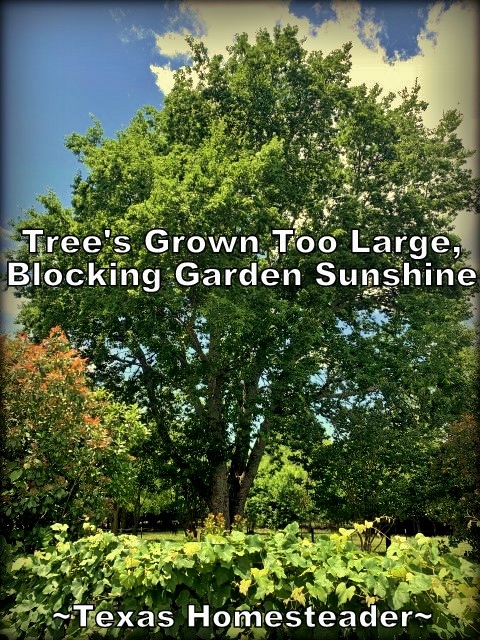 You see, it's situated just barely southwest of my westward-facing garden fenceline. In the winter months the sun moves toward the southerly sky behind this tree. Of course in winter it's a non issue anyway.
But in the spring as the sun makes its trek back toward the north, well by the time it clears this tree to give my garden the sun it requires, it's June! From then on it's just fine of course, but with such a late start on getting the plants growing…
It's hard enough to get trees to live in our botanical hole of death. But we can't move the garden either. (for many reasons) I guess we'll have to hire a professional to cut it down. I'm not gonna lie, this makes me sad in many ways.
Plan For Long Season Supply Of Green Beans
On to happier things. There are a few success stories in our garden. Our favorite fresh veggie to enjoy is green beans. So always plant them in our garden.
The green beans we planted square-foot-garden style in our new galvanized trough raised bed are struggling. But I expected that this first year. Next year the soil is improved a little more & I expect to see more vigorous results.
So I also planted green beans in a garden row and they're doing great. I'm loving harvesting them and cooking them for supper that very night. Yeah, we can get spoiled to this!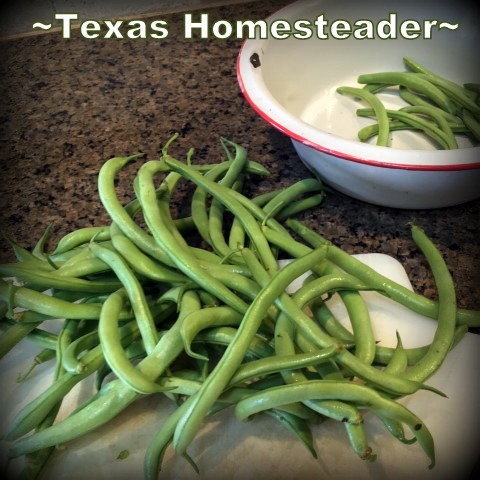 Now that the sun is finally hitting the garden like it's supposed to, I'll go ahead & plant another row of green beans next week. Then wait two weeks and plant a third row.
This keeps at least a row in production for most of the summer. I'm certain before long we'll be having fresh green beans with every meal, and I'm just fine with that!
Luffa Vines Making An Appearance
Several years ago I grew and harvested luffa. It's true you can eat luffa like squash if you harvest them young. But if you want to grow an actual luffa (like the scrub sponge) you just let them get huge and allow them to dry on the vine.
But for the last few years I haven't been successful growing luffa. Then a sweet friend offered some of her seeds this year so I planted them. All four seeds sprouted! I think the variegated leaves of the luffa plant are just lovely.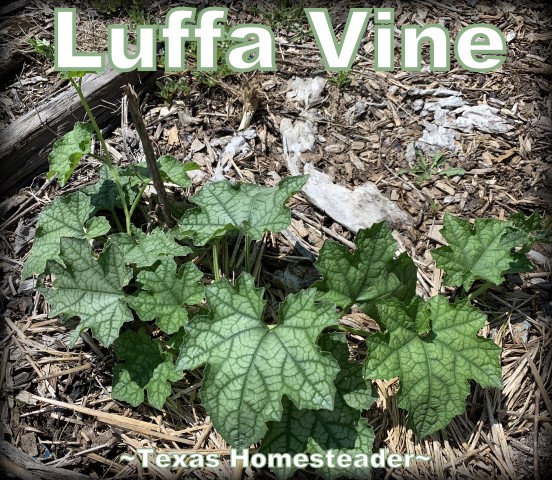 I'll probably enjoy some of the luffa as a squash substitute since my squash plants didn't make it either. Then I'll let several grow into mature luffas too for harvest. How exciting!
Tiny Watermelon Plants
I'm assuming these watermelon seedlings that were massively delayed by the shade issue are getting way too late a start to actually produce a harvest. (sigh…)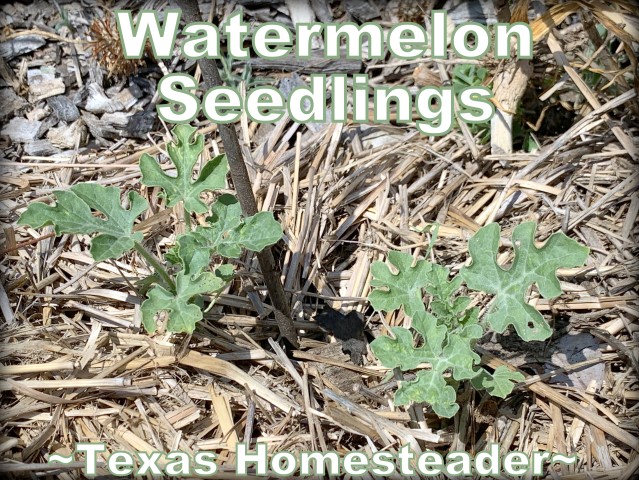 But I'm going to allow them to stay anyway and hope for the best. Maybe a fall harvest? If nothing else, they'll serve as living mulch for my tomato plants.
Tomatoes Lagging Behind
My tomato plants are finally starting to grow. But again due to the repeated failures & late start I'm not sure about any harvest. Maybe this fall if I can squeak them through the hot Texas summer.
I planted several heirloom seedlings in early spring but they succumbed one by one. So I replaced them by planting seeds, but no luck.
Then I found seedlings sprouting from my *Compost Tumbler. I often Get Free Plants that way!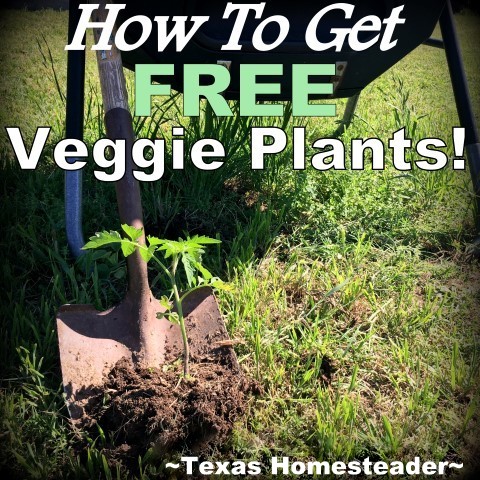 So I scooped them up and placed them in a temporary location with access to sunlight and kept them watered. Then when the garden's replants didn't make it I dug up these tiny seedlings & planted them in my garden. The sunshine is just now finally enough for them so they're starting to grow.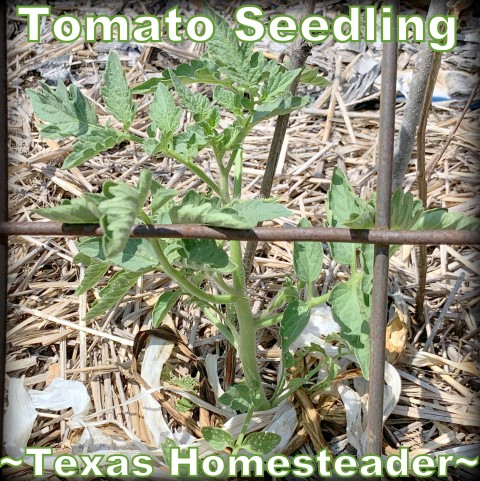 I also planted a volunteer basil plant in one of the spaces where my tomato plant didn't make it. Basil is a great companion plant for tomatoes. And since the basil was a volunteer growing in an unwanted location – why not?
Self-Planting Onions
The onions & garlic have been rocking it as they always do! My walking onions have already put on their walking shoes and are providing me with next year's harvest too. How much I love that I don't have to replant my onions every year, they replant themselves!
Peppers
The peppers I planted never made a showing. The seedlings I transplanted to the garden died in quick order the same as the other seedlings did. And the replanted seed didn't sprout either due to the shading issue. It's been a hard gardening year for me, let me tell ya!
I'd planted several poblanos, red bells & anaheim pepper plants. I'm pretty disappointed there are no peppers in our garden this year. I may go out & buy actual plants to place into my garden this year.
Concord Grapevine
The concord grapevine is once again loaded with young grapes. It's my screaming success every year. It must just love where it's planted, I really do nothing special to it. Those grapevines grow several inches every day! I may make grape jelly with the ripe grapes.
Fresh Herbs
I make sure to include pollinator-friendly flowers and lots of herbs in my Edible Landscape plan. The herbs are going crazy!
I'm harvesting fresh stevia and using it when making RancherMan's sweetened sun tea. He loves it and it's replaced the copious amounts of granulated sugar he used to dump into his tea. (see potential caution regarding sun tea at the bottom of this page)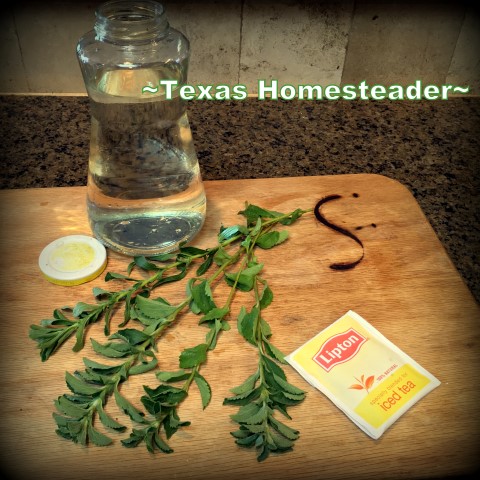 And the thyme is looking really good and it's blooming too, as is the sage, basil and oregano. All growing like crazy! I'll be harvesting armloads of them soon to dry for my pantry.
Other than that, not much harvest from the garden yet. The corn I planted is struggling and the cantaloupe & watermelon are just starting to grow.
So yeah, most things are a bust this year. But at least I've got a few things going on in the garden. I'm really looking forward to harvesting some fresh home-grown produce soon.
How's your garden going?
~TxH~
This post categorized in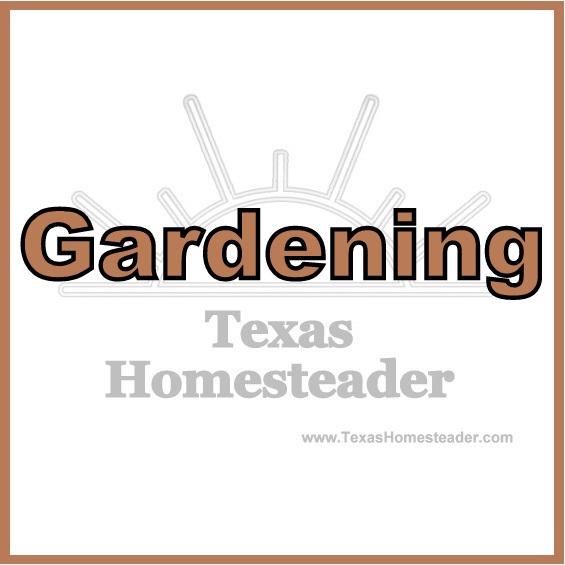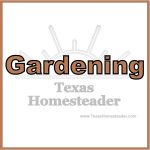 Links In This Post
My Favorite Garden Hacks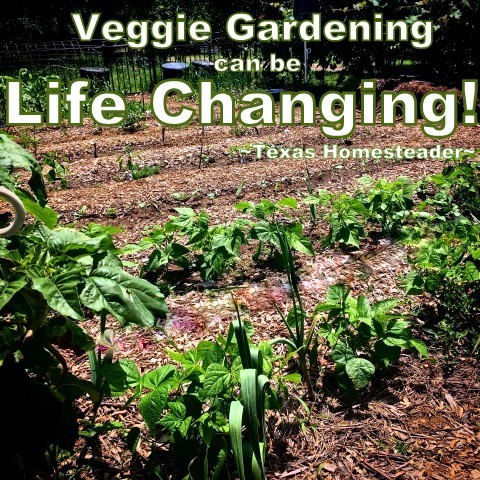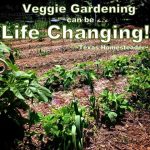 C'mon by & sit a spell! Come hang out at our Facebook Page. It's like sitting in a front porch rocker with a glass of cold iced tea – lots of good folks sharing! You can also follow along on

Pinterest

, Twitter or

Instagram

.
If you'd like to receive an email each time a new blog post goes live it's EASY to
Subscribe to our blog!
Potential Sun Tea Concerns
There are some who have commented that brewing sun tea does not allow it to get hot enough to kill the bacteria in water. It's said that it must be boiled 3-5 minutes in order to be safe, then refrigerated immediately until consumed. So as I typically do, I went to the experts – my extension agent.
Apparently according to my extension agent (who is an AWESOME resource) the source of potential problem microbes isn't the water, it's the actual tea leaves. She recommends bringing the water to 195 degrees and steeping the tea for 3-5 minutes, then pouring into a pitcher over ice & refrigerating.
Of course you'll want to use your own judgement about making sun tea. If you have concerns about your personal health, your doctor is always your best source of advice.
For us, sun tea is still king. I continue to make sun tea several times each week, the same as I've done for years.