by Texas Homesteader

*affiliate link
Now that it's turning hot, hot, HOT in Texas I've been trying to keep the family cool at mealtime.  Guess what?  I'm making my own fat-free ice cream for dessert these days!  No, really, and know what's even more amazing?  I'm making it by blending frozen bananas with fat-free milk, instant no-cook pudding and a splash of vanilla.  C'mon, really??  Yes REALLY!  You're not gonna believe this…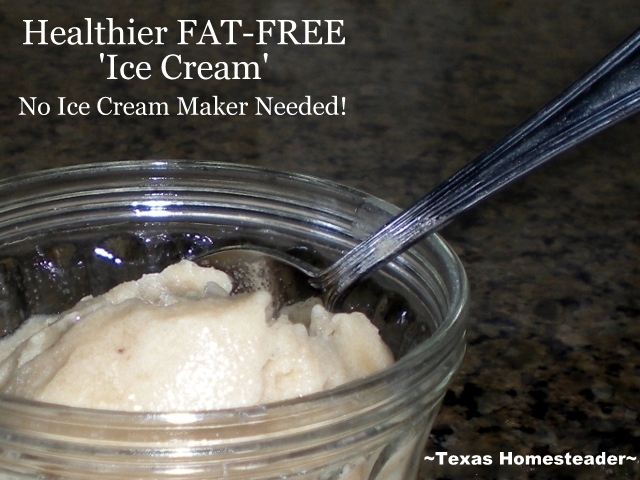 Easy Ice Cream Ingredients
Making my own ice cream means the only trash I make is the banana peel and it goes in the composter –  that makes my crunchy-green heart sing.  (I make my own instant no-cook pudding but you can use the boxed stuff if you like. More on that later)
And this ice cream is made with healthy ingredients that I know & recognize so I feel pretty good about that, I'll bet you do too.  Can you imagine this scene where you're saying to the kids "Yes kids, of COURSE you can have more ice cream!"  If I'm not mistaken that qualifies you for nomination into the Parent's Hall of Fame.
Making The Ice Cream
Here's how I make it:  I take those bananas that are starting to spot since they always seem to be sweetest. Then I peel them and place them in the freezer until they're frozen.  When it's time to make ice cream I pull out three frozen bananas & chop them into about 1/2″ rounds. They're plopped into the blender with 1/2 cup of milk and about a 1/2 teaspoon splash of vanilla.  If  I'm making chocolate ice cream, I also add about a tablespoon of cold coffee to intensify the chocolate flavor.
Then I plop it into my * Ninja Blender – man that thing ROCKS!  It takes only a minute to blend it all until it's silky smooth.  Finally I add a small box of instant no-cook pudding mix. I make my own, but again you can add a box of purchased no-cook pudding mix here.
Now I just blend it all together until it's smooth with no lumps remaining.   When it's smooth I pour the mixture into a freezer-safe container and pop it in the freezer for a few hours until it's frozen good and solid. I've found if you stir it after about an hour or so it makes the ice cream a little less hard to scoop. But that's optional.
Enjoying Your Healthier Ice Cream
After your mixture freezes – VOILA!  Cool fat-free refreshment during those hot days of summer.  The pudding gives this homemade ice cream a creamier consistency. Although It's not quite as creamy as the high-fat stuff, it's close enough to pacify my ice cream-loving RancherMan.
Flavor Options
Of course there are a bazillion options to personalize your ice cream flavor if you like.   You can change up the flavors of your pudding mix to easily make a different flavor.
Maybe make a sugar-free version by using a sugar-free pudding mix. You can stir in chocolate chips if you want more chocolate bang for your buck (and I DO!)  Or you can stir in chopped pecans and miniature marshmallows for a rocky-road version.
How about swirling a little chocolate sauce through?  And with vanilla-flavored mock ice cream there's my favorite option: Chop up that chocolate bunny you bought for 90% off after Easter & kept in the freezer for just such occasion. (you DO that, don' t you??)  Then stir it into the ice cream along with just a couple of drops of peppermint extract for delicious mint chocolate chip flavor.  Ummmm…  Yes please!
Recipe
So there ya go, a homemade dessert that's a healthier version of the commercial high-fat stuff.  Hey, any time you can remove some of the guilt of eating ice cream on a hot summers' day it's a winner, yes?  Now you hush up and eat your ice cream!
Here's the recipe:
Fat Free Mock Ice Cream
Ingredients
Ingredients:

½

cup

fat-free milk

1/2

teaspoon

vanilla extract

3

peeled, frozen bananas

1

3.9-oz pkg

instant no-cook pudding mix

(or use 1/2 cup homemade instant no-cook pudding mix)
Instructions
Directions:

In a blender, put ½ cup of cold fat-free milk, 1/2 teaspoon vanilla and 3 frozen bananas (chop them up prior to adding them).

Blend until smooth.

Add the pudding mix and blend again until no lumps remain.

Pour into freezer-safe container and stir in additional flavor options such as chopped nuts or chocolate chips if desired.

Freeze for several hours until firm. Enjoy!
NOTE:  I also make a delicious Mint Chocolate Chip version!
Update:  Here is one of our new faves!  It's made with bananas, chocolate pudding mix, 3 Tablespoons chopped white chocolate & about 2 Tablespoons chopped pecans, adding 1 Tablespoon each cold black coffee, vanilla, and Kahlua.  Rich & DELICIOUS!
~TxH~
Other Easy Desserts


C'mon by & sit a spell!  Come hang out at our Facebook Page . It's like sitting in a front porch rocker with a glass of cold iced tea.  There are lots of good folks sharing!  And you can also follow along on Pinterest,Twitter or Instagram
If you'd like to receive an email when a new blog post goes live,
Save
Save
Save