by Texas Homesteader
Well true to schedule the weather has turned hot here in Northeast Texas but thankfully the garden is still growing well. I'm pretty excited that I finally got to harvest my first tomatoes of the season.
Really there's nothing more special than that first tomato plucked right off the plant, still warm from the sun. I also harvested jalapeno, onion and garlic at the same time, then came inside and made homemade salsa in just minutes. Love it!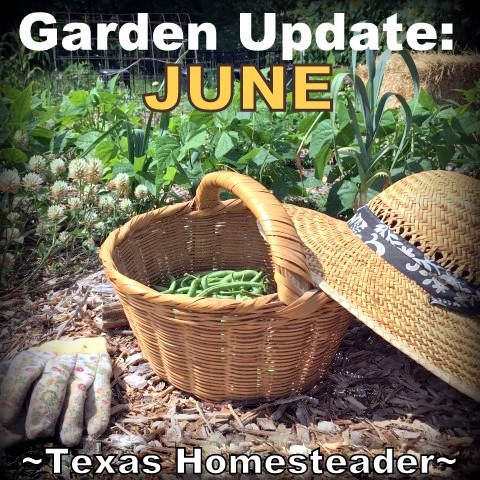 I've never grown grapes before and I'm pretty excited to see a few bunches of Concord grapes showing up this year.
I planted heirloom green beans and they're growing well though there's nothing to harvest yet from the plants. Since these are vine beans and not the bush beans I'm used to I needed support for them. We incorporated some old electric-fence push poles and used baling twine for support. How's THAT for using what you've got??
It's working great and I weave the bean vines in/out of the strings as they grow. It not only lifts the vines off the ground for easier maintenance but the beans will be easier to see & harvest as well. Hey, I'm all about easier in the garden and it didn't cost a cent to implement.
My yellow squash is doing well, although something is taking my plants one-by-one. I've been diligent eliminating squash bug eggs so there is not an onslaught of squash bugs killing the plants this year, so I don't know what's going on here. Maybe something digging underground? Hummm…
In the meantime we're harvesting squash daily and still have plenty to share with neighbors and friends at church. I usually harvest enough to donate to a small retirement home in town as well, but sadly the center closed a week or so ago.
My miniature apple tree is also putting on a few apples. Although they're still small and I'm only looking at maybe five or six apples overall, I've never harvested them before so I'm pretty excited about it.
Also growing like gangbusters are my jalapenos, pablanos and oregano. It's now time for me to harvest my red potatoes, onions and garlic.
Be watching soon for a "Preserving The Harvest" post on how to preserve your garden's garlic for future meals.
How is your garden doing?
~TxH~


C'mon by & sit a spell! Come hang out at our Facebook Page. It's like sitting in a front porch rocker with a glass of cold iced tea – lots of good folks sharing! You can also follow along on Pinterest, Twitter or Instagram.
If you'd like to receive an email each time a new blog post goes live it's EASY to Subscribe to our blog!