by Texas Homesteader ~
What is a grocery no-spend challenge? It's where you eat only from food you already have in your home. No buying cans of shelf stable foods, or even fresh foods like milk and bread. I'd embarked upon a grocery no-spend challenge for a whole month. Come see how week 1 went.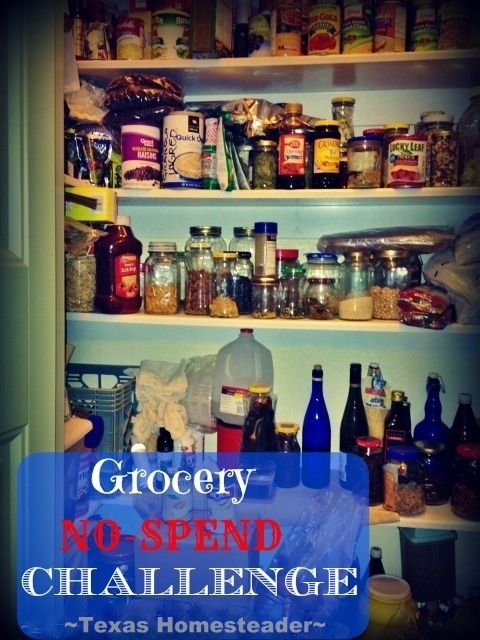 Deciding To Do A 30-Day No Spend Challenge
It started out innocently enough, I casually mentioned I'd like to try a grocery no-spend challenge for the entire month of February. RancherMan, only half-listening, agreed. (it's so much easier when everyone commits!)
In our challenge rulebook we've made some exceptions. Valentines Day for instance when our gift of love to each other each year is to prepare a fancy-schmancy meal for each other.
But other than that grocery-buying exception we're trying for buying no food at all. No bread purchases, no milk, no fresh fruit, even seasonings are off the table. (OMGosh, see how clever I phrased that?? Oh yeah folks, I'll be here all week – be sure to tip your waitresses!)
Anyway, RancherMan's all gung-ho right now. But we'll see how enthusiastic he remains toward the end of the month when we're out of some of the things we're really spoiled to. Things like butter, milk, peanut butter, etc. Here's how our challenge went for the very first week:
30-Day Grocery No-Spend Challenge Started
Whelp, here we go y'all. Like I said I'm starting out pretty rigidly with no spending on any food items with the exception of Valentine's Day. But as the challenge goes along I may tweak some things.
It may very well be a little overly zealous to think we can get by without fresh milk, fruit or veggies for a whole month. And my intention with this challenge is to CHALLENGE us, perhaps to make us a bit uncomfortable. But not to make us both miserable for an extended amount of time. We'll see how it goes.
Our freezer(s) are pretty well stocked and our pantry is overflowing.
We didn't stock up in advance of this challenge because to me that would totally defeat the purpose.
Getting Started With A 30-Day Challenge
So on day one I brought out our last loaf of homemade sandwich bread from the freezer and some cooked ham. I sliced some of the ham for RancherMan's sandwiches for his lunches this week.
Then I froze most of the sliced ham for later. The ends of the ham were chopped & set aside for supper's main dish of ham/potato casserole. I need to start using up those fresh potatoes.
But I myself prefer endless soup for my lunches. This week I think I'll make the soup Italian flavored. I'll focus on using up the fresh items early in the month, then we'll move toward using canned and frozen foods.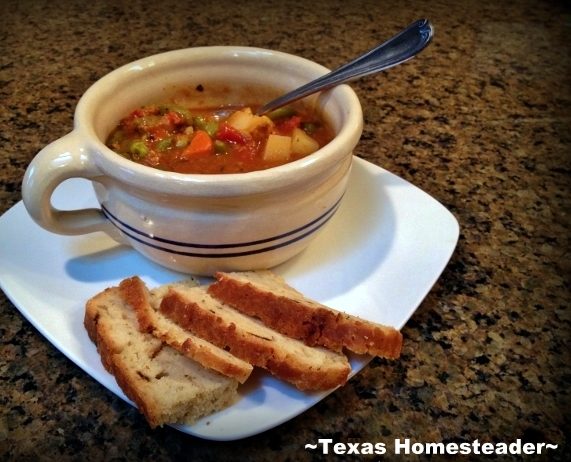 So this soup is using up the leftover pasta sauce from the fridge and some cut up potatoes, a small handful of dehydrated cabbage, a handful of cooked pasta and a couple of cans of veggies.
No Food Wasted
I'll add to my soup each day for a while but I'll waste nothing. Even the juice from those cans of veggies will be set back to cook noodles or dehydrated veggies for the soup later in the week.
I'll probably also add some sort of meat to the pot too. But it will depend on what we have that's needing to be used.
I'd also been trying to batch-cook homemade bread for our freezer so I'm not tied to a specific rigid bread-baking schedule.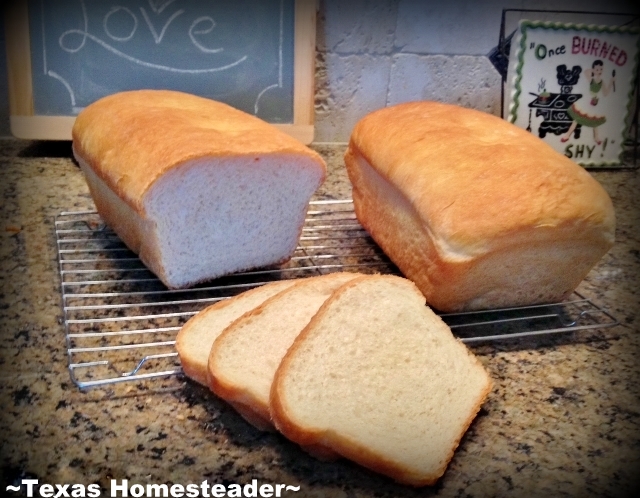 Since I'm strongly focused on eliminating wasted food I've even turned a critical eye to the homemade bread I've been making this week. As I sliced up all that bread I captured the crumbs.
More than likely I'll use the breadcrumbs in my cooking this week (or next) while continuing my no-spend grocery challenge.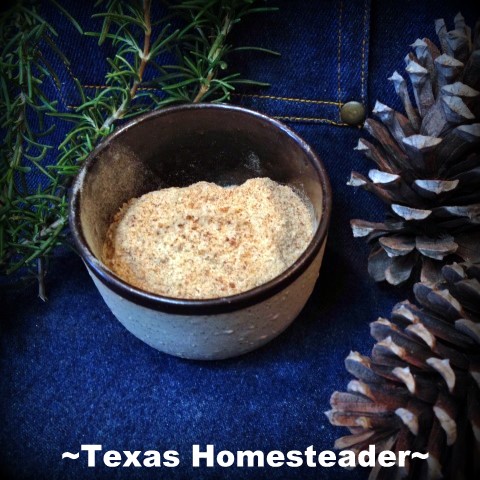 Creative Use Of Leftovers
I was careful this week to use all leftovers, often made into brand new meals. For instance the potato/ham dish leftovers were added to scrambled eggs. I topped it with homemade salsa verde and rolled it into tortillas for a whole new flavor burst from the original recipe.
Any leftover veggie sides were added to my endless soup. Bread crumbs were used to top casseroles or to make potato cakes.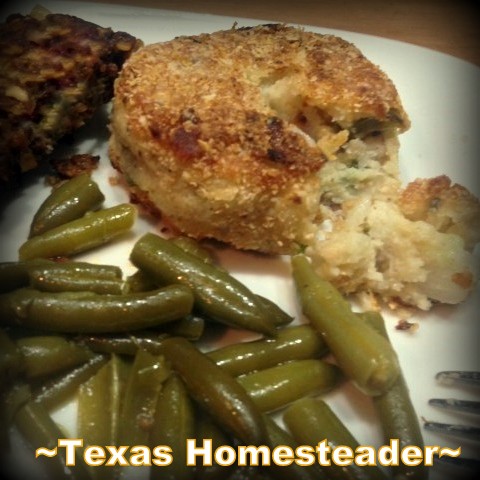 Week one went without a hitch and our freezer & pantry are showing the benefit of a little breathing room.
We still have a few fresh potatoes to use up before we focus harder on the canned/frozen/dehydrated goods. Let's see how week 2 goes…
Want To See The Rest Of My Monthly Challenge?
2nd Week: Grocery No-Spend Challenge
3rd Week: Grocery No-Spend Challenge:
4th Week: Grocery No-Spend Challenge
~TxH~


C'mon by & sit a spell! Come hang out at our Facebook Page. It's like sitting in a front porch rocker with a glass of cold iced tea – lots of good folks sharing! You can also follow along on Pinterest, Twitter or Instagram.
If you'd like to receive an email each time a new blog post goes live it's EASY to Subscribe to our blog!