by Texas Homesteader~
*includes affiliate link
WHEW, what a month it's been! Y'all know RancherMan & I embarked on an entire month-long Grocery No-Spend Challenge. It was a rigid challenge, allowing for no purchases whatsoever on anything grocery related which included dining out, beverages and herbs, etc.
Week One wasn't bad at all. Our pantry & freezers were full so there really wasn't much change to our routines.
Week Two had a few catches but it was still easily workable.
By the time we got to Week Three was a little more of a challenge and we had to make several compromises. But by then I'd pretty much hit my stride. Plus we had our eye on the end of the month, so our motivation was still pretty high which helped a lot.
But how about that last week? Read on, dear friends.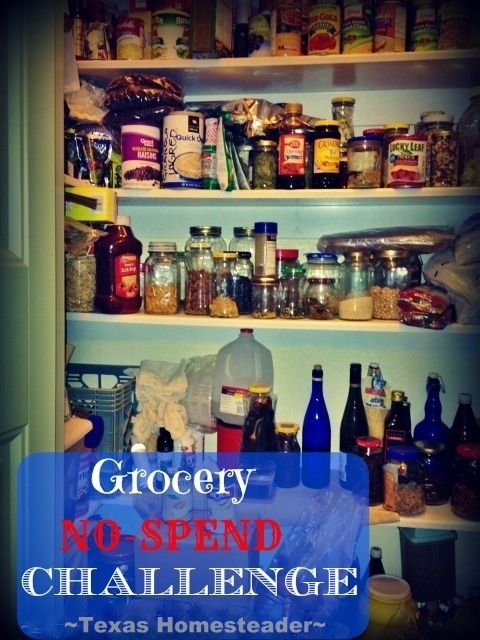 Problems With The Challenge
Well, well, well. As difficult as this week has been you'd think the village would have broken out into riots and RancherMan & I would be arm-wrestling for that last piece of bread!
Even though I kept warning him that the bread would run out, there wasn't enough moderation in his consumption. So as expected the bread coffers ran dry. And there was not enough flour to make more! (gasp!)
Yep, I was really concerned that this one item would be the undoing of our steely dedication to seeing the challenge through.
Thankfully with only one week left we were able to begrudgingly get through it.
A Birthday Plan Gone Awry
Another notable event was that we had planned a birthday celebration with our youngest daughter during this final week. I was pretty proud of myself that I'd been able to plan a suitable birthday spread for her. (with a small homemade cake even!)
But Ole Man Winter had other plans!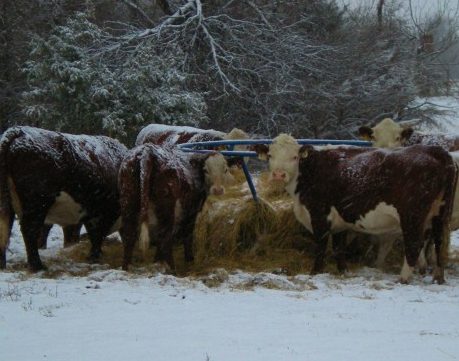 I was worried about her traveling on icy roads for such a long distance and begged her to reschedule.
In this case it worked out in our favor since we rescheduled to her next day off from work. That will be in a time frame OUT of our restrictive challenge!
Getting To The Bottom Of The Freezer
Thankfully this final week really did a number on emptying our freezer. I finally got to the bottom and was able to pull out the last of the frozen tuna given to us by a dear friend who went deep-sea fishing several months ago.
Now I'm not a big fish eater but I know it's healthy. So I've been trying to incorporate it into our meals as often as I could stand it. RancherMan on the other hand IS a lover of fish. So he relishes those meals.

I pulled out some frozen fillets, thawed them and dipped them in milk & then a mixture of bread crumbs/corn meal/Cajun seasoning. For easy cooking I popped them into my * Baby George rotisserie. (MAN I love that thing!)
In 15 minutes those fillets were done to perfection. I added the rest of the bagged salad from our Valentine's Day meal, and whipped up a broccoli rice side dish using brown rice, a can of soup & those leftover chopped broccoli stems.
Planned Leftovers
Of course I always purposely cook up way more fish than we can eat at one sitting. Because although RancherMan really enjoys that first fish meal, he REALLY loves how I serve it the next night!
That's when I take the leftover cold fish, crumble it all up, add diced onion, minced garlic, an egg & some bread crumbs to make fish croquettes. It makes my heart happy to hear his declarations of culinary enjoyment!
Let's see, what were some of our other meals… I cooked up some Salisbury steaks to use up the last of the ground beef as well as the leftover gravy from a meal a couple of days earlier.
And I cooked up the last package of wild-hog pork chops by dipping them in egg & using the last of those saved breadcrumbs.
Oh and we had a very simple meal of spaghetti & meat sauce one night. And one night we wanted breakfast for dinner so we made homemade pancakes and I even whipped up some homemade maple-flavored syrup to go with them.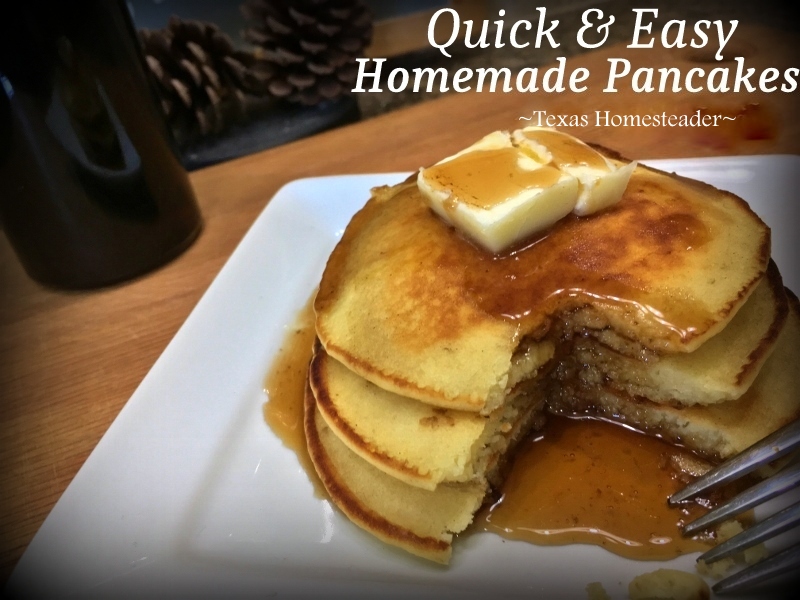 And although we don't have dessert every night, when we were having a very simple meal I thought it'd be a nice touch to whip up a batch of homemade chocolate pudding to make up for the meager offerings.
RancherMan loved it!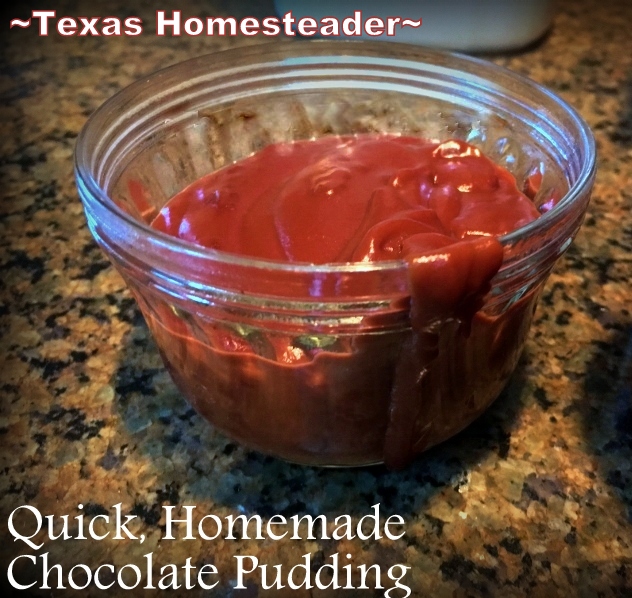 RancherMan's Struggles
Now that we're FINALLY done with this year-long challenge (I mean MONTH long, it only seems like a year), I asked RancherMan what the three hardest things were for him to complete the challenge:
Not being able to eat out. Restaurants were purposely eliminated during this challenge because it seemed there was always something that came up necessitating a restaurant meal. We were eating out way more than our budget really allowed. During this challenge we had one special night that we worked around by using a restaurant gift card. We had a few other times during this challenge where it really would have been nice to grab a quick bite.
Not being able to replenish staples like milk, bread, fresh produce, etc. (especially bread. eh-hem)
Limited grab-n-eat snack foods like tortillas, crackers & chips. As I mentioned, RancherMan is a grazer during the day. So not being able to grab munchies on the fly really affected him.
No surprises there but what about me, what about me?
What I Learned
Well I was reminded that by thinking outside the box I can save lots of food that might otherwise be wasted. Like those bread crumbs or broccoli stems that were important ingredients in later meals.
Also by using my Planned Leftovers method of cooking, I was able to remake meals & keep things from getting boring. Remember those fish croquettes from leftover baked fish? It was an entirely different meal using the same base ingredient.
And if we ever do this challenge again I may consider the time of year. Doing this challenge during the spring or summer when our garden is going well would keep us in fresh produce. I really missed the fresh stuff.
Have you ever done a grocery no-spend challenge? What did you discover were your pitfalls?
Follow Along & Read The Weekly Challenges:
~TxH~
Other Planned Leftover Posts
…and MUCH MORE!


C'mon by & sit a spell! Come hang out at our Facebook Page. It's like sitting in a front porch rocker with a glass of cold iced tea – lots of good folks sharing! You can also follow along on Pinterest, Twitter or Instagram.
If you'd like to receive an email each time a new blog post goes live it's EASY to
Subscribe to our blog!
Save
Save