by Texas Homesteader
Ok y'all, we're still trucking along with this grocery no-spend challenge where we've agreed not to spend any money on food of any type (except Valentine's Day) for the entire month of February.
That includes fresh foods such as milk, fruits & veggies. (although we may tweak this as the challenge goes on) It also includes soft drinks & juices, spices, eating out, etc.
Week one went without a hitch since our freezers and pantry were well-stocked with food to start with. But what about week 2? Were there any hitches? How much discomfort? What have we learned? Read on…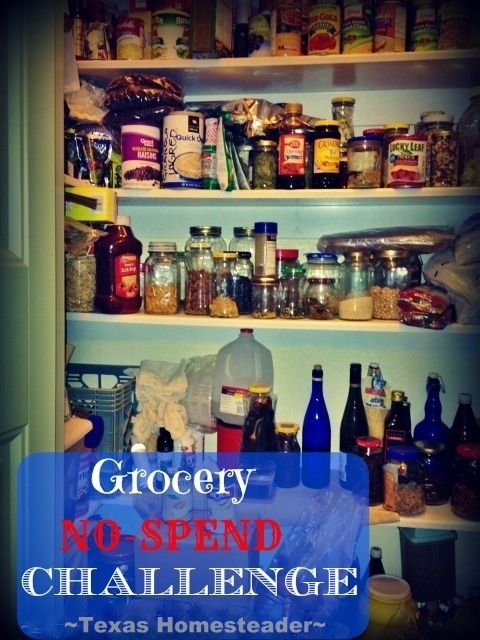 Bread In High Production!
As I mentioned before, I did not stockpile extra food in preparation of this challenge. To me would have defeated the purpose.
During the 1st week of our no-spend challenge I got by with focusing even more strongly than usual on not wasting any food. I made many loaves of homemade bread both to satisfy RancherMan's seemingly insatiable bread appetite as well as to stockpile some bread in the freezer so I wouldn't be stuck on a tight bread-making schedule. I even discovered some shortcuts for bread making.
That at least reduced the amount of time in the kitchen while still allowing me to crank out that homemade bread.
Delicious Meals
For meals themselves we're still trucking along just fine. I whipped up a whopping 2 lbs of pinto beans in my slow cooker. Also I made up a batch of jalapeno cornbread for a bone-warming meal on a cold night.
By cooking up that whole bag of beans there's also plenty to section off into the freezer. That means we have a delicious side dish waiting with no extra cooking/cleaning required.
Y'all know I'm a big fan of cook-once, eat-twice cooking.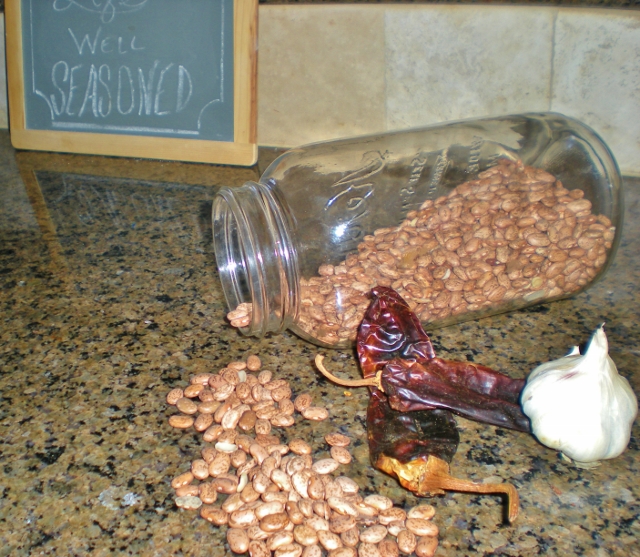 I also made Salisbury steaks one night. Not only did it use up some of the freezer food I was wanting to go through but made good use of those bread crumbs from the homemade bread last week.
I paired the steaks with mashed potatoes topped with the gravy I made with the meat & corn on the cob.
And there's enough left over to enjoy Salisbury steaks another night this week. So no cooking for me on another night. Win/win.
We also had a package of chicken nuggets in the freezer for when our grandbabies come to visit. But they haven't been at the ranch for several months so we took this opportunity to heat-n-eat those chicken nuggets & get 'em out of the freezer.
Blech, how do the kids love those? LOL

Don't Forget Dessert
Desserts have been peach cobbler using canned peaches from the pantry and even simpler healthy desserts like a bowl of chilled pears in vanilla syrup that I canned last year, sprinkled with frozen blueberries. What a delicious way to enjoy an easy dessert straight from the pantry/freezer!
Of course I made a batch of homemade yogurt early in the no-spend challenge month while we still had milk. I really love my yogurt, it's such a healthy breakfast.
And luckily it's also easy to make! I was able to make a simple fruit/yogurt parfait dessert using sweetened yogurt and canned fruit and topped with a sprinkle of granola.

What About Drinks?
And although I typically drink milk with my meals, I'm trying to save the milk to go with our occasional desserts as well as using it for a bowl of my Pumpkin Granola. So I'm looking at other drink options to go along with my meals.
One of the beautiful things about our grocery no-spend challenge? Making sun tea on a warm spring-like day like this day!
Ohhhh the sacrifice…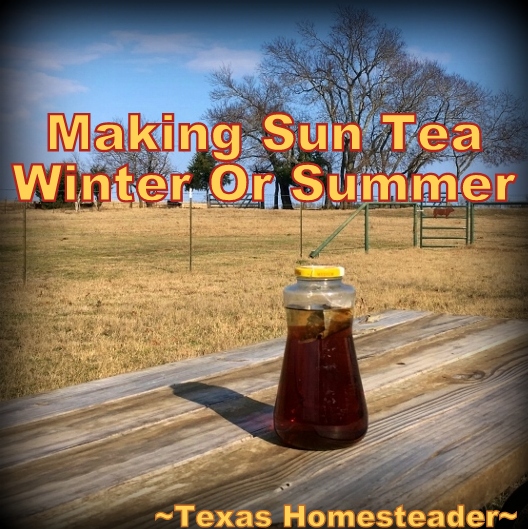 It's Not All Pretty…
Our no-spend challenge has not been without it's hitches. We were invited to a friend's house for supper and anything I bring to contribute to the meal must be made with food we already had.
So I decided to make homemade rolls using I used my bread recipe that RancherMan loves. I figured I'd just roll the dough into dinner rolls.
They looked AWFUL! And they were bland & almost crunchy. And flat. I must not have cooled my warm milk/melted butter long enough and killed the yeast.
Ain't that the way it always goes when you're bringing food to someone elses home? How embarrassing…
Those flat/crunchy hot rolls got eaten anyway – by RancherMan. Good thing he loves bread in all its forms.
But I still had 1/2 of that dead-yeast dough in the fridge. I figured if all I had was bread dough without the yeast, why couldn't I roll them out & make tortillas?
OK you should know I've attempted tortillas on MANY occasions, it's always failed. But RancherMan has always eaten them anyway with nary a complaint.
So I sectioned out the dough, rolled them into balls, pressed them flat & threw them on a hot griddle and made… I dunno, certainly not tortillas.
More like flattened english muffins? sigh… But my always-supportive hubby consoles me "Honey, these are the perfect size to make a personal-sized ham sammich". How much do I love that man-o-mine??
Will This Break The Rules?
And when RancherMan won two FREE tickets to watch the Dallas Mavericks play basketball I struggled with the dining arrangements.
Would using a gift card to eat out while we were in town be cheating the challenge since the rules prohibit us from restaurants?
But when I posed this question on my Texas Homesteader FB page a reader politely pointed out in so many words that I was being beyond anal to stick to the rules this stringently.
(Wow. And this was from someone that cares for me! LOL)
So we grabbed a quick bite before the game using one of our gift cards. We had a lovely date night and RancherMan got to wear his favorite vintage Mavs jacket to the game. Oh yeah, and the MAVS WON!
What I've Learned
I think my biggest challenge this week has been trying to keep grab-n-eat things in the kitchen. RancherMan's definitely a grazer throughout the day.
Before the challenge he would grab a tortilla & roll it around some smoked ham or maybe grab a small stack of crackers to crunch on.
Now he's not complaining & doesn't demand this from me but I'm struggling with the amount of time I'm spending in the kitchen. I'm beginning to fear burnout.
To combat this we'll come to a compromise – I'll attempt to get some grab-n-go foods made for him & he will have to choose more often based on what we already have.
We're also nervously eyeballing our supply of certain items like butter, flour and fresh milk. To ease the flour/bread issue I enticed RancherMan to eat the same lunches as me – Endless Soup.
This week it was Mexican flavored with grilled chicken, seasoned rice, crushed tomatoes, veggies & homemade taco seasoning with some mildly-spicy homemade Salsa Verde mixed in. Delicious!
Not only will it be healthier for him but will keep me from making fresh bread so often.
Do We Dare To Continue?
As I mentioned before, my purpose with this challenge is to recognize the blessing of abundant food we already posses. The side benefit was to use up much of the excess before purchasing more.
It should push our comfort levels but I don't want this challenge to make us miserable.
So far we're sticking to the no-spend challenge. But we may either cut the challenge short or tweak some things such as allowing minimal purchases of fresh supplies such as milk, fruit or veggies if it becomes drudgery.
Stay tuned for tales of week 3!
If you want to follow along to see how we did each week, you can see:
Grocery No-Spend Challenge: Week 1
Grocery No-Spend Challenge: Week 3
Grocery No-Spend Challenge: Week 4
~TxH~


C'mon by & sit a spell! Come hang out at our Facebook Page. It's like sitting in a front porch rocker with a glass of cold iced tea – lots of good folks sharing! You can also follow along on Pinterest, Twitter or Instagram.
If you'd like to receive an email each time a new blog post goes live it's EASY to Subscribe to our blog!
Save