by Texas Homesteader ~
Do you have a hard time remembering which drink is yours at a party? You set your drink on the table and then forget which one is yours, so you just go get a fresh drink. What a waste! Here's an easy way I battle that problem!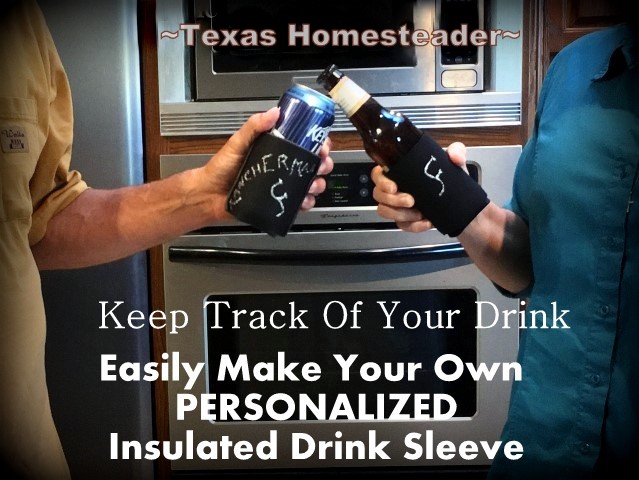 Party Gatherings
How many times have you been at a gathering and enjoying an icy cold beverage? As you chat with friends you set it on the table to impart an interesting story about your homestead.
When you look back you see 2 or 3 identical drinks on the table. Do you dare guess which one's yours? What if you take someone else's drink?
With a sigh you decide it's not worth the chance of picking up the wrong one. So you chalk it up as a loss & fetch yourself a fresh drink. But you hate the waste!
Surely there's an easy way to keep tabs on your beverage…
Here's how I battle against that waste. It's easy and even kinda fun!
Using Free Insulated Drink Sleeves
It's very common for various companies to give out these insulated drink sleeves emblazoned with their advertising (can you even use the word Koosie or is that a specific brand??)
Anyway, we don't typically pick them up because, you know, a family can only have so many of these things!
Free is not a good deal if it's something you don't need in the first place!
But oftentimes they come in a grab bag or the reps almost shove them on you.
So we still end up with a few of these insulated drink holders. But here's the good thing: They're almost always plain black fabric on the inside.
Now I don't know about you, but this is a blank canvas to me!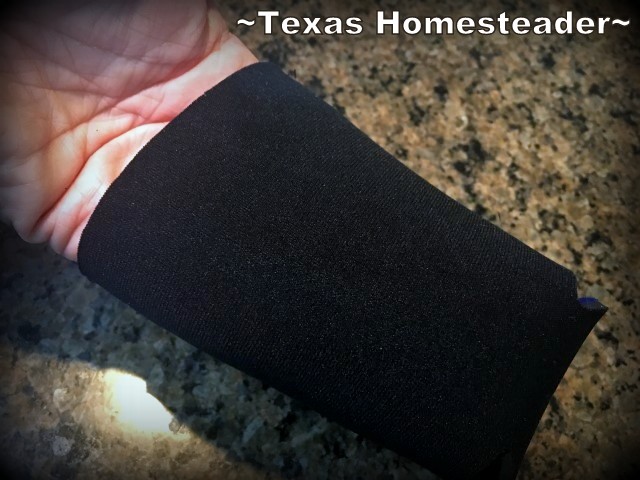 Using Cheap Fabric Paint
I quickly flip them inside out and take a tube of fabric paint and personalize them.
I've had this particular tube of fabric paint for years and it's still going strong! The glittery-gray shows well against the black background on the drink holder I'll be personalizing today.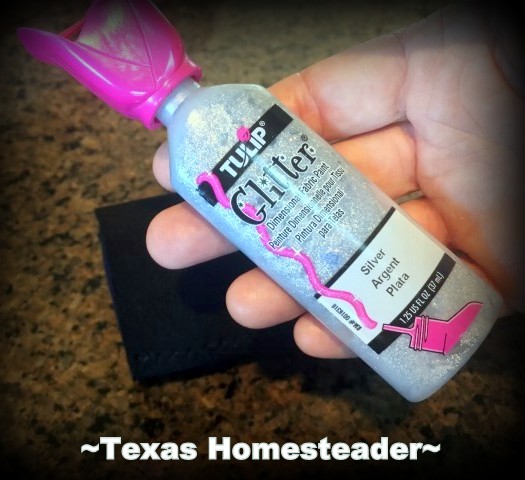 It's fun and really quick to just put a symbol on those insulated drink holders. All of our friends know this drink is ours.
But even people who don't know us as well will know this must not be their drink because it has a drink sleeve on it.
These personalized insulated drink sleeves were so quick & easy to make that I made one for RancherMan and one for myself.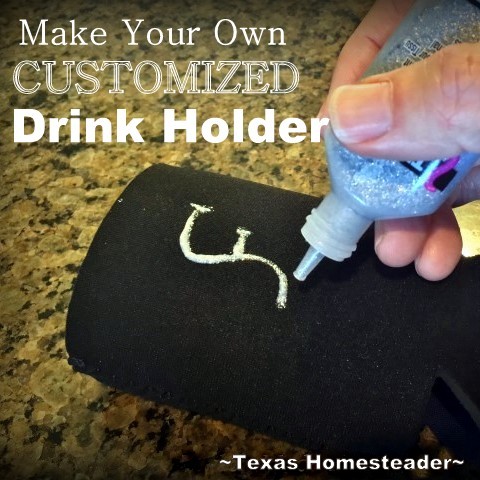 How To Know Which Drink Was Yours
The thin insulated drink sleeves are small enough to tuck into our cooler as we head out to any gathering. Then while we're at the gathering we simply slip our drink into this insulated sleeve.
It not only keeps our beverage cold but helps us keep tabs on our drink as well.
A two-fer win!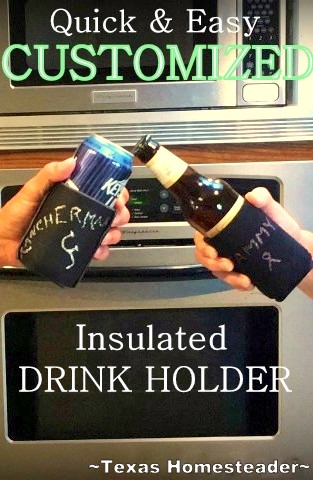 Since I know there will always be a steady supply of these drink sleeves coming in, I'm not worried if one gets lost or accidentally left behind. I know I can whip up a new one in less than five minutes.
Cheers!
~TxH~
Other 'Use Whatcha Got' Ideas


C'mon by & sit a spell! Come hang out at our Facebook Page . It's like sitting in a front porch rocker with a glass of cold iced tea. There are lots of good folks sharing! And you can also follow along on Pinterest, Twitter or Instagram
If you'd like to receive an email when a new blog post goes live,
subscribe to our Blog!
Save
Save
Save
Save
Save
Save
Save
Save
Save