by Texas Homesteader ~
Sometimes unexpected company comes to visit and lunch time rolls around – what to serve that's quick and guest-worthy?
My go-to idea is quesadillas. It's filling, delicious and quick to fix.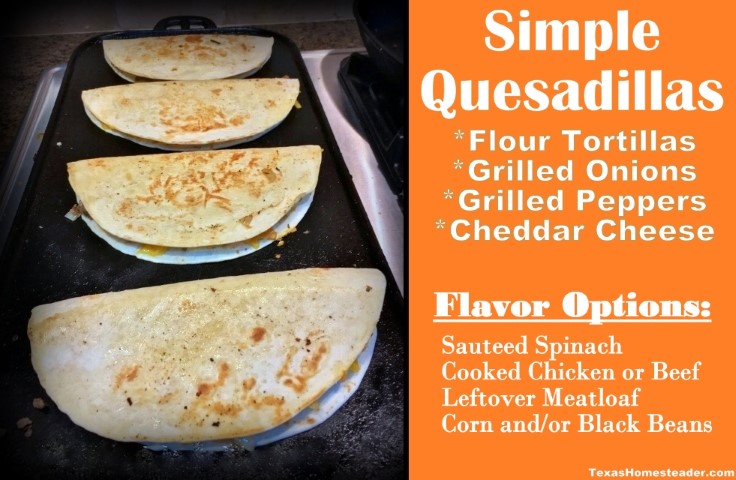 Preparing My Spinach Quesadilla Ingredients
I have a very heavy cast-iron griddle that fits across two of my gas burners on the stove. So I fire them up and get the griddle good & hot.
Then I toss on some oil and chopped onions and cook them until they are soft and translucent. Sometimes I add chopped bell peppers too. It all depends on what food I have needing to be used.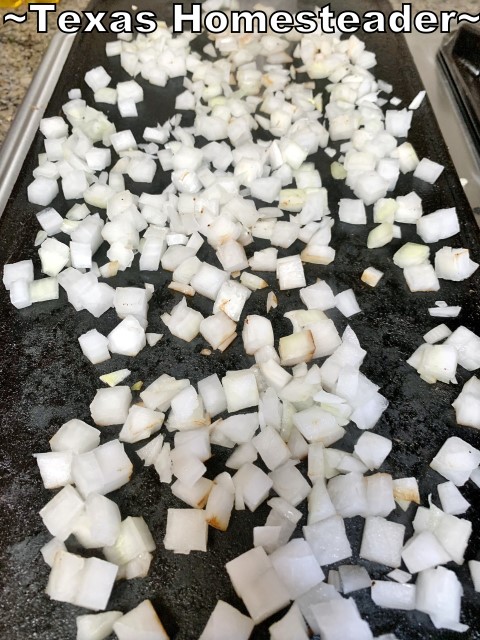 Now that the onions are grilled I step out onto the front porch where I have my edible landscape garden. (you can read about my Dual Purpose Edible Landscape Here)
I pick as much fresh spinach as I think I'll need for these quesadillas. Remember spinach shrinks down when it's cooked. A LOT.
Once it's inside I wash and chop it and throw it on the griddle for only a minute to soften it.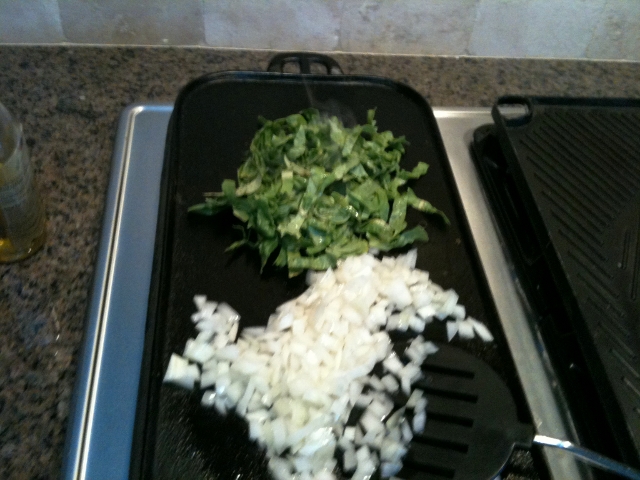 Now I scoop the onions & spinach into separate bowls and spread another thin layer of oil on the griddle and start layering my quesadilla ingredients in this order on only one half of the tortilla surface:
Tortilla, cheese, onions, spinach, cheese.
Leaving half of the tortilla empty gives you room to fold it over when the cheese melts.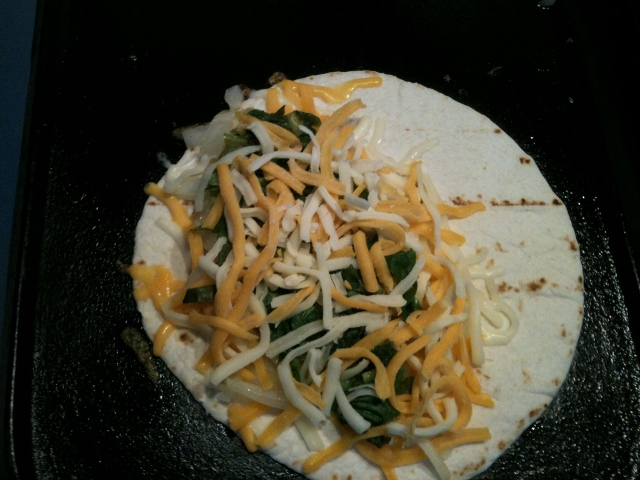 And by adding the cheese on both the first & last layer I'm able to better keep the quesadilla together. As the cheese melts it anchors the other ingredients together.
(breathes deeply) Ummmm…. it's all starting to smell really good.
By the time my ingredients are layered the tortilla is already beginning to brown and the cheese is starting to melt.
Now I simply fold the tortilla in half and flip, allowing the other side to brown and the cheese to melt.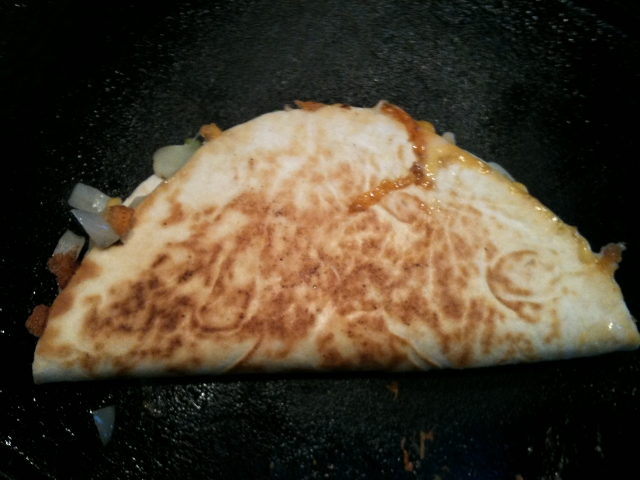 Another 30 seconds or so and the quesadilla is ready. I use a dollop of my homemade yogurt as a low-fat substitution for sour cream (you can read about that here) and in less than 7 minutes I have lunch.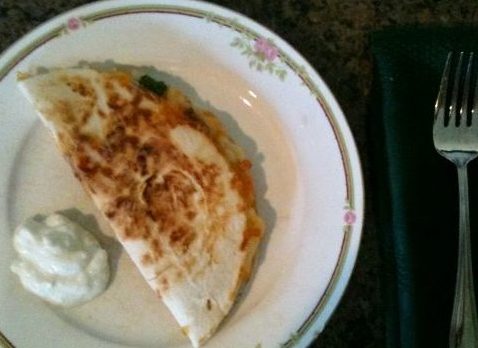 Quesadilla Flavor Options
This is a quick & easy lunch you can whip up anytime and with whatever you have available to stuff it with. But you're not limited to a spinach quesadilla. The world is your oyster with quesadilla flavor options.
Leftover Meatloaf Quesadilla – I've written before about making Quesadillas With Leftover Meatloaf. It was a great way to both eliminate food waste as well as enjoy a quick meal in minutes.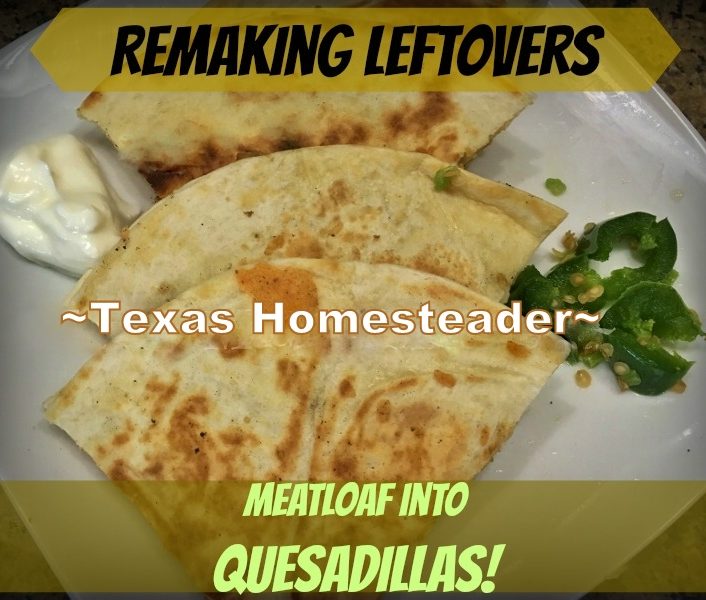 Southwest Quesadilla – Sometimes I'm in the mood for a quesadilla with at Southwest Flair. So make Southwest Quesadillas. I fill the tortilla with sautéed onions, peppers, corn, black beans and even chicken sometimes.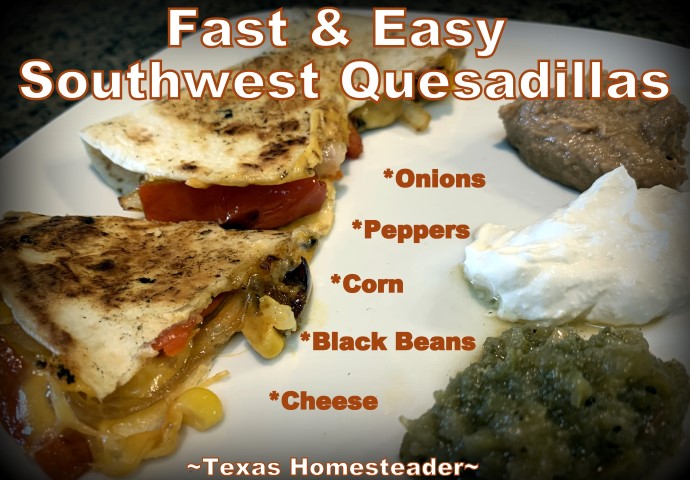 It's delicious and I can add sour cream, Pico de Gallo or even Salsa Verde to go with it.
Breakfast Quesadilla – Heck, I've even made a BREAKFAST Quesadilla using scrambled eggs as the filling. It was a delicious way to make good use of all those fresh eggs our hens are laying.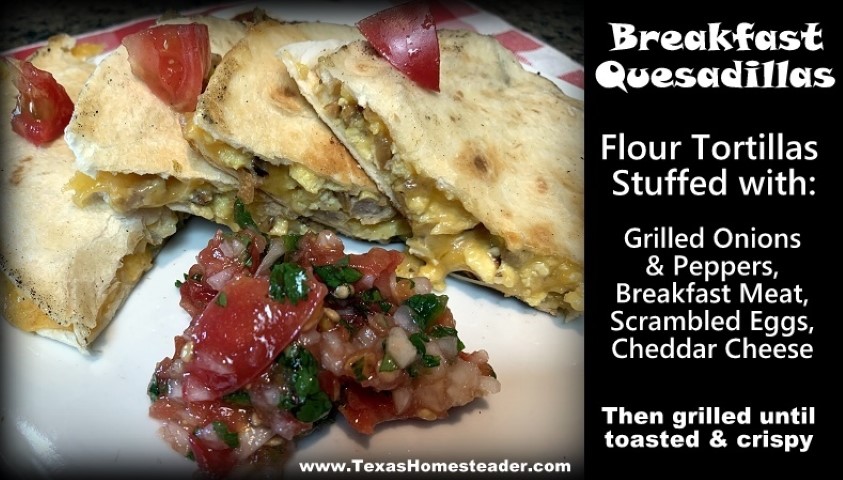 That's the beauty of quesadillas. Add whatever you like! Leftover meatloaf? Add it.
Like fresh spinach like I did here – pile it on for a fresh spinach quesadilla!
Prefer just onions/peppers/cheese? Whatever floats your boat.
Just add whatever you like and enjoy! As RancherMan always says: "You can stuff anything in a tortilla and enjoy it as a meal".
True words, RancherMan. True words.
~TxH~
Our Favorite Tex-Mex Recipes
Side Dishes We Love
…and MANY MORE!


C'mon by & sit a spell! Come hang out at our Facebook Page. It's like sitting in a front porch rocker with a glass of cold iced tea – lots of good folks sharing! You can also follow along on Pinterest, Twitter or Instagram.
If you'd like to receive an email each time a new blog post goes live it's EASY to
Subscribe to our blog!