by Texas Homesteader 
Working for yourself requires a special dynamic.  You must wear all hats – Public Relations Manager, Information Technology Director, CEO and CFO. And your paycheck doesn't come at all unless you do your job well, even with circumstances that are beyond your control.
Last year we purchased our stocker calves the same as we do each year. We brought those calves home and gave them their health workup and immunizations. We poured them for parasites and castrated and dehorned where needed. Then we put those calves out on the most lush green winter pasture we had ever had. They were calm and happy, and they grew fat off of our careful attention to detail.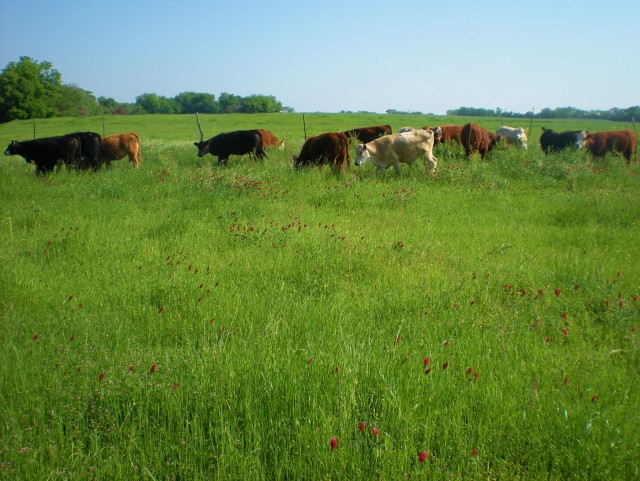 Then when the time was right we loaded them all up and took them to a special pre-conditioned calf sale. Unfortunately a beef issue came up a week earlier causing a very temporary but pretty hard dip in prices, JUST IN TIME for our calves at the sale.
We lost money on the our entire crop of calves. We would have actually been financially ahead if we had sat next to a warm fire and sipped hot cocoa all winter instead of suiting up for those blowing cold winds and assuring those calves had proper hay and shelter. Through no fault of our own, we paid the price.
But that's the risk you take when you're in business for yourself. We feel good that we gave those calves a wonderful place to be, filled with gentle voices, a healthy start and lush green grass. The dip in prices was a market reaction and very temporary but it does solidify the fact that it's important to mind the details for anything even remotely in our control to stack the cards in our favor.
For instance, we plant pastures in the fall hoping for the rains to make our winter grass grow – which makes our cattle fat and healthy – which ideally will result in positive cash flow. We pay careful attention to the health of our cattle – which keeps them productive – which ideally will result in positive cash flow. We keep up with market trends – which tells us when is the best time to sell – which ideally will result in positive cash flow. If one of these falls through the cracks, hopefully we are buoyed by the others.
Yes there's lots of risk and sacrifice to make a living the way we do, but there's NOWHERE on earth I'd rather be!
~TxH~
Other Ranching Articles


C'mon by & sit a spell!  Come hang out at our Facebook Page . It's like sitting in a front porch rocker with a glass of cold iced tea.  There are lots of good folks sharing!  And you can also follow along on Pinterest, Twitter or Instagram
If you'd like to receive an email when a new blog post goes live,
subscribe to our Blog!