by Texas Homesteader~
Everyone is looking for ways to stretch their grocery budget these days. There are numerous ways to do this including using coupons to reduce prices of the things you purchase, buying generic products, etc.
But today I'm going to talk about using the food you already have in your home.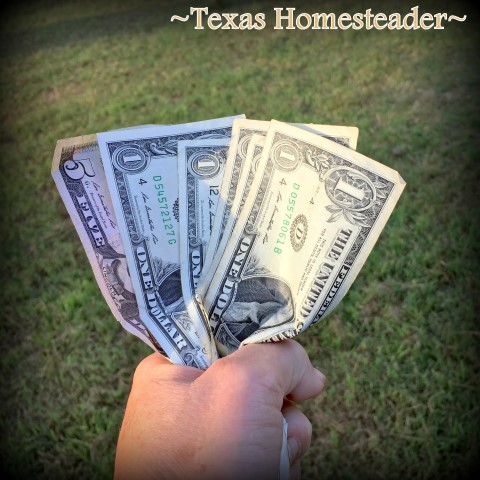 Cook-Once, Eat-Twice
One of the main ways I save money on grocery expenditures is the 'cook-once-eat-twice' method of cooking. Basically you cook an abundance of one item and freeze it for future meals.
Let's take meatloaf for instance. We love meatloaf and enjoy it often, but I never fire up the oven for just one meatloaf.
I typically make 3-4 meatloaves at a time, we enjoy meatloaf for supper that night and the rest is divided into supper-time serving sizes and frozen for future meals.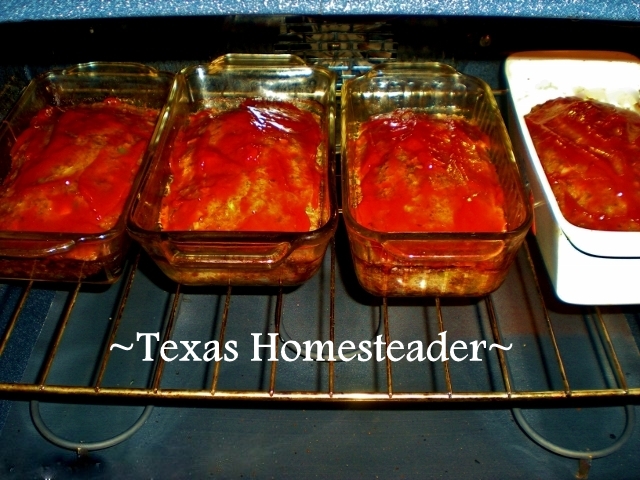 A quick homemade meal is as close as my fridge. Other than using the meatloaf as the main entrée, the servings can also be cut into meatballs to be mixed into spaghetti or crumbled to go into quesadillas or any other ground meat dish – so versatile!
Using this method I've only heated up the oven once and the mess in the kitchen is only cleaned up once, yet several meals of this entrée are waiting for me in the freezer.
Entrée Variety In Your Freezer
And it's not only meatloaf in there y'all. My freezer is packed with Stuffed Peppers, and Meat Ravioli. There's Chile Relleno Cups and more.
Subsequent pre-made entrees are simply pulled from the freezer the night before they're needed and placed in the fridge to thaw.
Then at suppertime I just heat the entrée in the microwave and add whatever side-dish veggies we're having.
In the summertime that usually involves a stroll to the garden to pick fresh veggies to steam.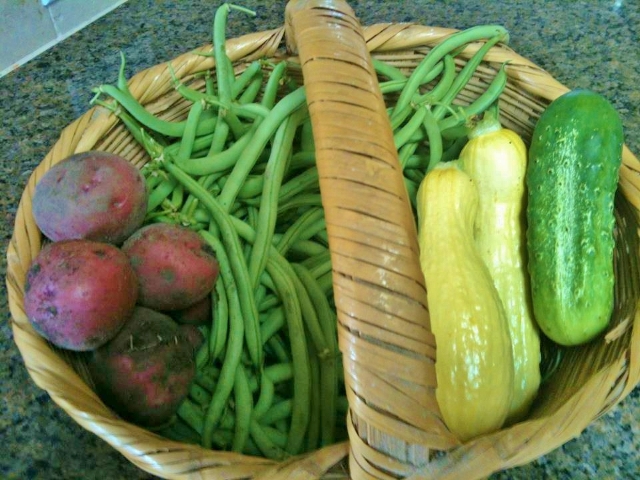 A homemade supper can be on the table in 15 minutes or less and cleanup is a snap!
A Whole Bag Of Potatoes?
Main dish entrees are not the only place the freezer can save you money.
Are you having a hard passing up that great sale on potatoes because you don't think your family can eat them all before they go bad? Go ahead and BUY THEM!
Here's what we do: I've dehydrated potatoes in the past, but sometimes it's quick & easy just to freeze them.
First I wash, trim and dice the potatoes into roughly 1/2″ chunks. We leave most of the peel intact just because we like them that way.
Then I plop them into my large stock pot. I cover the pot, turn on the heat until the water boils then turn off the heat & leave the pot covered until the potatoes are soft.
(Sometimes I cook the Potatoes In My Solar Oven. Saves cooking fuel!)
Then I drain the potatoes and mash them. I don't add any seasoning at all until they're ready to be consumed.
I'll bag them into serving-sized bags and put them in the freezer until needed.
Like the entrée method above, I'll bring a serving out of the freezer the night before they're needed and warm them in the microwave.
Then I'll stir in homemade yogurt that I use for lower-fat sour cream substitute as well as salt and pepper and they're ready to eat.
You can also use the mashed potatoes in other ways such as thickening some kinds of soups, adding to homemade bread for that extra oomph, or frying up potato cakes.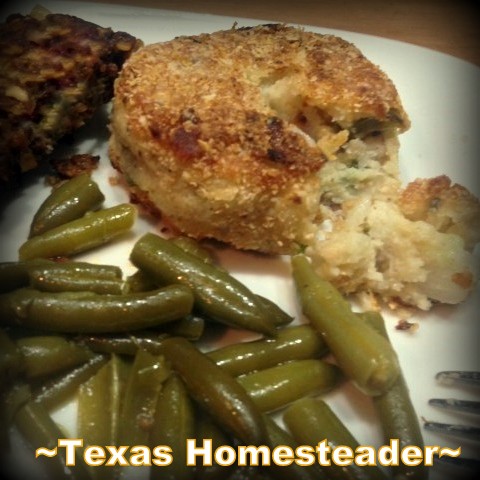 So many options.
Too Many Oranges
How about this? Recently we received several oranges from a family member.
We ate them fresh as often as we could of course. But it was apparent we could not consume all of these oranges before they went bad. What to do?
Out came our manual juicer and bada-bing, bada-boom – the orange abundance was magically transformed into orange juice, RancherMan's favorite beverage.
It only took a couple of minutes to juice all of those oranges.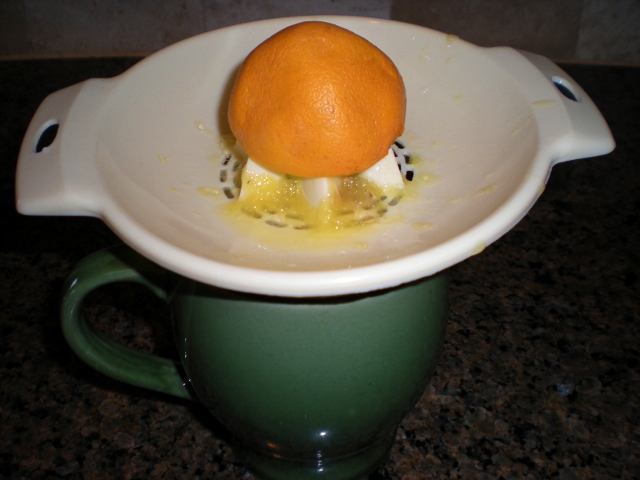 I poured the juice into plastic peanut butter jars which I like better than glass for short-term freezer storage.
Then I popped the jars into the freezer so we can enjoy fresh-squeezed orange juice at a later date. No waste!
What are some ways your family saves money on groceries?
~TxH~
Other Frugal Tips
…and many MORE!


C'mon by & sit a spell! Come hang out at our Facebook Page. It's like sitting in a front porch rocker with a glass of cold iced tea. Lots of good folks sharing! You can also follow along on Pinterest, Twitter or Instagram.
If you'd like to receive an email each time a new blog post goes live it's EASY to
subscribe to our blog