by Texas Homesteader ~
I always have a couple of jars of dehydrated cubed potatoes in my pantry. From a preparedness standpoint I love to have dehydrated food available.
Jars of dehydrated food aren't dependent upon electricity to keep them preserved like when storing food in a freezer.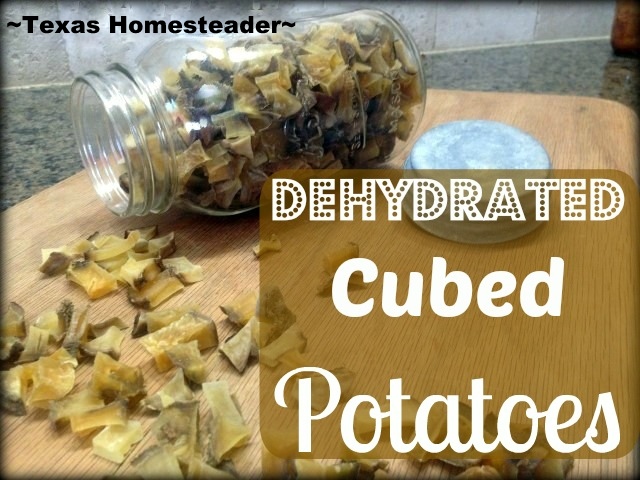 (Note: Some links in this post are for further information from earlier posts I've written. But links preceded with * are affiliate links. If you click them and buy something (almost anything, not just the item noted) I could receive a tiny commission. But the price you pay will NOT change. It's an easy way to support this blog without anything coming out of your pocket. So click often! Thank you!)
Buying Larger Bags Of Potatoes
D'ya ever eyeball that big honkin' bag of potatoes, compare the price to that small overly-expensive bag of potatoes and have a hard time making the economics make sense? Yeah, me too!!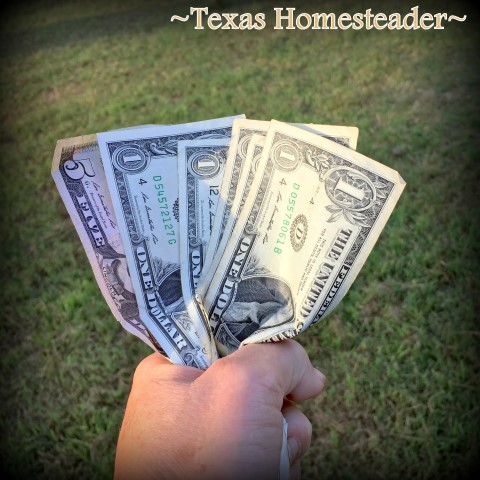 As empty nesters there are only 2 of us here these days in our household. But dang it just doesn't make sense to pay more per pound for a smaller bag of potatoes.
Recently I acquired a large quantity of potatoes and went on a mission to cook and/or preserve them all.
Freezing Excess Potatoes
Sometimes I preserve potatoes by cooking, mashing and freezing them with nothing else added. When I'm ready for mashed potatoes I just bring them out to thaw, drain the excess water and heat the up adding salt/pepper/butter and maybe a splash of milk. Then BOOM! Homemade mashed potatoes.
But sometimes you need a backup for those times when the electricity might go out, such as during the Severe Winter Ice Storm we endured a few years back.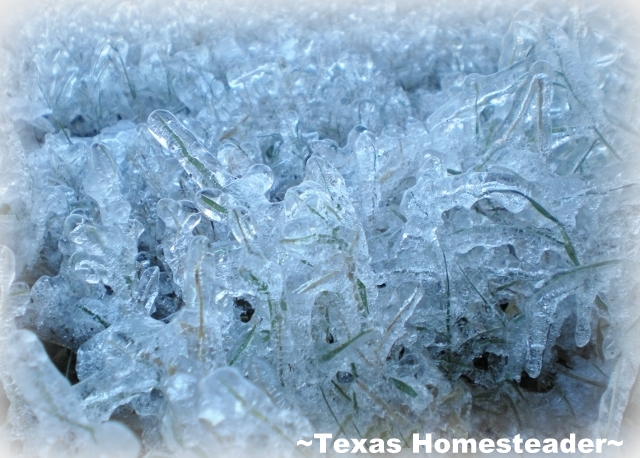 Our electricity was off for days. Everything in our freezers was in danger of being wasted.
Although I was able to salvage much of it, sadly some was wasted too. Y'all know how I hate food waste!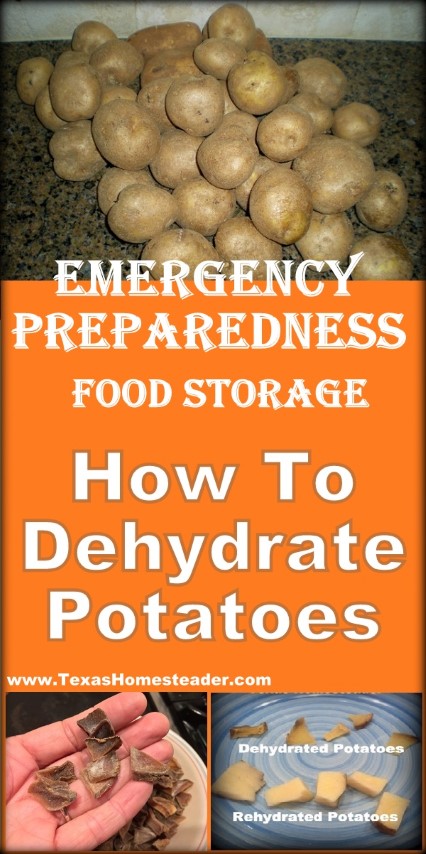 Dehydrated Potatoes Use Little Space
So I love the benefits of having dehydrated food in my pantry. It can be stored in small repurposed glass jars on the shelves of my pantry. No additional energy is required to store food this way.
Different Ways To Dehydrate Potatoes
Hash Browns – One of our favorite ways to preserve excess potatoes is by shredding & dehydrating them to use for dehydrated hash browns. We love them this way.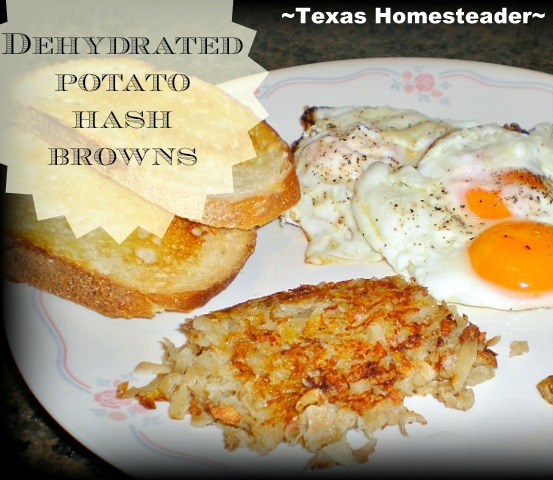 Cubed – But I also want to dehydrate cubed potatoes like I'd use in a stew. That gives me a little more variety in my pantry storage, bebe!
Dehydrating potatoes is super easy, but there's one important thing you must do before successfully dehydrating them.
Keeping Potatoes From Turning Black
Just cutting potatoes and drying them will cause the potatoes to turn black in each spot a cut was made.
Case in point – We prefer our potatoes with the skins on. So I scrubbed several russet potatoes and cut away every eye or deeper crevice.
Then they were partially cooked (but apparently not cooked enough) and I put them in the refrigerator to cool overnight. This was the very ugly result.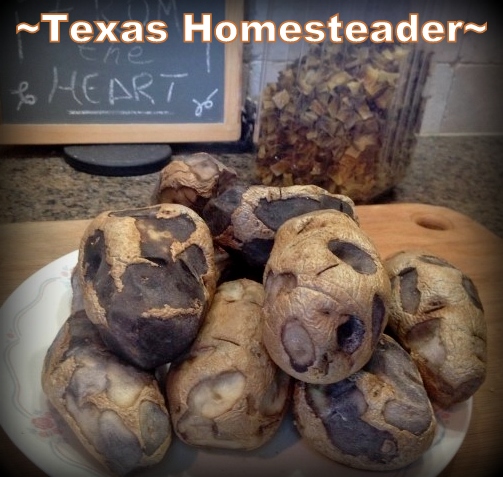 Ewwwwww… not very appetizing.
To salvage them I ended up cooking them a little more, cooling them again and cutting away all the dark spots before grating them for dehydrated hash browns. So at least they weren't wasted.
But it's a good lesson. Before dehydrating potatoes you need to cook them about 3/4 of the way.
So to make the next batch of dehydrated cubed potatoes I scrubbed more potatoes and then pricked the skin in several places. Then I stacked them tightly in a black enameled pan.
Cooking Potatoes With FREE Solar Energy
You can cook your potatoes using your favorite method whether oven or microwave. But by using my *solar oven outside I'm able to use FREE solar energy to cook my potatoes.
I covered the pot with the lid and placed it into my solar oven. After closing & latching the oven door I pointed the reflectors at the sun. The oven was adjusted about every hour to help it track the sun and keep interior temps consistent.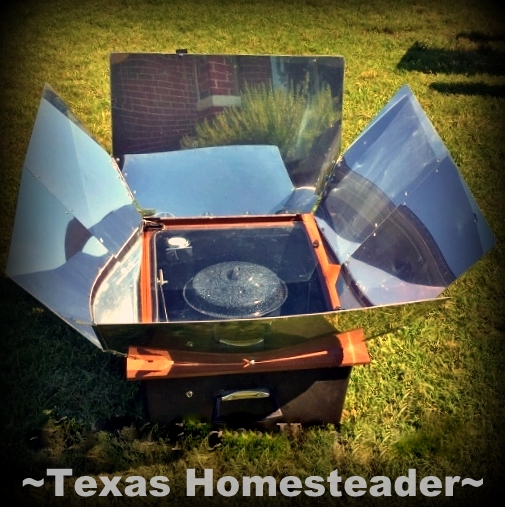 I removed the potatoes from the solar oven when I began to see steam collecting on the glass door about 3 hours later. Your time could vary based on your cooking method & the size of your potatoes.
You want the potatoes to be almost fully cooked but still firm, cooked about 3/4 of the way. That way they're cooked enough not to turn black when cut but still firm enough to cut easily.
I brought the cooked potatoes into the house and spread them on the counter to cool. Then I placed them in the refrigerator overnight to chill.
Dehydrating Cubed Potatoes
The next morning I diced the cold potatoes into approximately 1/4″ – 1/2″ cubes. I don't want big honkin' cubes. Not only will larger cubes take more time to dehydrate but also more time to rehydrate in the stew pot as well.
After they were cut I spread them evenly on my *Excalibur Dehydrator trays. Then I set the temperature to 125 degrees.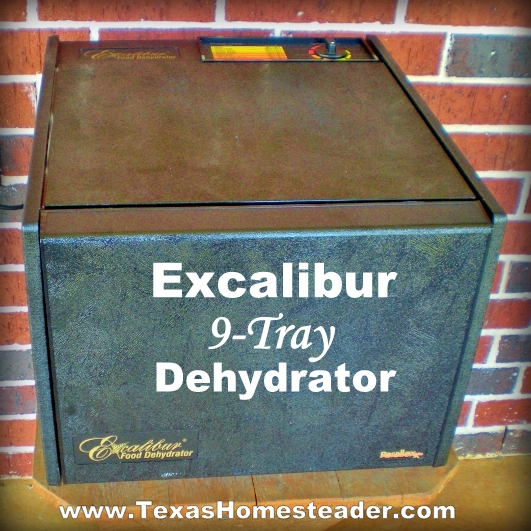 My semi-cooked diced potatoes took about 10 hours to dry. But drying time is dependent on how dense (ie: how cooked) the potato is as well as the uniformity and size of the pieces.
It's also dependent upon how often you rotate the trays, how evenly you've spread them out and even the humidity in your area.
But you want your finished dehydrated potatoes to be hard and dry. Even a smidgen of moisture left in just 1 tiny piece of potato sealed in a jar will ruin the entire batch!
Extra Step To Assure No Moisture Remains
So I placed my dehydrated potato pieces into a large open-top container and left them on our kitchen counter for a couple of days. I mixed the contents several times to expose all surfaces to the air for further evaporation.
When I was certain no moisture remained I poured my dehydrated potatoes into a clean, dry repurposed jar. Then I sealed it up, added a label and placed it in my pantry.
Rehydrating Dehydrated Cubed Potatoes
When I want to use some of the dehydrated cubed potatoes I'll simply drop a handful into my brothy Endless Soup as it simmers.
Those potato cubes will rehydrate and finish cooking right there in the soup pot!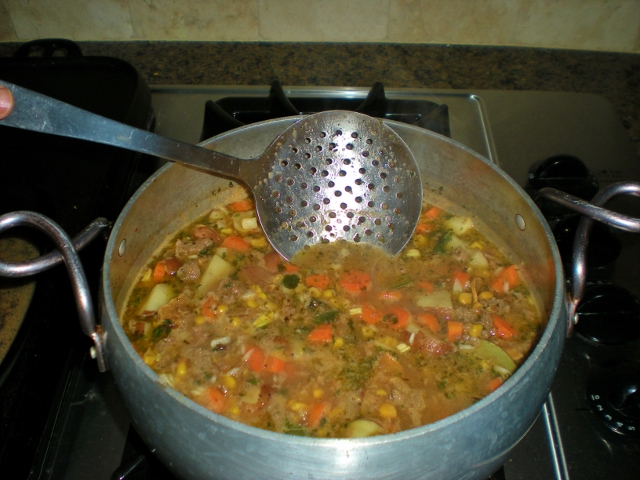 To rehydrate potatoes by themselves I place a handful of dehydrated cubed potatoes in a metal bowl. Then I pour just enough boiling water to cover them and then place a cover on the bowl.
Depending upon the size of the potato cubes I'll allow them to rehydrate for about 45 minutes. Then I can finish their actual cooking time on stovetop or oven along with my recipe.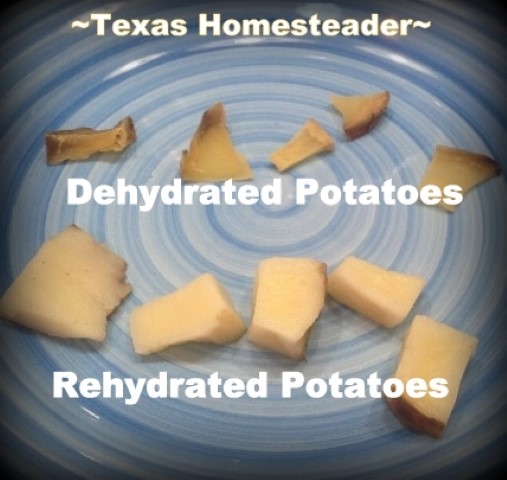 You can see how the potatoes rehydrate compared to their dehydrated counterparts in the photo above.
So go ahead, next time buy the BIG bag of potatoes & dehydrate them!
~TxH~
Links In This Post
Other Dehydrating Posts


C'mon by & sit a spell! Come hang out at our Facebook Page. It's like sitting in a front porch rocker with a glass of cold iced tea – lots of good folks sharing! You can also follow along on Pinterest, Twitter or Instagram.
If you'd like to receive an email each time a new blog post goes live it's EASY to
Subscribe to our blog!
Save
Save