by Texas Homesteader ~
Come see the 5 Frugal things I did this week to save money on food. With the crazy prices in the grocery store, we can all use a little money-saving inspiration, right? There were lots of opportunities to save some money this week. And this 5 Frugal Things post focuses on ways we've saved on food.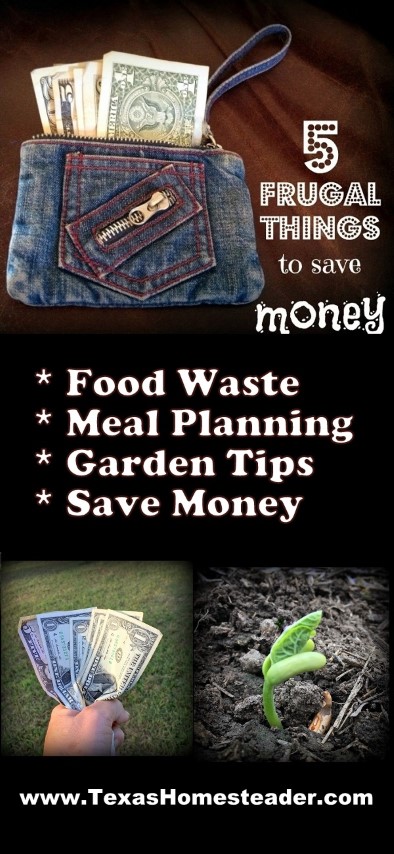 (Note: Some links in this post will take you to other related articles for further information. But links preceded with * are affiliate links. If you click and buy something I could receive a tiny commission.)
I'm sharing 5 Frugal ways we saved money on food this week. But I'm also sharing other frugal tips on a baby shower gift, searching for chickens and saving in the garden too. Check it out y'all!
1 – Instant Pot Bone Broth, Cheap, Healthy Food
I save meat trimmings and bones in the freezer. When the time is right I plop it all into my Instant Pot and make Homemade Bone Broth.
With the chilly weather that moved in this week, I did exactly that!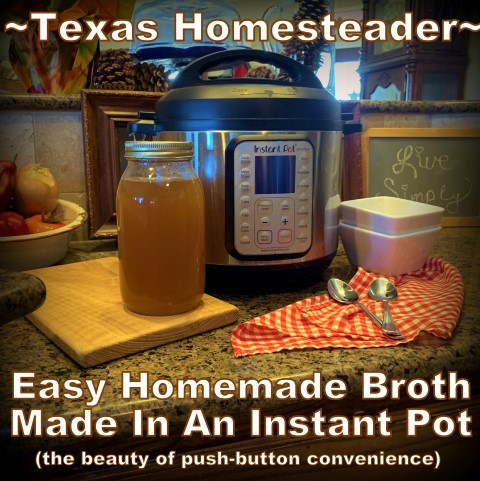 It's super easy to make Bone Broth In A Slow Cooker or using an Instant Pot. Not only is it providing a grocery product for basically free, it's super healthy too.
2 – Using Up Groceries Before Buying
Now that I have all this homemade broth, I planned foods that would use some of it this week. Broth-heavy foods such as:
Many Options of 10 Different Soups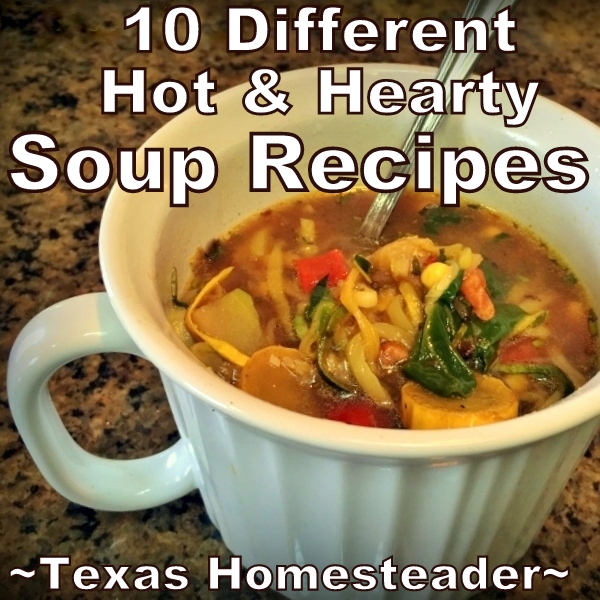 I'll Pressure-Can The Broth that wasn't used in meals this week to make it shelf stable.
I use my *Reusable Tattler Canning Lids when I'm canning.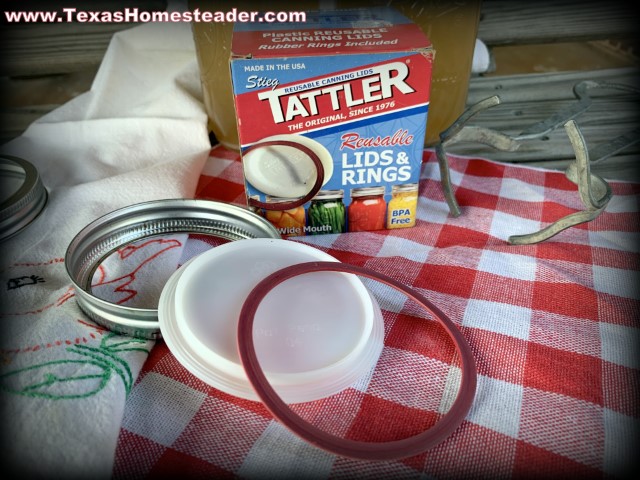 But if you didn't have your own Tattler Reusable Lids, planning broth-heavy meals over the course of the week will save unnecessary purchase of canning lids too.
3 – Using Leftover Food To Save Money
I'm making sure things I've made in bulk are fully enjoyed and not wasted.
Batch-Cooking Pinto Beans
We'd made a Large Pot of Pinto Beans for a family gathering. But I needed to make sure all those leftover beans were eaten in a way that didn't bore our palates.
Quick Lunch Idea: Seasoned, cooked beans mashed, spread on tortillas and sprinkled with shredded cheese & onions, rolled into a burrito and grilled until crispy.
Thankfully there are also Different Flavors For Pinto Beans to enjoy them as sides this week in various ways.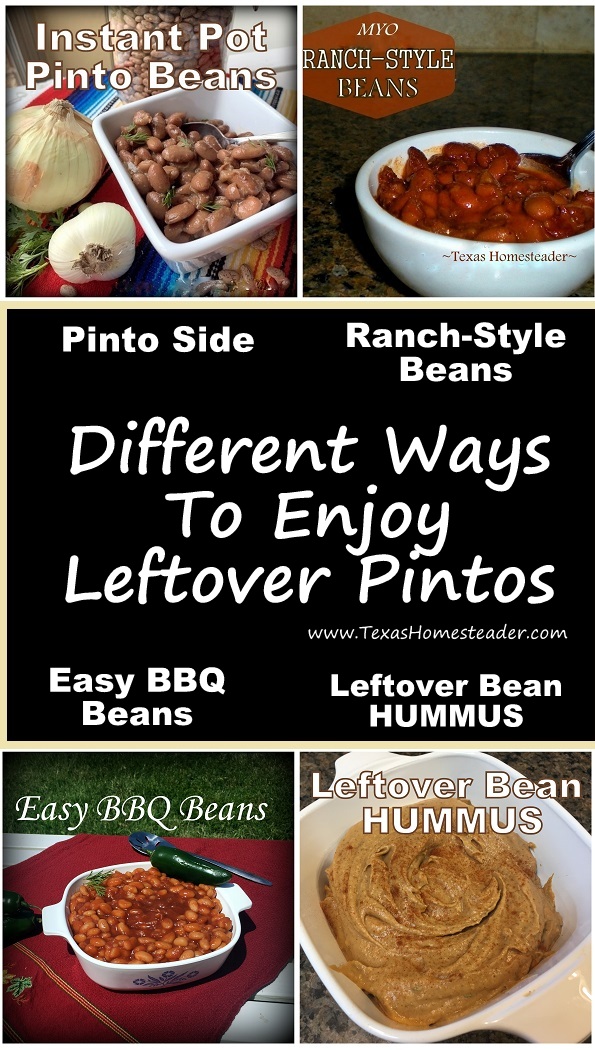 Eating Yogurt For Healthy Treats
I made ½ gallon of Homemade Yogurt. We enjoy it for breakfast of course. But I'll use some of that plain yogurt to make our favorite Healthy Creamy Salad Dressing.
The rest was flavored with *Sugar-Free Cherry Jello for RancherMan's snacking pleasure.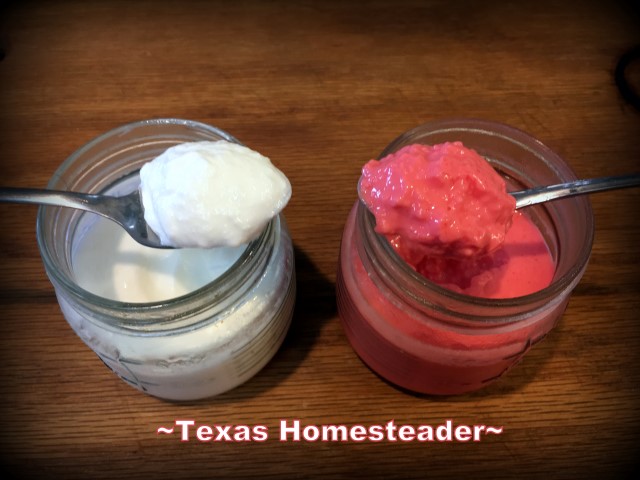 Some of that flavored yogurt will be layered in bowls for a simple yet healthy parfait dessert:
Canned Fruit (we like peaches)
Cherry-Flavored Yogurt
Topped with Homemade Pumpkin Granola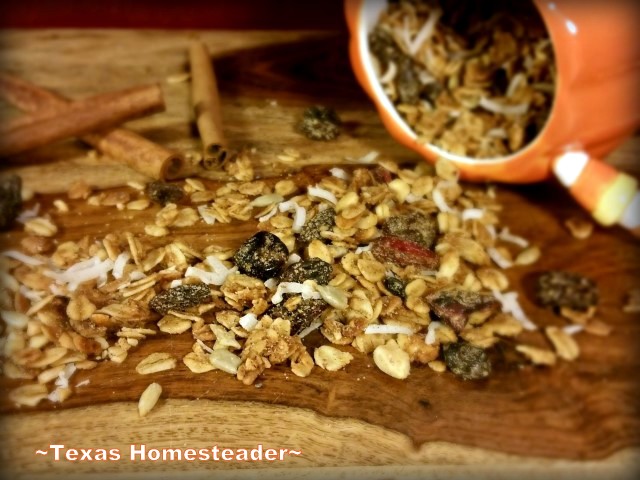 4 – Swapping Food That You Won't Eat For Food You Will
We found ourselves with an excess bag of corn grits and some canned tuna. (RancherMan eats tuna but I don't care for it)
This week we received an invite to our daughter's home and I asked if these items were things they could use. She enthusiastically said she could use them both, so I bagged them up to bring to her.
When I got there I found that since they'd moved to a gluten-free diet restriction she had bags of pasta that they could no longer eat. She asked if we'd like to have them. Of course I agreed.
I included some of that pasta in the soup I'd made with that homemade broth this week. And I'll be making a pasta entrée with some copious amounts of fresh roasted veggies with some of the other noodles.
No food was wasted and two families received food they could use in exchange for food they couldn't. Win/win
5 – Restaurant Meals – Eating Out For FREE!
RancherMan & I step away from the Homestead periodically to focus on each other. It's an important way we Keep The Spark In Our Marriage.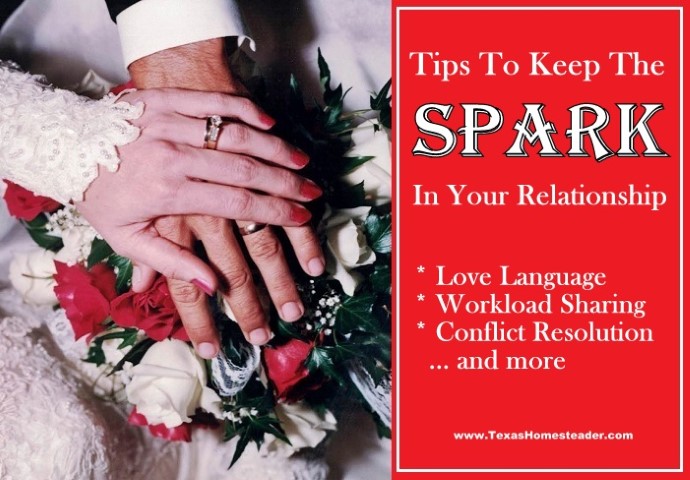 This week we would be attending a concert in a nearby town, courtesy of Christmas money gifted by a family member. (We're a big fan of Experience Gifts, y'all!)
But we wanted to enjoy some romantic meals out too. Thankfully we can use our Credit Card Rewards to buy restaurant gift cards. So our meals will be free too!
---
Other Frugal Moves This Week:
There were plenty of other ways I flexed my frugal muscle this week too.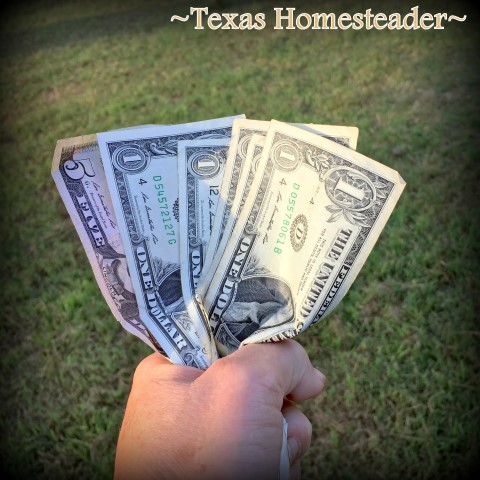 Homemade Row Cover To Extend Growing Season
I'm making a row cover using a portion of cattle panel we already have and some heavy clear plastic we already had. I'll be sure to share when I get it made.
Easter Egger Laying Hen For Free
We're looking for this year's supply of laying hens but can't find them. I put out a notice to my chicken-raising friends to see if they had any chicken producer selling leads for me.
One of my dear friends said he had an Easter Egger hen that wasn't getting along with one of the hens in his flock, and said if I came and got her I could have her for free. Thanks John!
Baby Shower Gift Wrapping
RancherMan & I attended a baby shower this week. I bought a small gift off of the gift registry, but hated to spend money on disposable gift wrap.
(Y'all know how strongly I feel about Eco-Friendly Gift Wrapping!)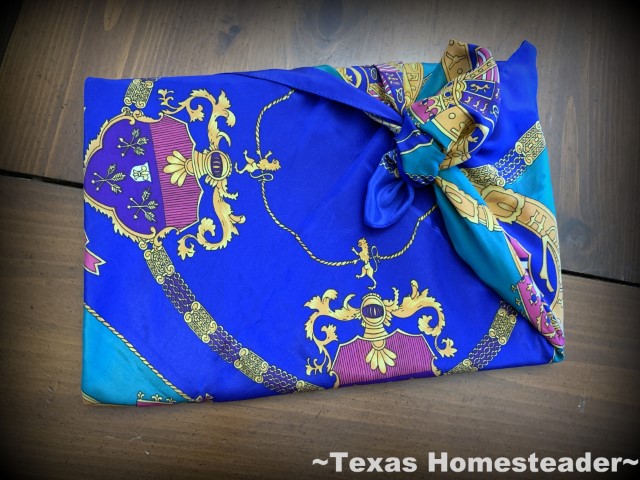 I use reusable gift wrapping steps often. So I decided to use it now as well.
We bought a cute but inexpensive baby blanket and wrapped the gift Furoshiki Style in the blanket. That way to single-use trash is added for wrapping, and the gift wrap is actually another gift!
How Did You Save Money This Week?
There was more, much more frugality in our week. But you get the gist. How did you save money this week?
~TxH~
This post categorized in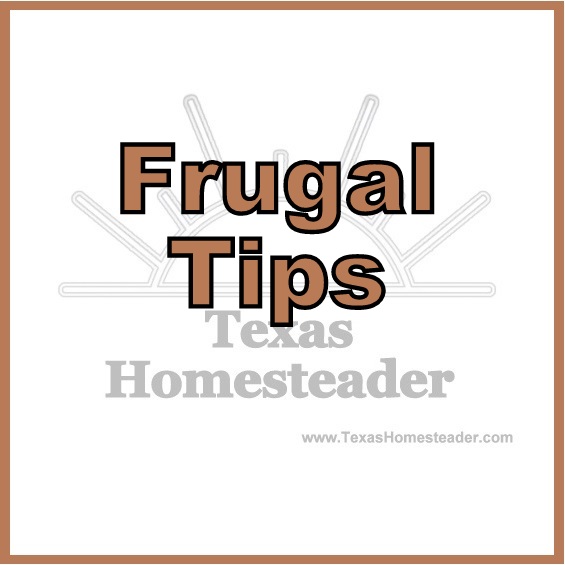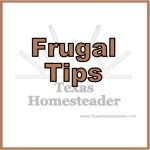 Other Budget-Stretching Articles
Other Conservation Posts
Other Frugal Tips
…and many MORE!


C'mon by & sit a spell! Come hang out at our Facebook Page. It's like sitting in a front porch rocker with a glass of cold iced tea. Lots of good folks sharing! You can also follow along on Pinterest, Twitter or Instagram.
If you'd like to receive an email each time a new blog post goes live it's EASY to
subscribe to our blog