by Tammy Taylor~
We have a wild hog problem here in NE Texas.  Bad.  So bad in fact that there's no official 'season' for hunting them because they're such an invasive, destructive nuisance. Their sheer numbers are astonishing. They come through like a cloud, leaving nothing but tilled ground & deep holes behind them. Terrible!   So terrible that the game warden says you can hunt them at any time, day or night at any time, any season. 
These feral hogs are descendants of domestic pigs that escaped and reproduced with lightening-fast efficiency, causing much trouble with their deep rooting and sheer numbers. They can ascend upon a pasture & decimate it overnight. Sometimes when I'm mowing in the summertime I don't see a hog wallow in time and the jolt of my tractor almost throws me out of the seat!

And everyone around here knows that nighttime driving can be hazardous for sure due to these little beasts. Good friends of ours totaled their car driving home from a high school football game one night when they hit a wild hog that was in the road. And not too long ago a young man flipped his truck and was killed when a cloud of wild hogs appeared in the middle of the 2-lane blacktop after dark. There's just so many of them!
Here's a short 15-second video we took recently.  RancherMan & I were enjoying our coffee when this group came running across our pasture by the house.  WHEW!  There's lots of damage potential there!  Each one is a highly-efficient rototiller causing untold damage to both pastures and equipment.
Now there are many who over-simplify the problem, saying "Invite your friends to come shoot them and you won't have a problem anymore".  I hear it time & time again.  But here's the thing: These wild hogs didn't survive to these crazy numbers by being stupid.  They will hit the pastures one night, completely destroy it and then disappear.  Or maybe one or two in this corner of a pasture one night, 50 or so in the other corner the next night and then gone for a few weeks.
If by sheer luck you happen to be sitting in the right place that night at the time they happen to be rolling through you might get lucky.  More times than not they surface for a short time around 2 a.m., hit the game feeders and are gone. So although RancherMan hunts them and is successful several times each season to put meat in our freezer, control isn't really as simple as 'call your buddies'.
Most of the time that meat in our freezer is from RancherMan's successful hunt, but sometimes when their numbers are high he'll set the traps in addition to his hunting. One night recently the trap won!
Now we've set the trap over & over again using various baits including corn, peanut butter, leftover fruits & veggies, apple peels, purchased attractants etc.  Typically raccoons will find it first and set the trap off but we keep trying.  But how did we finally trap this one?
This time we tried something new: a liquid Hog Wild 'Pig Punch'.  But we didn't want to just pour it on the ground because it would just soak in.  We wanted the scent to stick around a little longer.  So we decided to dig a small hole beneath the trap's trigger and bury all but about an inch of a tin can.  Then we mixed up the attractant in a repurposed olive oil can & poured some inside the trap.  Afterward we sat the trigger to the trap again.  We hoped a hog would be attracted to the scent and come nosing around & trip the trap door.
And BINGO!  The hog in the trap was a small sow, about 75 lbs. But we harvested in the morning and within a short time there were four 5-lb pork roasts crammed into two large slow cookers. Although it's delicious, I think it's important to remember that no wild meat will taste exactly like its corn finished-out commercial counterpart.  But this wild pork is mildly flavored and very low in fat covering. We love it.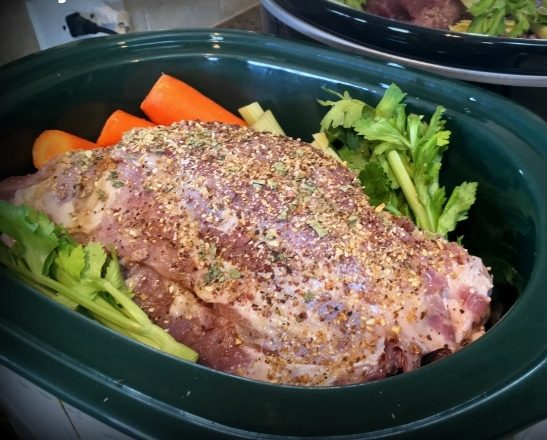 Typically I'll flavor wild hog roasts more heavily to mask any wild taste. But This pig was so small there's no wild aroma at all.  So I'm cooking this one the same as I did the purchased pork roast a few weeks ago. (and with the anticipation I'll be enjoying carnitas tacos this weekend with the leftovers!) Then the rest of the cooked roasts will carved & frozen for future meals.

Now the same ole trapping trick won't work with them again anytime soon.  Remember, they're SMART.  So we'll keep changing up the bait until we're lucky enough to get another one in the trap in the future.  But this time we're blessed that once again our property has provided nutritious food for us for the cost of a little attractant.  And at least there's one less hog to reproduce & cause us grief.
~TxH~

Save
Save
Save