by Texas Homesteader~
I'm preserving or using up my fresh eggs from our pastured flock as quickly as I can. 've made breakfast burritos using eggs and cooked sausage wrapped in a tortilla & frozen for quick grab-n-go convenience.
But I still want to make sure none of our fresh eggs go to waste.
I recently made egg salad with several of them but as many of you know, boiling & peeling very fresh eggs is a challenge indeed. I was surprised that I had no trouble at all with them. Here's how I did it: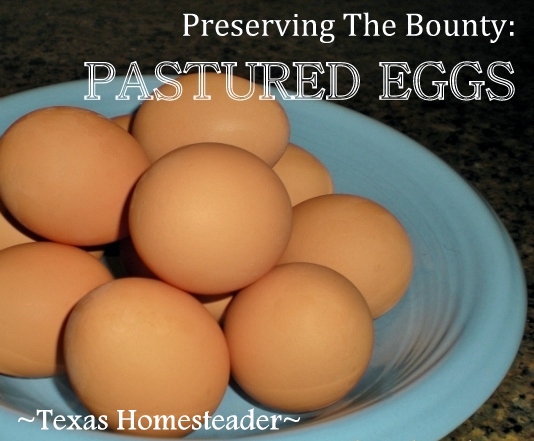 Shelling very fresh boiled eggs is a challenge because the shell holds so tightly to the membranes when they are fresh.
I've had maddening episodes of peeling a fresh boiled egg until only mangled pieces remained in my hands. But using this method I had no trouble at all.
Tips I've Read
First off, I don't put the eggs into cold water and then bring the water to a boil. Instead I first boil enough water to completely cover the eggs. Then when the water is boiling I use a slotted spoon to gently lower the eggs into the boiling water.
I've read that the boiling water on the cold eggs will shock them making them easier to peel. (not sure if it's an old wives tale or not, but it certainly worked for me!) Then I cover the pot and allow the water to return to boiling and set the timer for 3 minutes.
When the eggs have boiled 3 minutes I turn off the heat. I allow them to sit in that hot water another 10 minutes before I drain the water.
The boiled eggs are then placed into an ice-water bath to force them to cool quickly.Then I drain the ice water & place the boiled eggs in a colander. To catch any drips I slide a plate underneath and set them in the fridge overnight.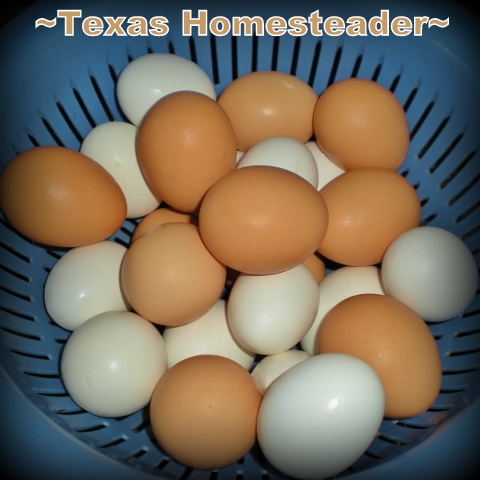 Cracking The Shell
When I am ready to peel the eggs the next morning I bring them out of the fridge. With firm pressure I roll them on the counter to crack the shell all the way around.
There's usually a small air pocket on the large end of the egg. So I start there & I begin peeling the egg.
There were some minor areas where a tiny amount of egg white pulled off along with the shell. But for the most part the shell was easy to remove and all the eggs came out whole.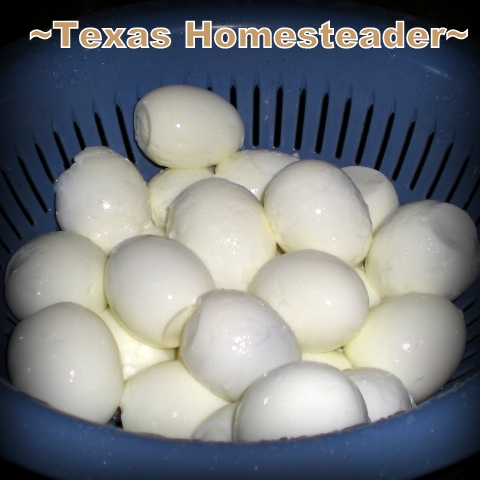 Now I don't know to what I can attribute this easier peeling of fresh boiled eggs. Maybe dropping them into boiling water really does shock the eggs & help the membrane detach. Or maybe placing freshly-boiled eggs into an ice bath does the same thing.
Maybe placing cooled eggs into the fridge overnight and peeling the eggs when they're cold the next morning helps hold everything together.
I'm not sure, but what I do know is it all worked great for me and that makes me very happy!
~TxH~
Other Kitchen Hacks


C'mon by & sit a spell! Come hang out at our Facebook Page. It's like sitting in a front porch rocker with a glass of cold iced tea. There are lots of good folks sharing!
And you can also follow along on Pinterest, Twitter, Instagram
If you'd like to receive an email when a new blog post goes live,
subscribe to our Blog!
Save
Save
Save