by Texas Homesteader
I've heard that consuming local honey daily is good for seasonal pollen allergies.  I don't enjoy the thought of putting a spoon of drippy sweet honey in my mouth.  If eating local honey is good for allergies, I might as well enjoy it stirred into my own homemade yogurt  along with a handful of berries for breakfast.  For that reason I always make my yogurt unsweetened and add the sweetener as I stir in the berries.
Anyhoo, I store our honey in large glass jars (yep, I hate those plastic honey-bears of honey)  But occasionally crystals will form in the honey making it too thick to pour.  No worries! Since my honey's in a glass jar it's easy to bring my precious honey back  to pourable sweetness.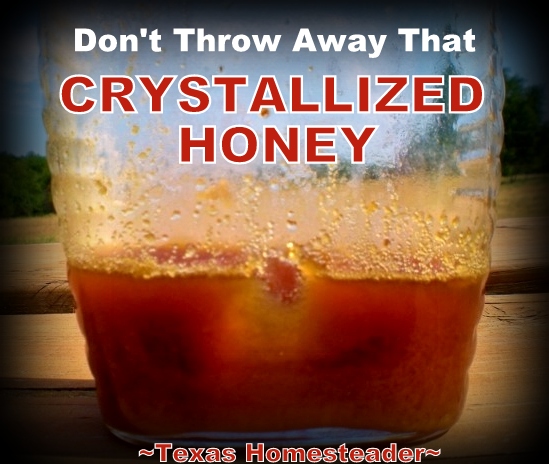 Heating Slowly On The Stove Top
It's said honey is the only food that has NO expiration date. So don't throw that crystallized honey away, slowly heat the glass jar and save it.
In the past I've heated some water in a pot on the stove (not boiling).  Then I turned off the heat and slowly lowered my room-temperature honey jar into the water to melt the crystals.
Extreme temperature changes are not good for glass & I've always been afraid to get the water too hot. So I always err on the side of caution when I was using this method.
Using Free Energy
It's hot in Texas during the summer and I enjoy using solar power in many ways.  Today I'll use it to gently heat my jar of honey to melt & dissolve those crystals.
I place my honey jar on our picnic table on a hot sunny day and just wait.  The sun heats the jar slowly and as it does those crystals dissolve back into the honey.  Voila!  The honey has returned to it's sweet pourable former self.
By using solar energy I've not only incorporated an environmentally-friendly method of heating but it also removes that fear of extreme temperature changes. So it's my go-to method these days.
Plastic Honey Bear Jars?  Nope!
Having said this, those plastic honey bears tend to melt when they get too warm. So I can't vouch for crystallized honey contained in plastic.
You can take a preemptive step now though. If you currently have honey in a plastic bottle, why not transfer it to a clean glass jar right now while it's still pourable?  Any clean glass jar will do and you've just practiced the art of repurposing.
Pat yourself on the back for your environmental moxxy and enjoy that honey for years to come!
~TxH~
Other Clever Ways Of Using The Sun
…and MUCH More!


C'mon by & sit a spell!  Come hang out at our Facebook Page. It's like sitting in a front porch rocker with a glass of cold iced tea – lots of good folks sharing!  You can also follow along on Pinterest, Twitter or Instagram.
If you'd like to receive an email each time a new blog post goes live it's EASY to Subscribe to our blog!
Save
Save
Save
Save