by Texas Homesteader
Panic sat in when RancherMan came rushing into the house saying he found the pasture gate open and the two weaning heifers were missing.
We frantically searched the barn paddock and the south pasture, tree lines, creeks, etc. but they were nowhere to be found. Apparently they had nosed the chain enough to unlatch the gate. Then they simply walked down our driveway, out to the road and disappeared.
With our hearts pounding we jumped in the car and started down our county road, quickly looking in the open pastures as we drove along. As my head throbbed, visions of potential outcomes were going through my mind.
What if they went toward the highway? Or they got hit by a car? What if someone got hurt? Where do we even start to look? What if we can't find them?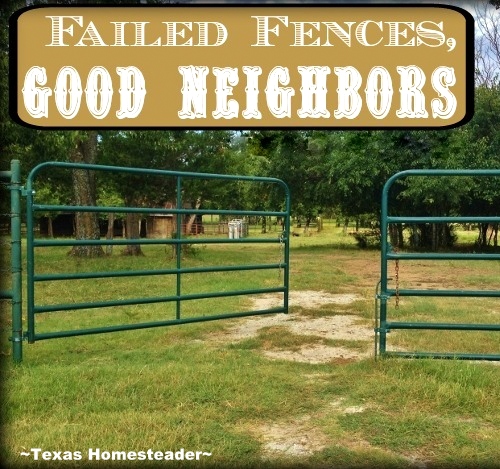 Checking With Our Neighbors
Our first stop was at a neighbor's house that lies close to the 2-lane highway. He was outside working on his tractor equipment. So we pulled in & asked him if he had seen our calves. He had not.
But he offered to unload the equipment from his tractor and drive it through the thicker parts of the open pastures between our homes to see if the calves were perhaps in the trees or laying in the tall grass where we couldn't see them from the road.
We thanked him and quickly sped off to continue our search, driving down nearby roads.
Calves Found!
After what seemed like hours of searching, a 4-wheeler driven by another distant neighbor came alongside us and he asked if we were out looking for a couple of heifers.
YEA! Thank goodness!
Apparently in a very short amount of time these two naughty calves had walked about a mile away to yet another neighbor's house down another road. The young girl that lives at that house had called her father at work to tell him about the calves in their yard.
And her father thought perhaps they might belong to us. From work he tried to call RancherMan but in our haste to begin the search RancherMan had left his cellphone at home. So he called yet another neighbor to see if maybe he could catch us instead.
Helpful Neighbor
This third neighbor came to our rescue and used his 4-wheeler to help drive the calves from a short distance behind as RancherMan called them toward home… for a MILE!
Now folks that's a long stressful time when you're trying to push two young unpredictable heifers that find themselves out of their environment and are confused and uncertain.
Then he pulled his vehicle to the side of the road and stood at the ready to make sure he could cut them off quickly if they turned the wrong way & dashed toward the highway.
Our heifers aren't of wild temperaments thank goodness. Although the whole ordeal went pretty smoothly and the heifers did as we asked them to, it was a stressful time indeed!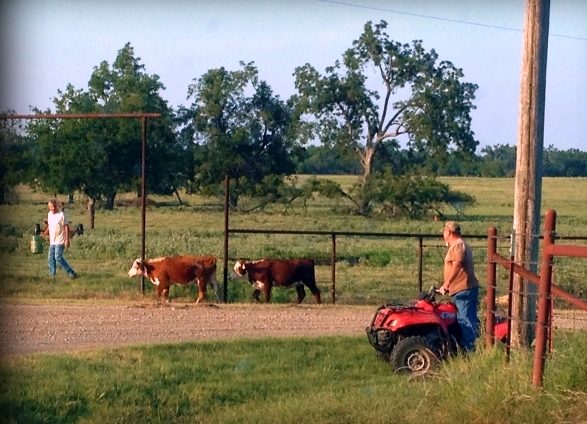 MAN it's a good feeling to have great neighbors that've got your back! These three wonderful families banded together to help us in our time of need.
Although we don't live in close proximity to each other, we look out for each other. We don't hesitate to help each other when we can.
But I felt especially thankful for this neighbor with his 4-wheeler. He put aside his own heavy workload on this hot humid summer day so that he could help us.
A Sweet Thank-You Gift
I decided to bake up something sweet for this sweet man's kind gesture and assistance! Of course my go-to decadent dessert is my fudgy brownies. So I baked a pan up for him & frosted them with my favorite chocolate frosting.
Now my mama always taught me that "presentation is three-fourths of the gift". I didn't want to just put these brownies in a plastic container and hand them over to him. Instead I really wanted something different for the presentation.
So my thoughts now turned to how I could properly present this sweet treat to our neighbor.
Purchase Price Not The Only Benefit
RancherMan & I had an appointment in town. So I asked him to stop by a resale store to see what I could find. Proceeds from this store go to help victims of domestic violence.
I like that I'm helping this worthy organization raise money by purchasing items from their store. So I shop there whenever I can.
Today I'm stopping in to look for a dish to use for pretty presentation for my gift of home-baked goodness. I ran across a darling square plate with scalloped edges & scrolled writing for $0.99. Perfect!
Gift Presented Beautifully
I brought that plate home, washed it up and then stacked some of these delicious brownies on it. I wrapped it to keep the brownies fresh. Then I tied it up with a jute ribbon for a more rustic look.
I love the way it turned out. And I think mama would be proud that I heeded her always-sage advice.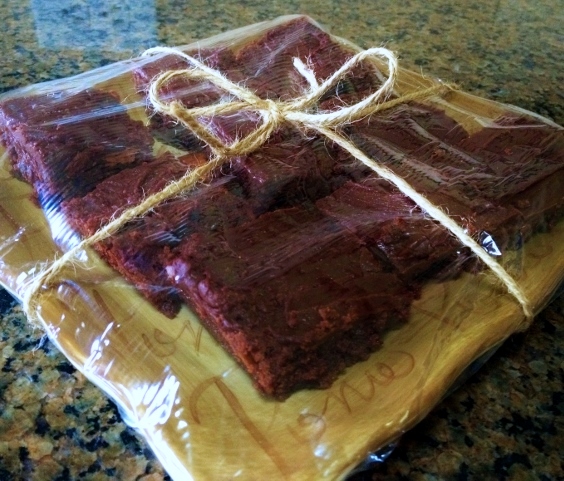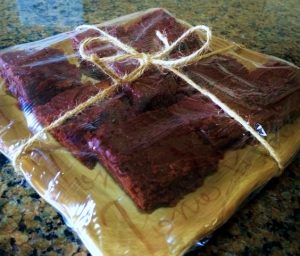 Since this plate was purchased specifically for this gift I told our neighbor there was no need to return the plate. Just refill it sometime down the road & pass it on to the next person.
I had a friend do the same thing for me when bringing food last year during my breast-cancer recovery. I thought it was a wonderful idea!
And by picking up this cute plate at the resale store I've purchased the perfect item without buying new. (which really speaks to my crunchy-green heart).
Plus I've also saved a little money, while at the same time contributing to a worthy cause.
My inexpensive yet sincere gift from the heart was well received by our neighbor. And that makes me feel great.
~TxH~
Other Low-Waste Stories
Other Humanity Posts
Other Inspirational Posts
…and MANY MORE!

C'mon by & sit a spell! Come hang out at our Facebook Page. It's like sitting in a front porch rocker with a glass of cold iced tea – lots of good folks sharing! You can also follow along on Pinterest, Twitter or Instagram.
If you'd like to receive an email each time a new blog post goes live it's EASY to
Subscribe to our blog!
Save
Save
Save
Save