by Texas Homesteader ~
We're all trying to save a little cash in our day-to-day lives #amiright? But here's the thing – oftentimes it's not a budgeting, self deprivation, do-without kinda thing.
It just takes thinking outside the box sometimes. Something different than the ole status quo.
For instance, this week there were several opportunities for us to save money. In one instance several hundred dollars worth! But it was all super simple. Come see.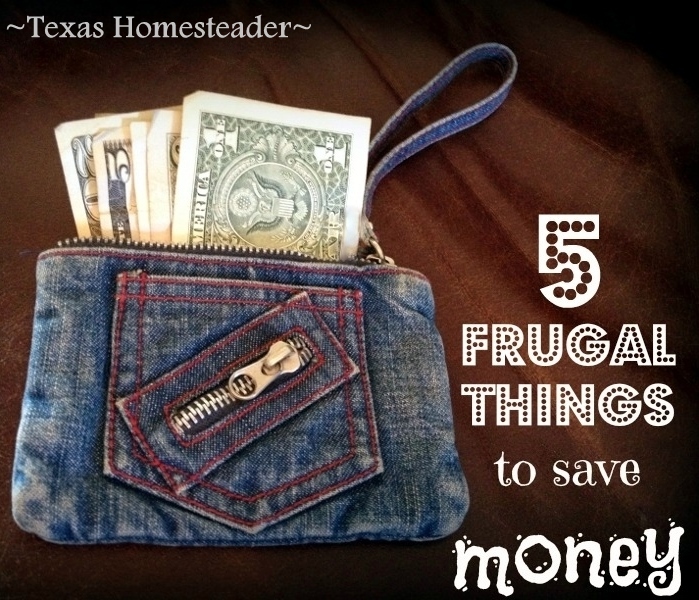 1. Bulk Buying And Using It All
Recently we ended up with a large quantity of potatoes. You know how it is, you see an incredible price on a large bag and you just can't say no. You want to save money.
But think about it. Are you really saving money buying that large bag if you can't go through all those potatoes before they go bad? I mean, we're empty nesters. There are only 2 of us here now.
How could I possibly go through that many potatoes without tossing half of them in the compost? Well I'm so glad you asked.
(Note: Some links in this post are for further information from earlier posts I've written. But links preceded with * are affiliate links. If you click them and buy something (almost anything, not just the item noted) I could receive a small purchase. But the price you pay will NOT change. It's an easy way to support this blog without anything coming out of your pocket. So click often! Thank you!)
I used my *Solar Oven to cook over a dozen of those potatoes at a time. No cooking heat in the house and no purchased fuel. Just the power of the sun! Of course you could cook them in the oven or microwave instead.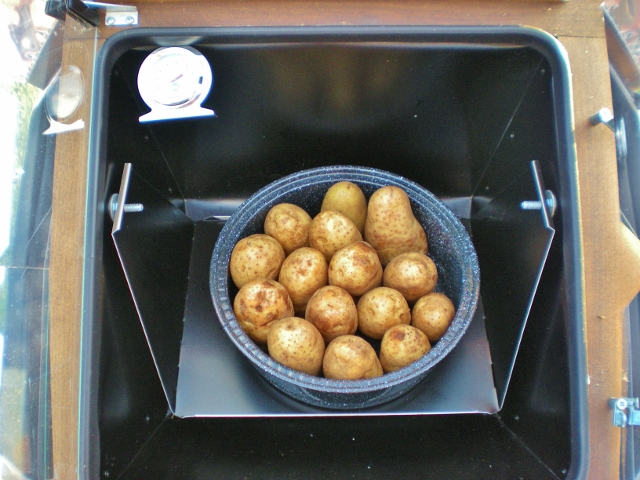 Then I cooled the cooked potatoes in the fridge overnight. The next morning I easily shredded them. Although most of the skins came off easily as I ran the potatoes along the grater, I didn't bother actually peeling them.
We like potatoes with the skins anyway. So any small bits that end up in my shredded potatoes was fine with me.
Then I placed the shredded potatoes on parchment paper (I've used heavy paper sacks in the past) and spread them out. It was hot, lightly breezy and sunshiny outside. Why not put Mother Nature to work for FREE?
So I placed those trays of shredded potatoes outside on our picnic table, stirring them every once in a while. Halfway through their drying I covered them with a layer of cheesecloth just to keep things tidy and allowed them to continue drying.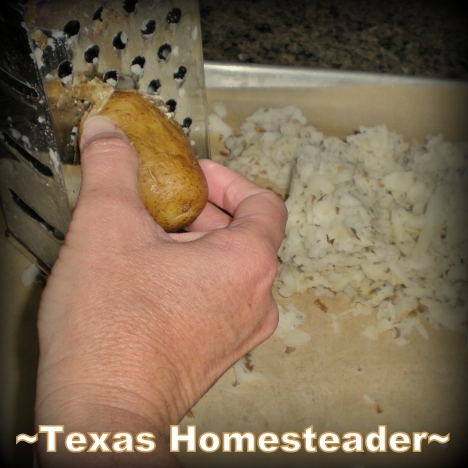 When they were fully dry I brought them inside and stirred them once again, letting them stay on the counter overnight. The next morning they were totally dry so I jarred them up, added a label and put them in my pantry.
I'll rehydrate and use them in breakfast burritos. Or maybe I'll make them into hash brown potatoes when we enjoy breakfast for supper (which we do pretty often.)
They'll be ready and waiting for me in the pantry when I'm ready for them. And I've eliminated potential food waste from that huge bag of potatoes too.
2. Home Haircuts
RancherMan has the most delightfully semi-curly hair. How jealous I am with my own board-straight hair! 😀
But he actually hasn't gotten his hair cut in a barber shop for almost 10 years now. I always give him a trim. And he'll in turn trim the split ends from my hair too. Both tremendously helpful during the long stay-at-home orders. We never worried, our hair stylists were right here at home!
On hair-cutting day he'll first shower and shampoo his hair so it's clean & wet. I'll place a chair on the tile floor as I cut his hair. Since it has some curl it's very forgiving of even my novice hair-cutting skills.
When I sweep up the hair I either place it in my compost or spread it around my garden fence. I've read that it adds human scent that makes garden critters wary of the garden. Old wive's tale or fact? Not sure, but I often do it anyway 'just in case'.
RancherMan always comments how much cooler he feels after a haircut. And, being a guy, his 'coiffing' routine is often reduced to just running his fingers through his hair in the morning to straighten it up.
#jealous HA!
3. Price Shopping Is Important
We have a tree that's grown tremendously in the last 3 years or so. So much that it's now blocking early-spring sunlight from reaching my garden. That means until about mid June, my garden's not getting the sunlight it needs to grow.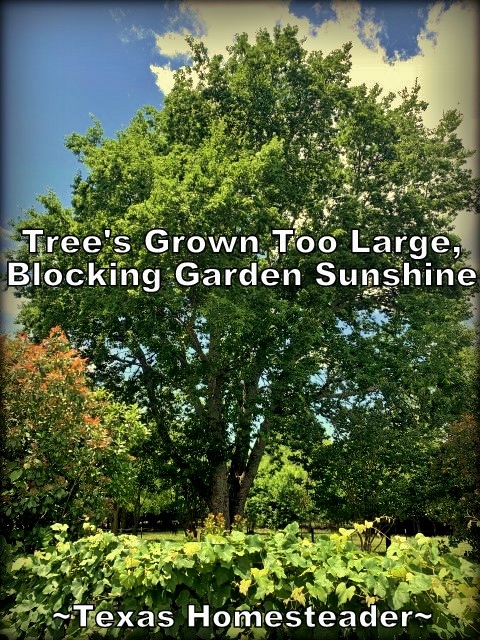 As much as I hate to lose it, we must deal with this tree. It's a Hackberry tree, known for being a weak & short-lived tree. And we can't move the garden – for many reasons.
Not only that, but where this tree is located is also interfering with our Free TV Reception. Plus, if/when it eventually comes down on its own it will take out livestock fences, block the driveway, and/or damage our storm shelter.
Yep, we have to get that tree taken care of.
We'd first considered just having a tree trimming company do heavy trimming to open it up and allow more light. But it still costs almost a thousand dollars to do that.
And I assume we'd have to keep trimming that tree over the years or those trimmed areas would just grow back and we'd be right where we are now. And with a 60-ft tall tree that means hiring it out over & over again.
With a sigh we resigned ourselves to the fact that this beautiful tree would need to be removed. So we started getting estimates. It's important to check with several companies.
When we had several estimates I found a company further away from us. I contacted them and told them the range of estimates we'd received and asked if they could do better. They came in less than our lowest bid.
Of course they were insured and bonded. I requested a certificate of insurance, which was sent to me beforehand. But doing this legwork saved us $350 over the highest bid. And that's not chump change, y'all.
I realize cheapest isn't always by default the best option. But it pays to do a little homework when a big unexpected expense comes up and weigh your options.
4. Check For Volume Discounts
RancherMan needed new embroidered work shirts. We found a company that offers a good price to embroider between 1-11 items. But the price drops significantly with 12 or more items.
So we waited for a sale at Atwood's for the heavy pocketed Ts RancherMan likes. We then purchased enough to capitalize on the 12-ct discount at the embroidery place we use.
Not only did we save money on the purchase of the shirts because they were on sale, but saved on the embroidery cost as well.
So be sure to check with the places you shop to see if there's a volume discount.
5. Free Plants For The Garden
Because of my tree-shade problem in my garden, my heirloom tomato seedlings that were lovingly placed into the garden around Easter didn't survive. Nor did the heirloom seeds I planted shortly thereafter to replace them.
But I often Get Free Plants from my compost. This year was no different. I planted tomato seedlings from my compost into the garden.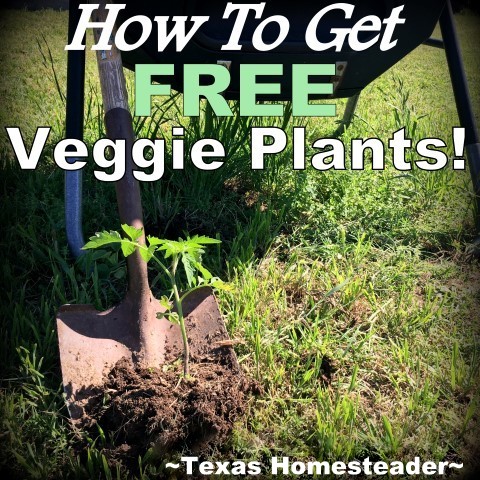 But because of that tree all but 2 of those transplants died before the season got late enough to allow proper sun onto my garden.
Wait a minute, I read that you can trim the suckers from your tomato plant and root them to make more tomato plants. Hummm….
Flying from the cuff as I usually do, I cut off the tomato suckers to my tomato plants. But instead of rooting/growing/hardening off/planting them I just stuck the trimmed suckers directly into the soil in my empty tomato-planting spaces.
I covered the tomato trellis above them with an old sheet to keep the hot sun from them. And I made sure the ground around them stayed moist too.
They all seem to have rooted! So hopefully I'll still have my full load of tomato plants in the garden.
Other Easy Frugal Steps
So there are my top 5 money-saving steps this week. And heck, as I mentioned, one of those money-saving steps saved hundreds of dollars!
But none involved sacrifice. Just watching for easy ways to save.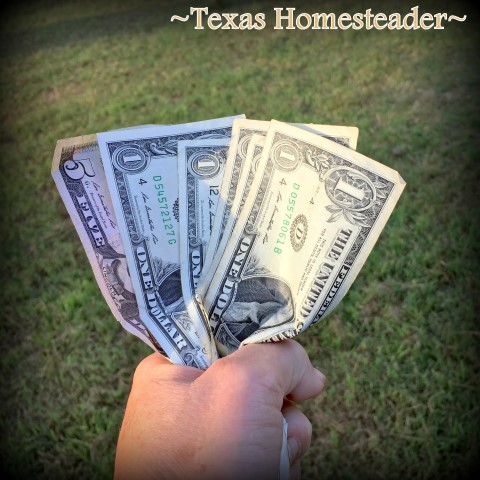 Of course there were the standard things we do on a regular basis to save money. Like cooking from scratch – (I've found a way to cook Homemade Meals Daily The EASY Way).
I also made Thousand Island dressing for RancherMan's salads this week, including Homemade Mayonnaise used in my recipe. And I made Creamy Dressing filled with healthy probiotics for my own salad.
A few loaves of Homemade Bread were baked – made easier with machine. (Plus I found plenty of Bread-Making Shortcuts to simplify too!)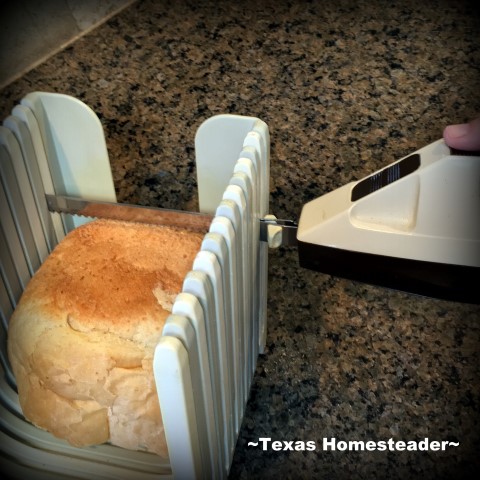 So let's hear from you now. What are your Frugal 5 this week?
~TxH~
Other Frugal Tips
…and many MORE!


C'mon by & sit a spell! Come hang out at our Facebook Page. It's like sitting in a front porch rocker with a glass of cold iced tea. Lots of good folks sharing! You can also follow along on Pinterest, Twitter or Instagram.
If you'd like to receive an email each time a new blog post goes live it's EASY to
subscribe to our blog
Save