by Texas Homesteader ~
*Contains affiliate link
I've heard about it for years, using squash in the place of high-carb pasta noodles. Some people eat spaghetti squash as a low-carb noodle substitute.
But I've found for us it's best to eat spaghetti squash just as a fun-shaped squash. To me the taste is nothing like pasta. (I do have a delicious Cheesy Spaghetti-Squash dish we enjoy.)
Other people swear by making spiral-type noodles using fresh vegetables. Supposedly it's a more realistic way to enjoy a noodle-shaped vegetable in the place of pasta. My garden produced so much zucchini I really wanted to give the spiral-noodle thingee a try.
There are various contraptions made to cut your squash into noodles and I decided on the Veggetti.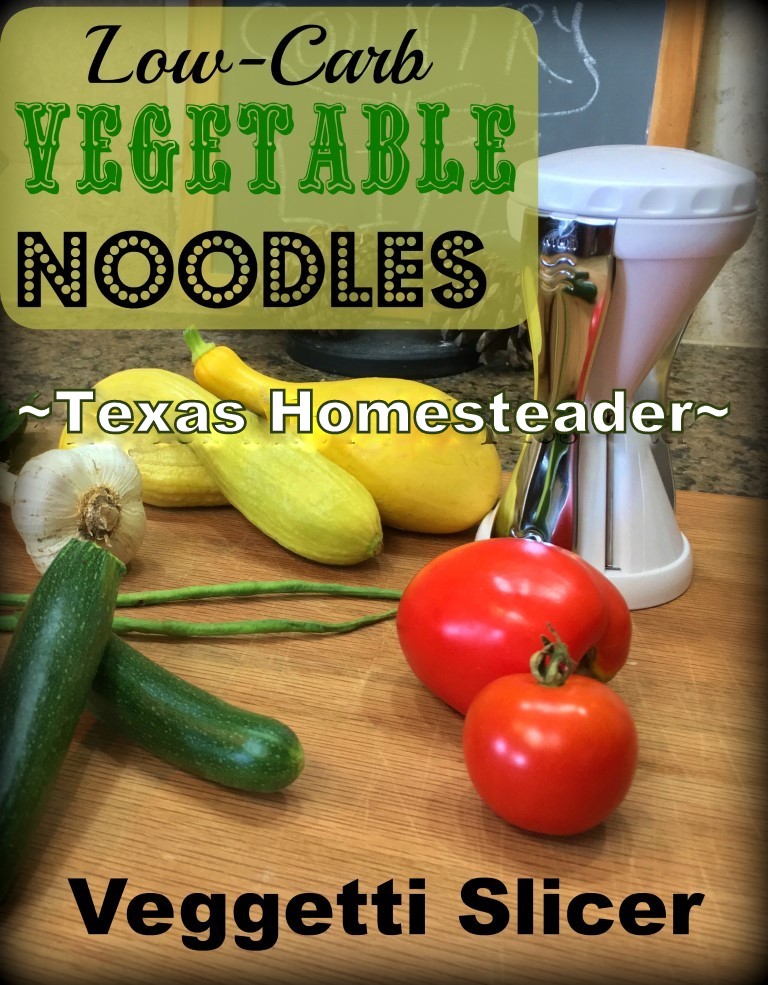 Now this is NOT a sponsored post. They didn't send me one to try and aren't paying me a cent to write this. Heck to them I'm just another customer. But DANG y'all, I wanna share this with you!
Although the manufacturer is not paying me to write this post, I will say that links to any product in this post (marked with *) could possibly result in an affiliate commission paid to me if you buy. But even if you DO buy, it costs you nothing extra. So if you decide to buy something from this post it's a great way to support this blog – Thank You!
I looked at the crank-turned kind of *Spiralizer as well as other types. But although the turn crank would probably make it even easier to use, it's also much larger. Storage in my kitchen is an issue.
So I kept looking…
Which Vegetable Noodle Maker To Buy?
When I stumbled upon this hand-held *Veggetti Slim (sounds like spaghetti) I was enamored. First I loved that I could order it online through WalMart.
Although I didn't see it in our local store, it was offered online. So I could order online, then just swing by our local store & pick it up. That would get this beauty in my hands sooner since we drive by the store frequently! And with less shipping packaging trash too.
Plus this model looked much smaller, easy to both use & clean and easier to store. Oh, and it was cheaper than most!
Before I made any purchase I polled our Facebook Followers and hands-down, the Veggetti got the best recommendations. So I ordered it online and awaited anxiously to get my hands on it.
Veggetti Wins!
Yep, it's exactly as I'd hoped, although I hated the heavy plastic blister pack it's sold in. (sigh…) After removing the plastic & washing up the Veggetti, I gave it a go.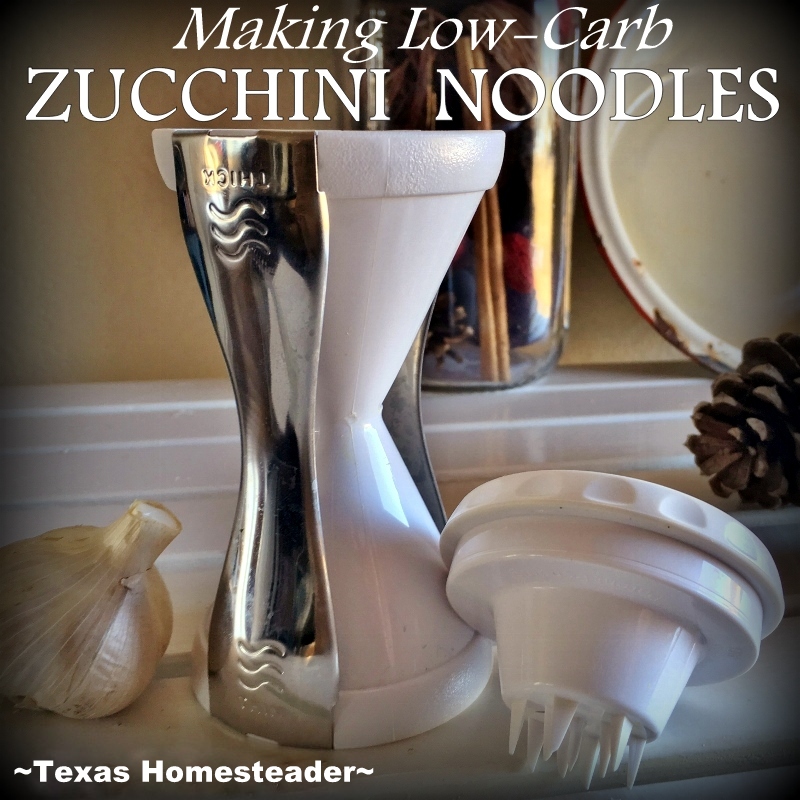 Each end of the Veggetti will cut the noodles into a different width. One end cuts thicker and the other end cuts the strands a little thinner.
And it couldn't be easier to use! Although I've made the noodles both ways, I think I prefer the thicker 'noodles'.
So I wash my fresh zucchini, trim the ends and insert the squash into the thicker noodle end. Now all that's left to do is start twisting.
Bada-BOOM! Vegetable pasta!
I've found that I'm not fond of just twisting until the squash is gone. The resulting zucchini noodles, (or ZOODLES as they're called) are then too long for us to comfortably eat.
So I shorten them up by twisting 5-6 times and then cut the noodles off with a knife. This results in shorter, easier-to-eat zoodles.
Now I just continue on until the squash is completely zoodlefied.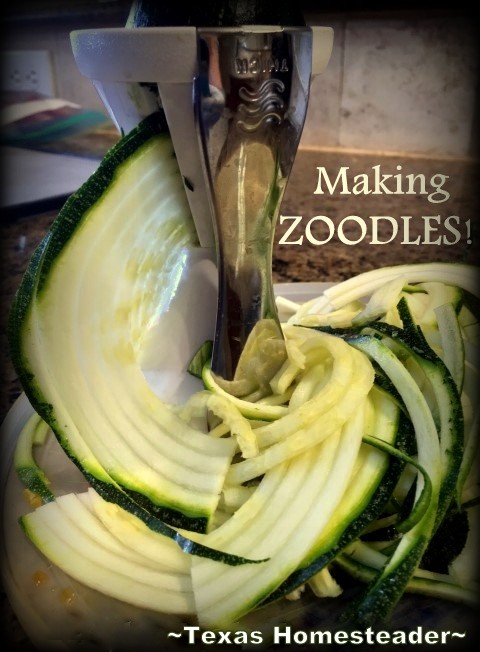 Cooking Up My Zoodles
Now what to do with my newfound zoodles? Well I like them tender-crisp best. The squash noodles are so thin it takes very little cooking to make them perfect.
Here's my favorite thing to do with them: I recently made my own Herb Bombs using fresh herbs from my garden and olive oil. These herb bombs were then frozen into cubes, just ready & waiting to be used!
So I sauté some minced garlic, fresh chopped onion and thinly-sliced bell pepper in a couple of my herb bombs. Sometimes I'll also toss in finely-chopped squash to give my zoodle dish a little more texture.
When the onions are translucent I add my "zoodles" and cook for only about 1 minute longer. Sometimes at the very end I add some chopped garden tomatoes & chopped Malabar Spinach.
All that's left to do is to let it heat just until the spinach is wilted. It adds even more nutrition and a great color contrast too. What a delicious and healthy side for our supper!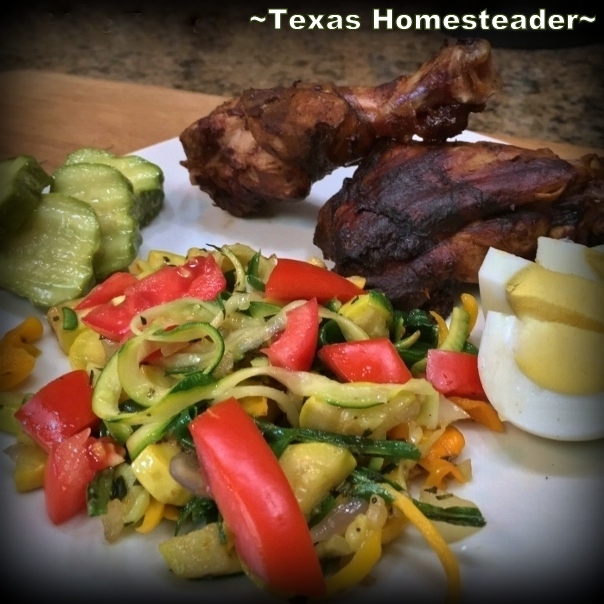 After we enjoy a hearty supper I'll store the leftovers in the fridge for lunch the next day.
When it's time for lunch I plop the leftover zoodles into a soup mug. I add enough homemade chicken broth to make them soupy and heat it all up for a healthy and dang-near-free low-carb vegetable-noodle soup lunch. If we have any leftover chicken I'll chop it & toss it in as well. PERFECT!
I'm not on a low-carb diet, but I do love this soup. So although this seems to be a low-carb lunch, it's also absolutely delicious to me.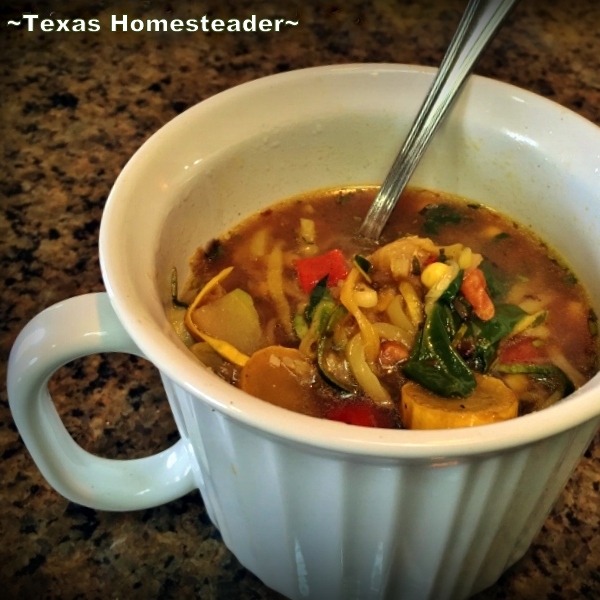 Howzabout you? Do you have a Veggetti? And do you use it to make zoodles? How's your favorite way to enjoy them?
~TxH~
Other Leftovers Posts
…and MUCH MORE!


C'mon by & sit a spell! Come hang out at our Facebook Page. It's like sitting in a front porch rocker with a glass of cold iced tea – lots of good folks sharing! You can also follow along on Pinterest, Twitter or Instagram.
If you'd like to receive an email each time a new blog post goes live it's EASY to
Subscribe to our blog!
*Amazon affiliate and WalMart affiliate
Save
Save
Save
Save
Save
Save
Save