by Texas Homesteader ~
*contains affiliate link
I don't know why I have such a drive against food waste. Of course no one likes to WASTE food, but it's almost an obsession for me to make sure no food goes to waste. I never ever remember going hungry a day in my life so I don't think it's an emotional scar of any kind.
I know it's good for the budget to use all the food you've already purchased, And I know that not buying more food to replace what you've had to throw away is good from an environmental standpoint too. So maybe there's where the secret to my obsession lies.
In any case, my wheels were turning on what to do with this stale, rock-hard yet expensive artisan french bread. I KNOW – I'll make crostini crackers!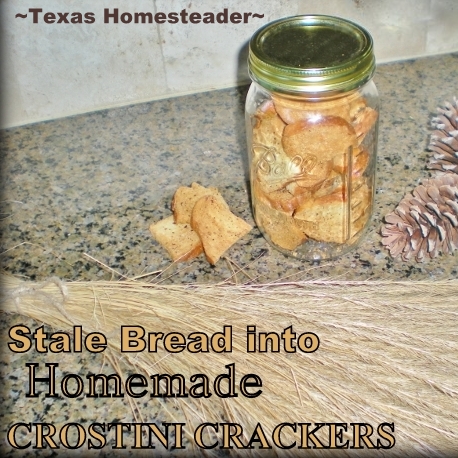 RancherMan loves all things bread including crackers. So making my own means I won't have to buy them. Crostini is similar to a thick cracker and it's so easy to make with crappy stale bread.
Slicing the Hard, Stale Loaf
Here's what I did: First I pulled out my meat slicer. You could just cut it with a knife but this bread was pretty hard and the meat slicer will make all the slices uniform – I like that!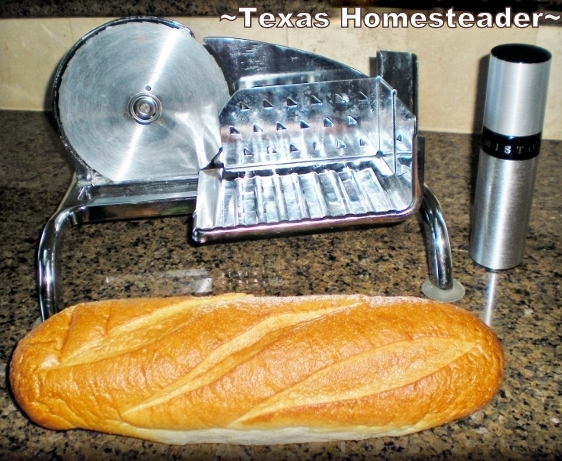 Then took the bread and sliced it into roughly 1/4″ thick slices. I felt the bread slices left whole would make the crackers a little large. So I cut each one of them in half – perfect!
(Note: Some links in this post are for further information from earlier posts I've written. But links preceded with * are affiliate links. If you click them and buy something (almost anything, not just the item noted) I could receive a small purchase. But the price you pay will NOT change. It's an easy way to support this blog without anything coming out of your pocket. So click often! Thank you!)
Adding Oil & Spices
Then I laid them out on a baking sheet and used my *MISTO sprayer containing olive oil to lightly spray each piece of sliced bread.
Finally I sprinkled on some garlic-mix seasoning and gave each piece a light spray of olive oil again to kind of adhere the spice to the bread.
You could season with whatever dried herb you like. Next I plan to use some of my dehydrated oregano to add an Italian flair.
Baking The Crostini
Now that my bread is oiled & seasoned I put the baking sheet into a cold oven, set it to bake @ 400 degrees. And then watched for the bread to be toasted to our liking.
In my case I baked them for 13 minutes and then turned off the oven & left them in for another 2 minutes to let them dry out in the residual heat.
This all depends on how thin you slice your pieces and how much olive oil you use, etc. So be watching & be ready to pull them when they're toasty brown.
Then I pulled the crostini out of the oven & allowed them to fully cool before storing them in a couple of wide-mouth canning jars.
They should last at least a couple of weeks although they never hang around here that long – RancherMan loves them!
Ways to Enjoy Crostini
These work great as a little appetizer when I serve my version of Homemade Hummus. They're also good topped with such things as ham & cheese, or guacamole with chopped tomatoes & jalapenos, almost anything!
RancherMan loves to snack on them right out of the jar. But they're also great with dip, chili, almost anything you eat that is well accompanied with a thicker hearty cracker.
So in no time I've saved bread destined unloved for the compost, and made it into a very well-loved cracker. And I say you've just got to love that!
~TxH~
Snacks We Love
~ ~ ~ ~ ~ ~ ~ ~ ~ ~ ~ ~ ~ ~ ~ ~


C'mon by & sit a spell! Come hang out at our Facebook Page. It's like sitting in a front porch rocker with a glass of cold iced tea – lots of good folks sharing! You can also follow along on

Pinterest

, Twitter or

Instagram

.
If you'd like to receive an email each time a new blog post goes live it's EASY to
Subscribe to our blog!
* A word about our Affiliate Link – We are currently enrolled as an Amazon Affiliate. Occasionally I will insert an affiliate link into one of my posts if I think it may be of interest to you. I receive nothing from the manufacturer, but I love my sprayer & thought you might too. If you click on any of my affiliate links and buy something (almost anything, not just what was linked) I get a small referral percentage from Amazon. But here's the really important part – the price you pay for your items is UNCHANGED.
When you buy something through the affiliate link it's a great way to support this blog without anything coming out of your pocket so please click often!