by Tammy Taylor
It was with high hopes in late winter that I planted my indoor greenhouse with my heirloom seeds.  Those seeds sprouted into tiny seedlings and I anxiously planted them in my garden immediately after Easter (as is recommended in our planting zone 7B here in NE Texas.  But the strange spring weather battled with my tender seedlings.
My garden was lovingly planted and with the highest optimism I awaited the expected growth but Mother Nature had other plans…  Although spring is typically a wet and rainy season for us, this spring has really done a trick on my garden.
Too Much Rain!
Rain systems are swinging through every few days and they hang around for several days.  Then days where there was no rain we would be dealing with heavy cloud cover, which would prevent any of that moisture from evaporating. And of course none of the life-giving sun could reach my tender seedlings.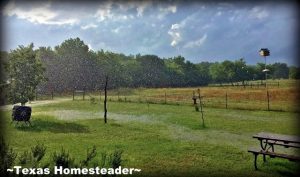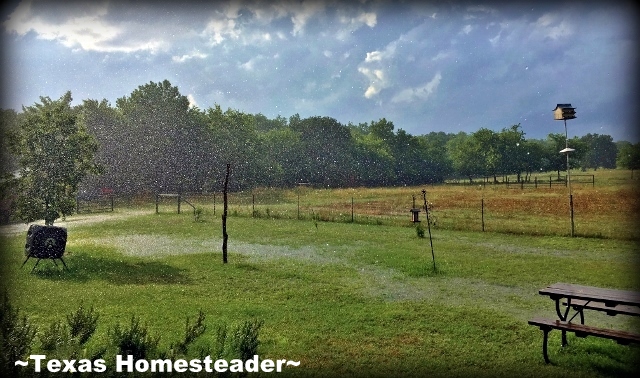 The seedlings suffered but the grass and weeds were going crazy in the garden.  After several weeks with no sign of life and with a sigh I had to admit to myself that my garden was gone.  I would need to undo all that was previously done, prepare the beds again and replant.  And that's exactly what I did.
Starting Over
I raked the hay out of all the beds, stacking it all into the walkways which were already thickly covered in hay since I'm trying the deep-mulching method this year.  The deep-mulching method involves laying thick hay mulch over the entire surface area in an effort to keep grass from growing anywhere in the garden.  This method supposedly will help me finally win the never-ending battle of Bermuda grass sneaking its way into my raised beds, a battle I typically lose every year.  I can see it's going to be a long, hard battle…
So with new resolve I tackled that grass, pulling and tugging in the thick mud to get to the roots.  I'll continue to battle for awhile since I expected that I'd need to address the wayward shoots.  But I also had all the spring grasses that had sprouted thickly inside the beds.  I raked and hacked at it with a hoe until I once again had cleared beds ready for planting.
Then I pulled my garden planting plan that I rely on every year to layout my garden and planted new seeds in the beds.  Before long tiny seedlings began to emerge…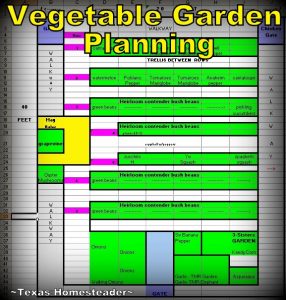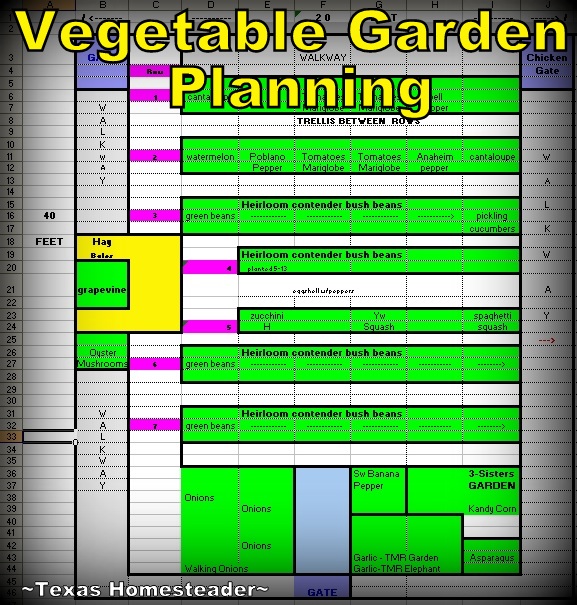 My miracle 3-year jalapeno plant that we plopped in the garden earlier this year is still alive and still has several leaves, but with all the cloud cover & rain there hasn't been much progression with it.  I know when it dries up a little this massive plant will explode!
My grapevine, unlike the young veggie seedlings, is absolutely loving all the rain!  It's growing like crazy and looks like it will supply me with a bumper crop this year.  The only problem is with the rainy weather we've had I've not been able to get out there and tie the vines to the fence to make it grow in the manner I want, but I don't think it's too late to tackle it as soon as it dries up a bit.  (I hope…)
And of course my blackberry vines are growing like crazy as well, but wow they need to be pruned back & tied too.  I think these vines are a little out of control…
But despite the overgrowth I get to see those first tempting juicy rewards of spring.  Ummmm…  delicious!  I was able to harvest a handful of berries about once a day and those berries were rinsed, dried and frozen for future use.  I've been able to harvest enough berries to make a homemade  blackberry cobbler  when a family member came-a-visitin' and the berries are still coming on.  Woo-hoo!
Garlic & Onions
And of course the garlic and onions are still trudging along, although I'm already beginning to see the onions bloom which means they're short time in the ground.  I snap the blooms off as they come out but I already know these early onion blooms will necessitate me pulling them soon.  I will chop & freeze them or dehydrate them so none of them go to waste.
Garden Survivors
A few seedlings actually survived, namely my cucumber, zucchini and summer squash.  And my peanuts are just beginning to peek through, although I can't really weed the grass that's sprouting around them.  I'm not concerned since it's mostly winter rye and will die off as soon as the daily rain deluge stops & the temps heat up.
There's lots more work to be done in the garden, but the wet soil keeps me from being very productive with it.  I had tilled a separate row for my green beans but of course the weather drowned them out.
I replanted the seeds but the grass is encroaching from either side, so with my hand hoe I hacked down any grass making a run for the growing area.  The grass has once again started growing where I've hoed it down but the rain has kept me from getting back out there to keep it in check.  I'll be out there as soon as it dries up making a more concerted effort but for now this is the best I can do.  I've noticed tiny green bean seedlings have at least sprouted for the this time.
It's certainly been an unusual spring here in NE Texas.  I'm used to it being the rainy season but WOW – this is the first time ever my garden has required two plantings in the same season.  The second planting looks to be hanging in there but the rain hasn't stopped since I replanted it and there's a 100% chance of rain today with 60% chances of rain every other day of the 10-day forecast.  MAN that's a lot of water! May has only given us a small handful of days with actual sunshine but not enough to dry anything out during the entire month.
How's your garden going?  Are you able to get it in the ground yet?  Is the weather cooperating with you?
~TxH~


C'mon by & sit a spell!  Come hang out at our Facebook Page. It's like sitting in a front porch rocker with a glass of cold iced tea – lots of good folks sharing!  You can also follow along on Pinterest, Twitter or Instagram.
If you'd like to receive an email each time a new blog post goes live it's EASY to Subscribe to our blog!