by Texas Homesteader ~
*contains affiliate link
Texas is starting to loosen its shelter-in-place recommendations. But RancherMan & I are not comfortable mingling among the masses just yet. Not even using proper social distancing procedures. So we're still tucked in at our Homestead.
Luckily since we live & work right here, that's not too far from our typical day anyway. Come see what a day at the Homestead looks like even during these shelter-in-place times.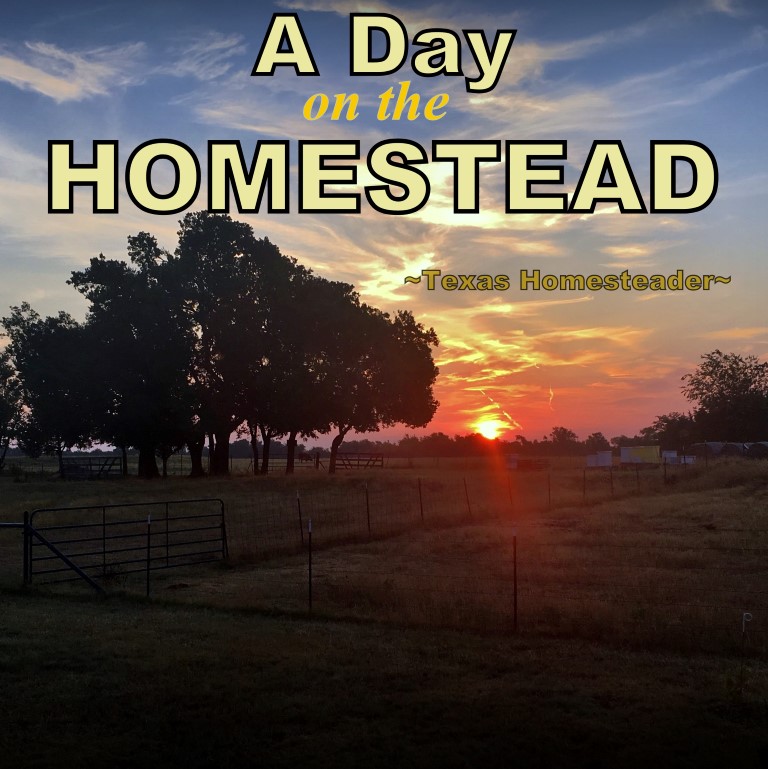 Morning Coffee & Computer Chores
We rise early and enjoy our coffee while taking care of computer work. I work on my blog, RancherMan researches various things. (He's the research KING and a huge reason we're able to live & work here on our homestead Without The Benefit Of A Corporate Paycheck)

I've already let the chickens out of their coop and into their confined chicken yard this morning. And I've checked to make sure they have plenty of food and water. As is typical I've also tidied up their coop. (The *Chicken Coop Enclosure we bought for them is pictured below.)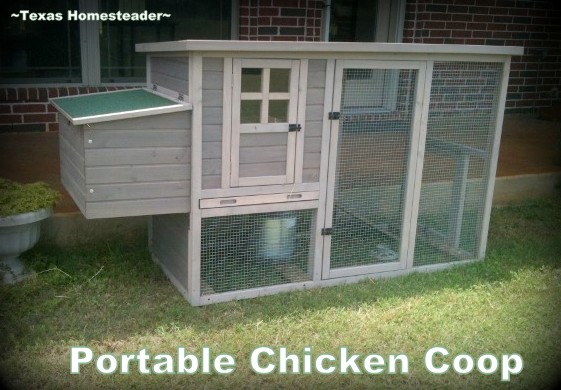 On the way to and from the chicken yard I stop & check things in my garden. Maybe pull a few weeds along the way. Things are going slow in the garden right now, I'm really not sure why. But I'm hoping for things to start popping out there soon.
At least we've enjoyed plenty of fresh asparagus. And it looks like it won't be long before I can start harvesting fresh green beans. Yea!
Cattle Breeding Decisions
RancherMan's a certified A.I. technician. He & I are making plans to begin the 10-day A.I. protocol for several of our cows soon. As is always the case in everything we do, we're watching the weather. Looking for windows of time that will work best. We may need to tweak things a day this way or that.
But once we begin the final leg of the A.I. protocol we're locked into a certain day and time to actually A.I.. We really don't want to be chute side trying to A.I. in the pouring rain or a heat wave! So plans are being made, but they remain flexible until we get to the final phase.
Making RancherMan's Sandwich Bread
I make all of our bread homemade – and RancherMan's a bread-a-holic, y'all! Thankfully I've found ways to make a fresh homemade loaf of bread about every 2-3 days even with our busy schedule.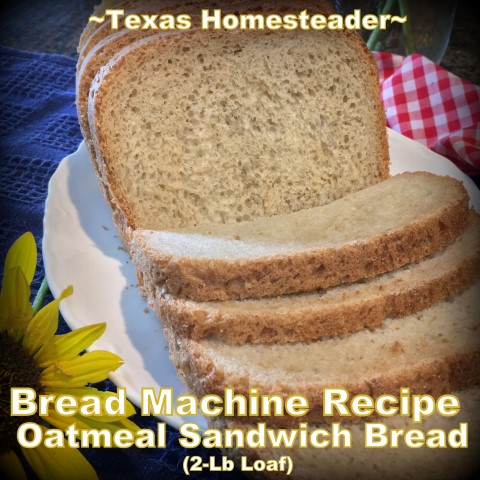 Although I'd hated them in the past, my dad gave me his bread machine. I found I really loved it & I'm using it to make bread often. So I decided to look for Bread-Making Shortcuts. Thanks to those shortcuts I can make bread without much hands-in or cleanup.
So on this day I get the wet ingredients into the bread pan, add the pre-measured dry ingredients, push the button and walk away.
MAN it doesn't get any easier than that! RancherMan absolutely loves my Honey/Oat Sandwich Bread.
Cattle Check
We have one calving holdout who's due to calve in about a week. So RancherMan will go out and check the cattle. He likes to keep close tabs on them as calving time nears.
He also likes to 'lay eyes' on each of the cows daily. That helps us keep on top of any potential problems down the road. On this day everyone was present & accounted for, happily grazing.
In preparation for A.I. he needs to prepare the barn pasture for their confinement. So he loads up the hay ring with a fresh bale of hay. Again, the weather plays a part in everything we do. Better to get that hay ring loaded now than to try to move hay in the rain!
Harvesting Honey
Several weeks ago we noticed one of our Beehives was ready for a Honey Box. So we added one and watched as they did a fine job filling it up. When it looked like the honey super box was full and the honey was capped we made plans to Prepare The Hive For Honey Harvest.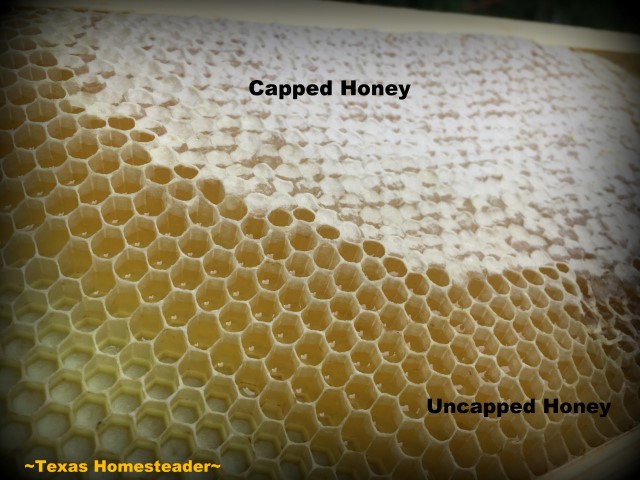 We added a divider with a bee escape attached. The bees can get out of the honey box, but they can't get back in. This will empty the bees from the honey box.
Now that 3 days have passed it's time for us to harvest that box. We suit up and go to the hives. It's only one box being harvested today, but I'm still excited that we can Harvest Some Honey.
We'll bring that single honey box inside and probably tackle actually removing the honey from the frames tomorrow. Today's already filled with chores & we try to plan indoor chores when it's raining.
Planning Out The Week
As I mentioned, almost everything we do is planned around the weather. So RancherMan & I plan out our week. Each of these tasks remained flexible though.
One thing I've learned – no plans can be in concrete. Flexibility is required because change often has to happen at the drop of a hat. Maybe a cow needs vet attention. Maybe a tree falls on a fence and needs to be removed and fences repaired.
Any number of things can require a non-scheduled change! But at least we have our tasks for the week penciled in.
Supper Plans
Now it's time to figure out what's for supper tonight. It's true that all of our meals are cooked from scratch. But wanna know a secret? I'm not fond of cooking, y'all. (shhhhhh…)
It's true! Although some people find cooking to be creative fun, cooking for me is only for necessity, not an enjoyable or relaxing activity.
Oh don't get me wrong, I can hold my own in the kitchen. RancherMan says I'm an awesome cook. (blushes. Awwww RancherMan, you sweet-talkin' man you!)
But my goal is to get a delicious meal on the table with the least effort and less clean-up possible. So I utilize the Cook-Once, Eat-Twice method of cooking. That means the entrée for tonight is already cooked and in the freezer!
I simply bring a couple of servings of Homemade Meatloaf out to thaw, add veggie sides and heat everything up. I like to add a fresh garden salad with homemade dressing – a Creamy Salad Dressing for me and Thousand Island for RancherMan. That dressing has already been made up and is waiting in the fridge. Homemade goodness FAST.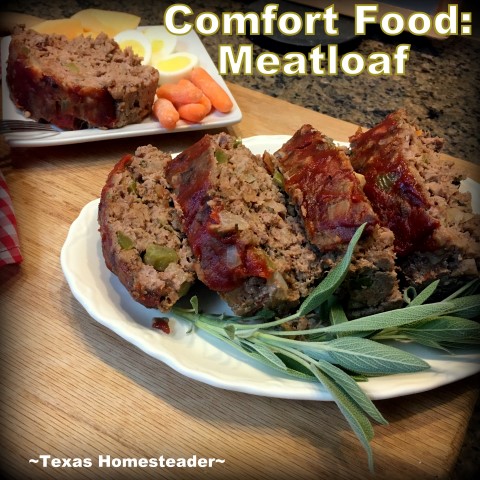 Winding Down
After supper I let the chickens out to freerange a few hours before locking them safely back in the coop for the night. By restricting their time out of the safety of their large chicken yard, I'm able to keep them closer to the house and safer from predators.
RancherMan & I will then wind down for the day. Sometimes we'll schnoodle on the couch and watch TV. But oftentimes we retreat to our Outdoor Living Room and enjoy bringing the day to a close.
We'll sit on the porch swing with an icy-cold beverage and talk about our day. Talk about our plans. And talk about our future. All of this while watching that gorgeous Texas sunset.
Then it's inside for the night. A nice shower and time for bed. Aaaaahhhhh… What a great day it's been!
Links In This Post
Other Homesteading Posts
Love Our 1880's Barn? See More!


C'mon by & sit a spell! Come hang out at our Facebook Page. It's like sitting in a front porch rocker with a glass of cold iced tea – lots of good folks sharing! You can also follow along on

Pinterest

, Twitter or

Instagram

.
If you'd like to receive an email each time a new blog post goes live it's EASY to


Subscribe to our blog

!