by Texas Homesteader ~
*affiliate link
Well, garden season is in full swing in NE Texas. It's the season all gardeners have been dreaming about for weeks. Much work has gone into planning, seed-buying and dreaming.
One of the things I still needed for my garden was plant markers. I'd love to have an easy way to identify plants in their teeny-tiny stage as I'm strolling through the garden. But you know how strong my #UseWhatchaGot drive is!
Thankfully I've found an easy way to repurpose items I already have in my home to use for the actual plant markers. Using these markers helps me to remember what I planted where without having to come inside & look it up. Check it out!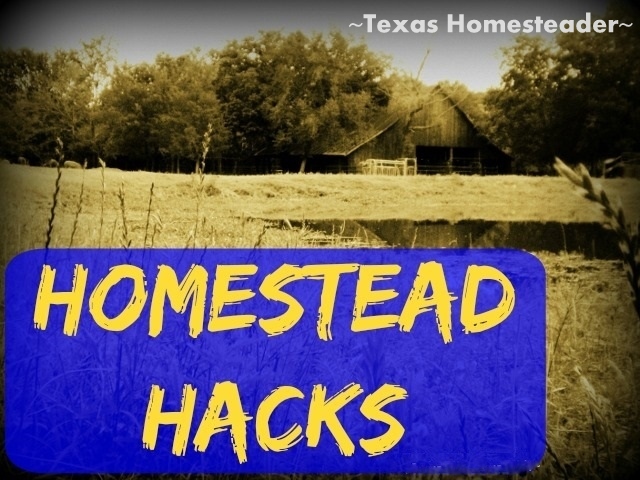 (Note: Some links in this post are for further information from earlier posts I've written. But links preceded with * are affiliate links. If you click them and buy something (almost anything, not just the item noted) I could receive a tiny commission. But the price you pay will NOT change. It's an easy way to support this blog without anything coming out of your pocket. So click often! Thank you!)
Weeks ago before I ever planted my garden, I first laid out what would be planted where using my multi-year spreadsheet.
It's a great planning tool for me. The information on the spreadsheet I made for my garden allows me to take advantage of past year's garden successes, avoid past year's failures and even take advantage of companion planting.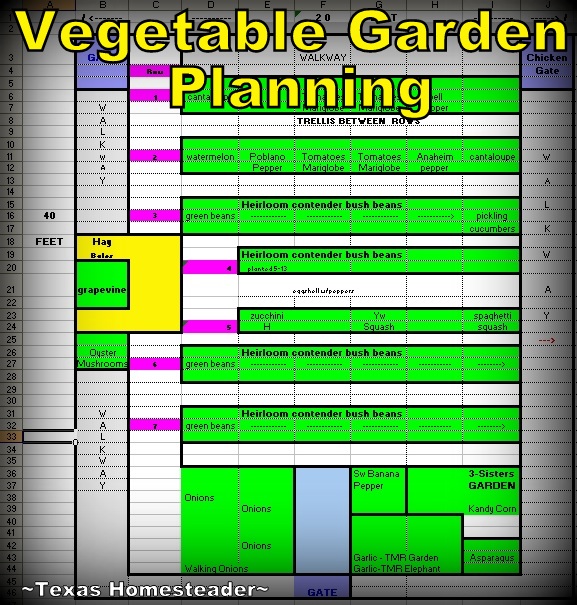 Then I used my indoor greenhouse to plant my heirloom seeds so I could get a head start with actual seedlings in the ground when planting time came.
When the danger of last frost had passed I dropped those tender seedlings into the ground. But there are seeds I always direct-plant in the garden as well.
So I'm always sure to mark the spot of any seed or seedling planted with a stick. (What a great homestead hack realization years ago!)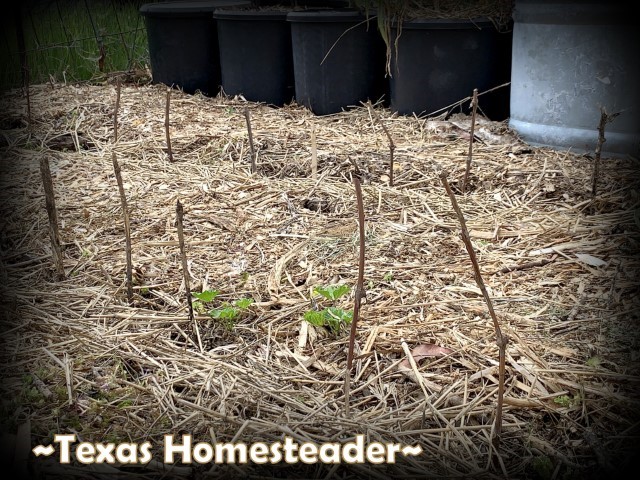 This stick marker helps me to know what foliage is weed to be removed verses what foliage is veggie plant while I'm performing the never-ending weeding chore in the garden.
It also helps me know where to focus watering in the weeks to come when the vines get to rambling. Did you ever try to figure out where to focus the water stream when watering a long cantaloupe vine? Yeah, me too.
This stick at the base of the cantaloupe plant let's me know where the water stream is needed.
Using Canning Jar Lids For Plant Markers
I was looking for plant markers though. I had saved some of my used canning jars that had a white background.
Although I'm sure the ones that are solid colored would probably work as well, I liked the contrast of those white sections.
So I pulled out a *permanent tag-marker pen with black ink and got started. Each lid was marked with a veggie variety I was planting. Jalapenos, elephant garlic, bell peppers, green beans and more!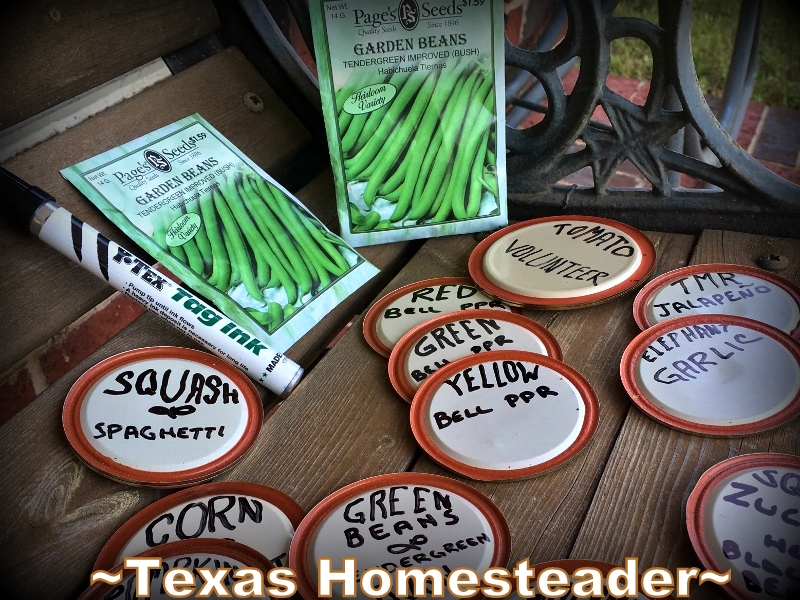 I added an infinity-type symbol under the type of veggie to indicate that these plants are an heirloom variety.
Almost all of my veggies are heirlooms, but there are some veggies that I sometimes plant that are hybrid. This lets me know which plants I can save seeds from for next year's garden.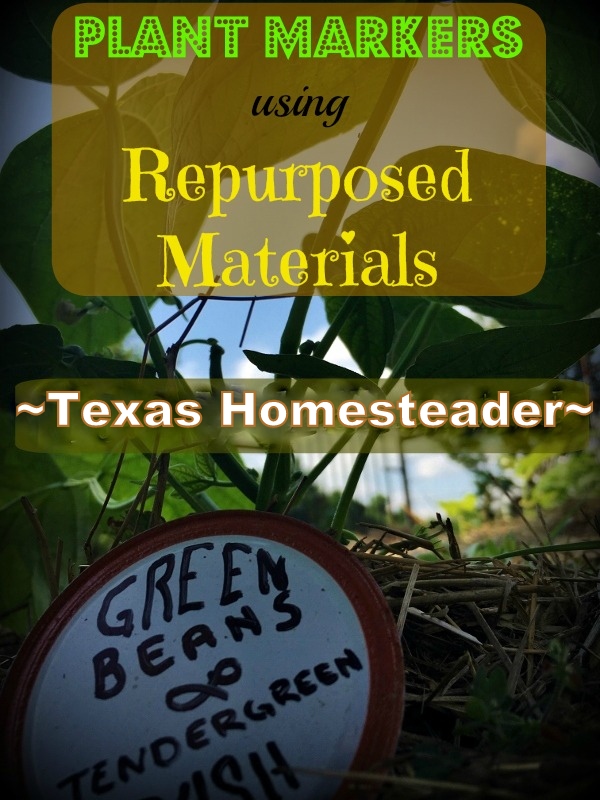 I even made a marker for the volunteer vine that showed up in the garden. It may be cantaloupe, or spaghetti squash, or even pumpkin. Time will tell… (I can't wait to see what it ends up being! LOL)
I love these little plant markers, and since I've used canning jar lids they also have a food preservation theme. Cute, economical, effective!
~TxH~
My Favorite Garden Hacks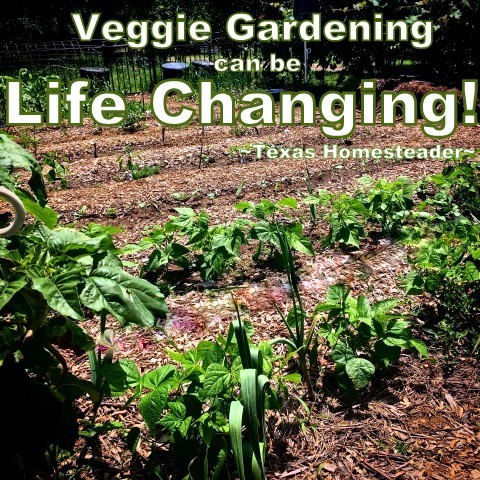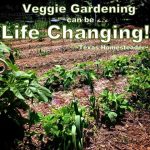 C'mon by & sit a spell! Come hang out at our Facebook Page. It's like sitting in a front porch rocker with a glass of cold iced tea – lots of good folks sharing! You can also follow along on

Pinterest

, Twitter or

Instagram

.
If you'd like to receive an email each time a new blog post goes live it's EASY to
Subscribe to our blog!
Save
Save