By Texas Homesteader ~
Between family illness, weather woes & garden changes I've gotten off to a slow start in the garden this season. But there are some very exciting gardening things I've enjoyed as well.
Let's stroll through my NE Texas Homestead garden and see what's going on…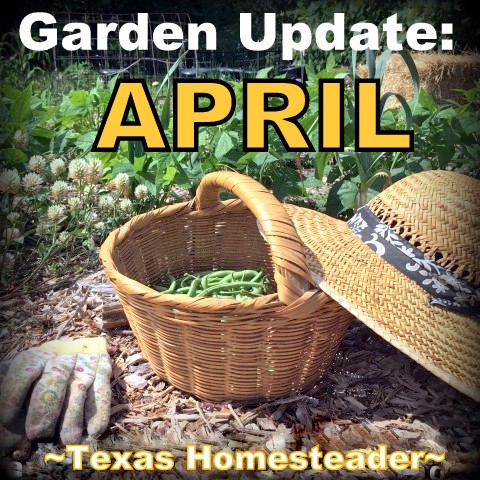 (Note: Some links in this post will take you to other related articles for further information. But links preceded with * are affiliate links. If you click and buy something I could receive a tiny commission.)
Garden Planning Spreadsheet
I'd already spent the colder months of winter planning my spring vegetable garden. One of the biggest planting decision aids for me is a spreadsheet where I've formatted my garden's layout.

NOTE: The photo above is an example of my own garden's layout. Your garden layout will be different but this photo shows what mine looks like. For your own garden you can use a *Garden Planner Notebook or maybe some sort of*Downloadable Garden Planner . (I'm not personally familiar with these products, just offering something to get your search started.) I've heard good things about Clyde's Garden Planner too.
Of course you could also format something similar to what I've done on your own *Spreadsheet Software.
I personally prefer using my excel spreadsheet. Using it I have past year's garden planting layouts right at my fingertips. And I can compare by simply clicking another year's tab and looking over what I planted where back then. That helps me make sure I'm rotating my crops each year.
Getting A Late Start In The Texas Homestead Garden
Here in Northeast Texas (hardiness zone 8a) it's generally thought to be relatively safe to place your veggie plants in the garden after Easter.
I accomplish this by planting my heirloom seeds in my Indoor Greenhouse several weeks before the last anticipated freeze.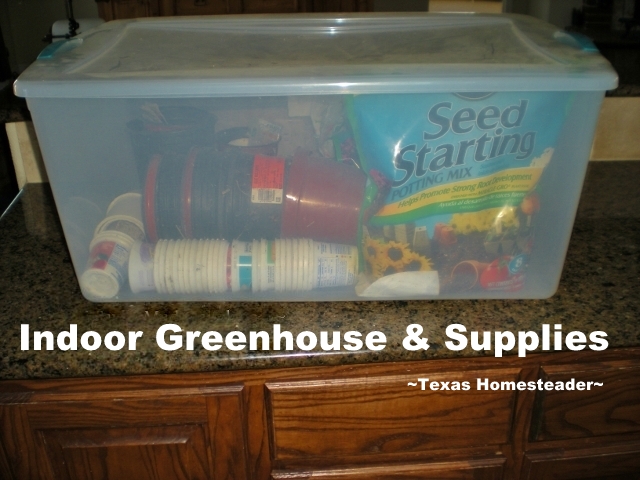 But my pre-gardening chores got away from me this year due to an illness in our family.
So instead of having seedlings to place in the garden I'm having to plant actual seeds. That means the garden will be a slow-go this year. But at least I'll have a garden.
Pre-Planting Garden Maintenance
I'd been preparing the planting areas by removing the late-winter weeds like Henbit, etc.
It's true that weeding while the plants are young makes it much easier to stay on top of it all.
Hori Hori Knife Weeding Trowel
I have this hori hori knife-styled *Weeding Trowel that makes short work of it. Doubly good since I hate to weed the garden, don't you??!!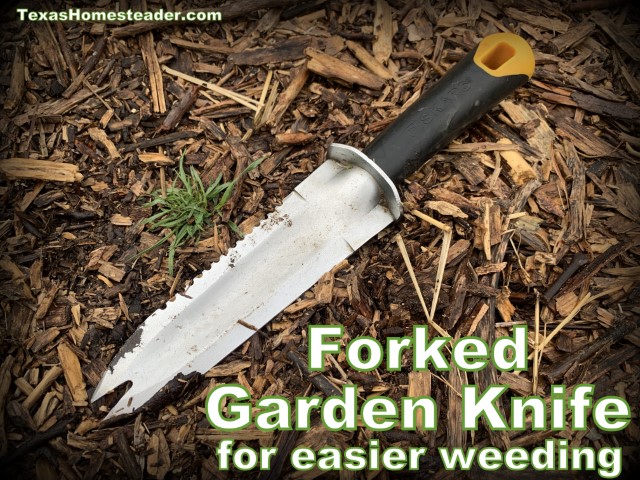 That fork on the end grabs hold of the plant's roots and pulls it out with ease. I drop the green weed into my *Compost Tumbler to add to my green's requirement for that black gold Homemade Compost.
New Raised Bed
I've been changing many of my in-ground planting rows into raised beds. I'm not getting any younger ya know!
But this year I found the Best Raised Bed Option for my garden. That heavy-duty raised bed was assembled in only 15 minutes!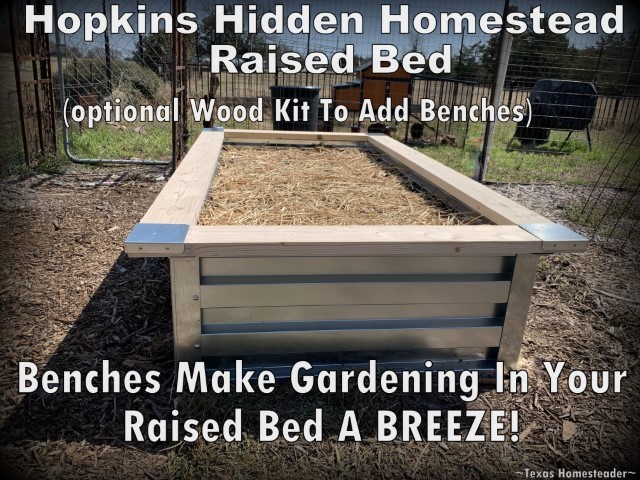 And the addition of benches will make gardening and harvest a breeze.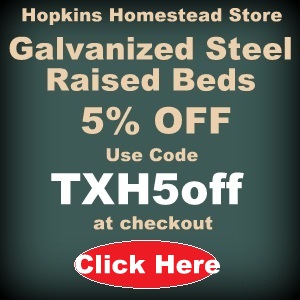 When the bed was assembled I filled that bad boy using a combination of Hugelkultur and Sheet Composting. I'm a huge fan of Making My Own Garden Soil, y'all!
Finally I planted the raised bed with a boat-load of green bean seeds. They're all starting to sprout now.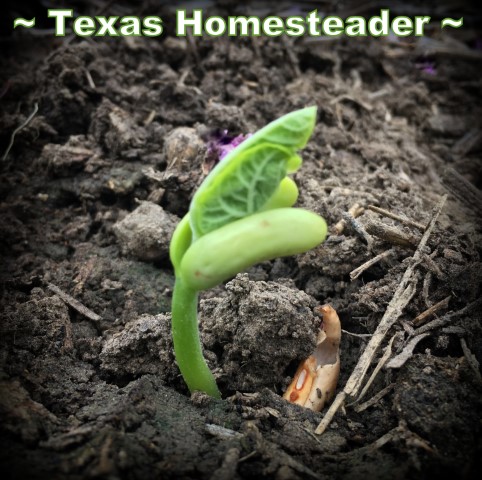 I must say this new raised bed and the homemade garden soil are the changes I'm most excited about in my garden this year.
Homemade Seed Tape
Since I never got the chance to start plants in my Indoor Greenhouse several weeks ago, I planted seeds for several veggies directly into the garden.
This year I've been making my own Homemade Seed Tape. I'll be utilizing this method every year from now on. Especially for those tiny seeds that must be planted directly into the garden like carrots. It was so easy!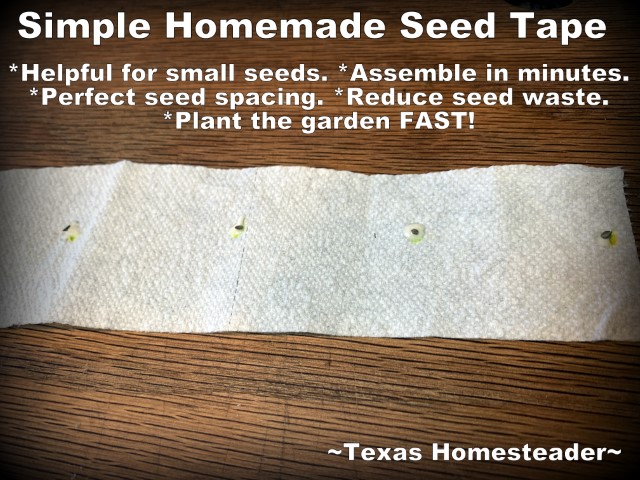 The beauty is that those seeds are perfectly spaced. No seed is wasted in 'thinning' your purposely over-planted veggies with smaller seeds like carrots or lettuce.
And it's easier to plant during those sometimes breezy early-spring months. I just lay out the tape placing a small stone on each end, then cover with the appropriate amount of soil. Easy peasy!
But whether planting individual seeds or a strip of seed tape I like to use this Homestead Hack of Using Twigs to mark the spot where seeds have been planted. Why?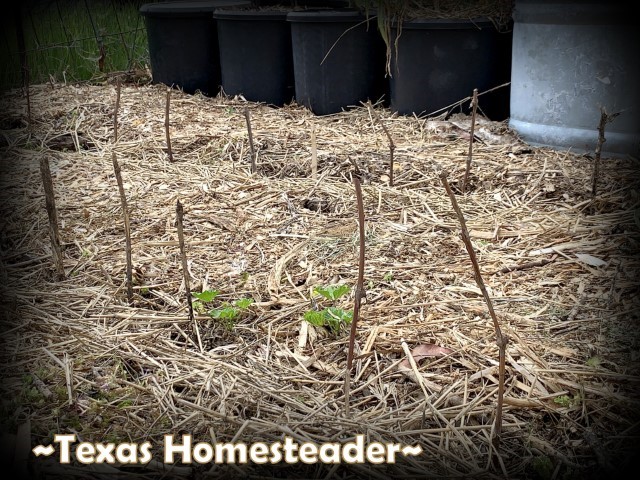 This accomplishes two things: It shows me where to concentrate the water and weeding chores now until the tiny seedling emerges.
It also helps me later in the season by indicating where to concentrate the water stream (at the actual stem and roots of the plant) when the plant grows and spreads along the ground.
I like to use Vining Plants As Living Mulch.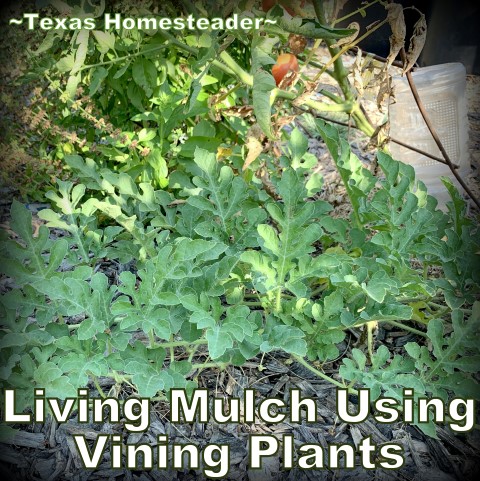 But did you ever try to water a rambling cantaloupe vine and wonder if you were actually watering the roots of the plant or just the ground somewhere along the long vines? Yeah, that.
Watering The Garden… Already!
Our area of NE Texas is currently going through a drought. Even though April is supposed to be a very wet month for us we've received precious little moisture so far.
So RancherMan has already hooked up the pump that pulls water from our underground cistern (one of the Three Rainwater Catchment Systems we use on the homestead.)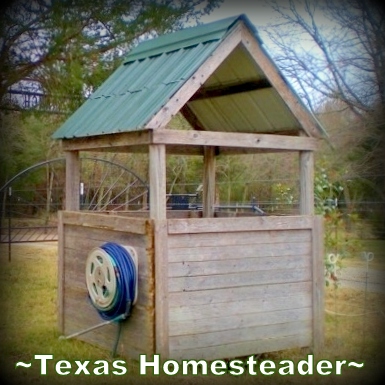 I've already had to use that captured rainwater to keep the garden watered. Ugh.
Even though I'm watering regularly, it's really not the same for the plants as a good old fashioned rain shower where the entire ground gets a good soaking. So things have been slow to germinate.
As a result I'm still waiting for enough warmth & moisture to bring many of those seeds out of hiding.
I've planted heirloom tomatoes, summer squash, bell peppers, jalapenos, pepperoncini peppers, habanero peppers, watermelon, pickling cucumbers, luffa, cantaloupe, green beans, carrots, spinach, chives and all manner of salad greens. (chants softly: go, Go, GO!!)
I hope to have a much better garden update for y'all next month. But at least there's still a few nice things to look at.
Did The Asparagus Survive?
The crazy winter storm we suffered in February resulted in many lost plants. When I didn't see my asparagus sprouting I assumed it was also lost. But…
I'm not ready to say it's dead yet. But if nothing sprouts by the end of the month I'll need to accept the cold, hard truth.
Strawberries Doing Well
I have some 'Everbearing strawberries' planted in a galvanized trough next to our back porch deck. Edible Landscaping, bebe!
Those strawberries are growing beautifully, blooming prolifically and should be producing red ripe berries soon. OH YUM!
When they start producing I'll be sure to use this hack to Trick Birds Away From My Strawberries.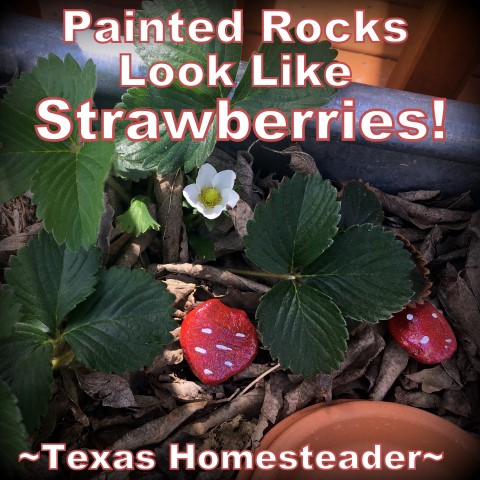 I'm happy to say that since placing these painted rocks around my strawberry plants I've lost precious few berries to the birds. Even though our backyard is filled with birds of all kinds.
Miniature Blueberry Bush
A couple of years ago I planted a miniature blueberry bush in a small Galvanized Tub next to our back porch deck.
I love blueberries, and this bush really seems to love it there.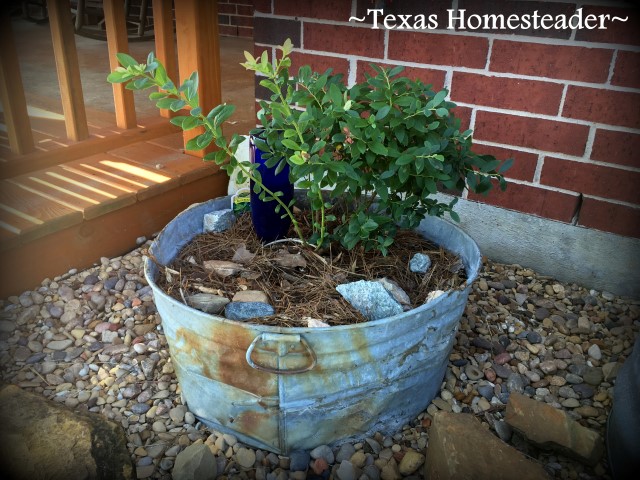 It got popped with the winter storm we had in February. But although I'll have to trim off some dead branches it looks like it will rebound.
Concord Grapevine
The Concord grapevines were trimmed back earlier this year. Hard.
Using This Trick, last year's grapes were the most I'd ever harvested. I made grape jelly and grape juice with all those grapes.
But the vines had since grown into a tangled mess. So I hacked the grapevine into the main leader branches and retied them to the wires.
I'm not sure if this will affect my harvest this year, but the grapevine has leafed out and is certainly beautiful. Fingers crossed!
Garlic & Onions
Garlic – Since I planted garlic last October and mulched it heavily for the winter, they're chugging along just great. Especially nice since we eat lots of garlic, it's a healthy way to jazz up the taste of food.
I'll have elephant garlic and traditional garlic too. I typically Harvest The Garlic in June.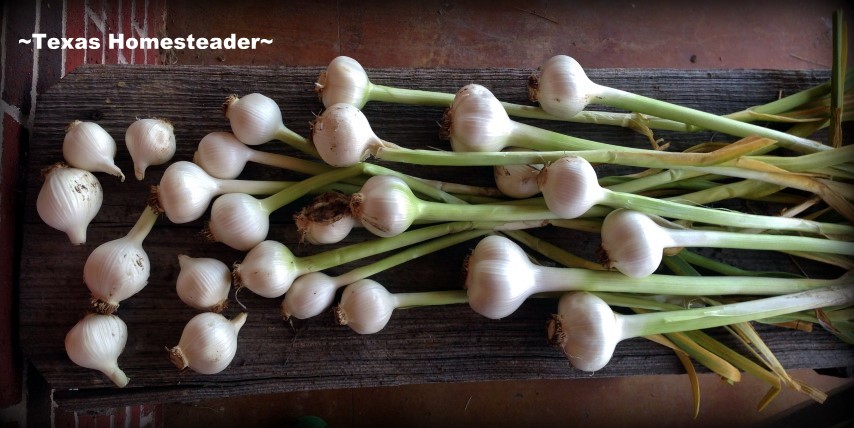 Onions – My onions are Egyptian Walking Onions. They are a 'Lazy Gardener's plant it and forget it' kind of onion.
They reproduce by growing bulbules on the flowers, which then get weighed down and touch the ground. There they'll root and make new plants. See? Lazy gardener's plant!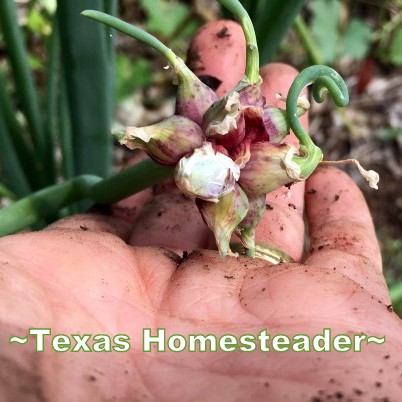 They're small but nicely strong flavored. So a little goes a long way. But since they reproduce on their own I haven't had to plant onions in years!
Herbs
Rosemary – The ice storm a few years back killed my mammoth 9-ft wide rosemary bush. I've replanted it but it will take a long time to be the showpiece it used to be. In the meantime I'm harvesting only very lightly from it.
Sage – Other herbs fared better since they were planted on the south side of the house. My sage plant is impressive, growing larger every year.
And this time of year it's in beautiful purple bloom. A gorgeous example of edible landscaping.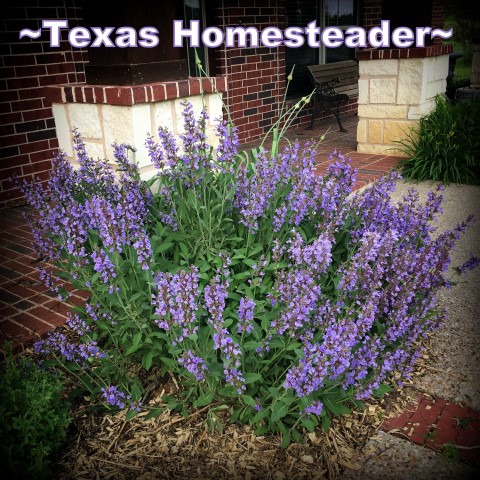 Stevia Multiplication – I purposely allowed my Stevia Plant to flower and go to seed last fall. When I pulled the dead plant up last winter I shook the tops over where the plant once stood, hoping to get starts again this year.
This spring I was pretty excited to see all the stevia plants sprouting in our front bed.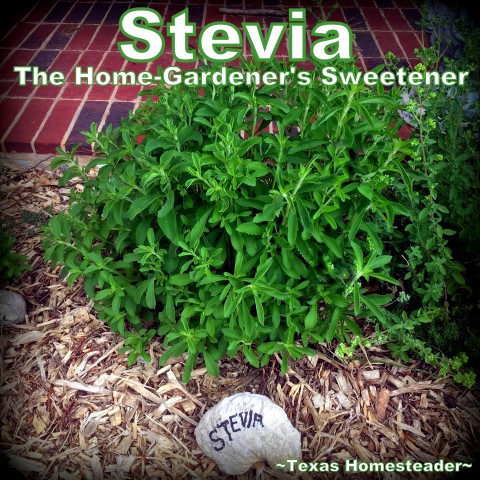 I'll relocate the tiny seedlings to various places in our landscape and allow them to grow. I'd love to harvest/dehydrate more stevia this year to have it available all year long.
Growing your own sweetener? How SWEET! (see what I did there??)
Oregano – My oregano got popped by the winter storm too. It's trying to make a comeback but will take some time.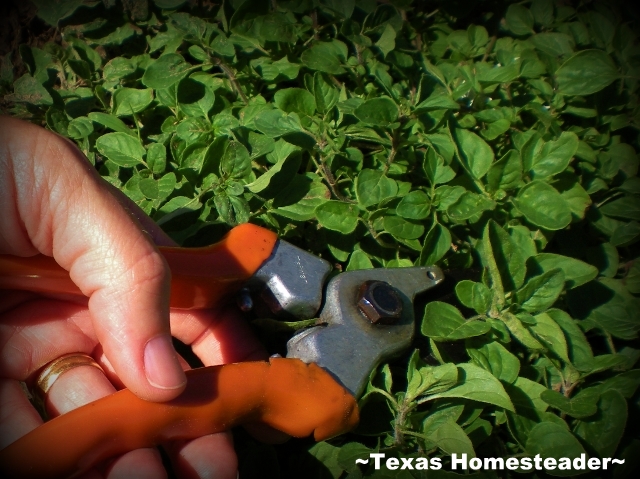 Thyme – I had a beautiful thyme plant years ago and it grew well.
I took part of it and transplanted it into the Edible Landscape around our Outdoor Living Area and it grew well there too.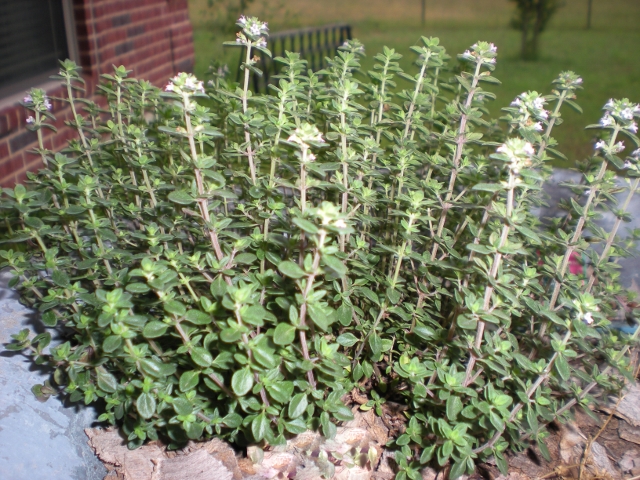 Like the oregano it's been popped by the winter storm. I think it'll survive, just be a little sparse for a while.
How's Your April Garden?
Other than that there's not too much to show yet – I've planted lots of seeds and I'm just waiting for them to grow.
So there ya go, a quick tour of my April garden. Well, as much of a tour as I can do this early in the game anyway. I promise next month's garden update will be flowing with goodness!
How's your garden growing – are you able to plant yet? What will be the star of the show in YOUR garden??
~TxH~
This post categorized in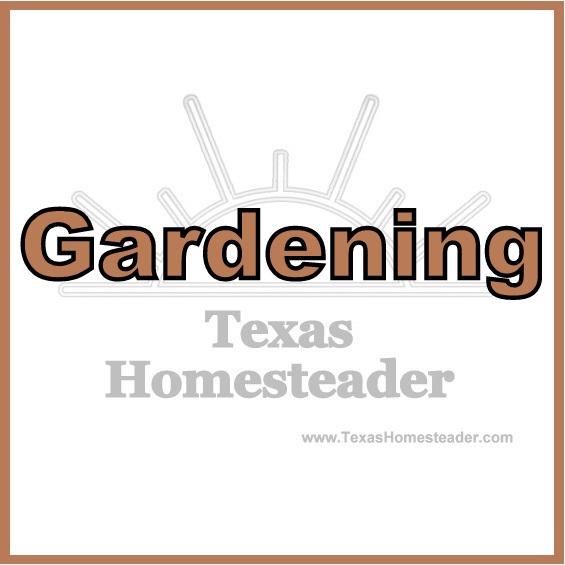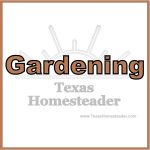 Links In This Post:
My Favorite Garden Hacks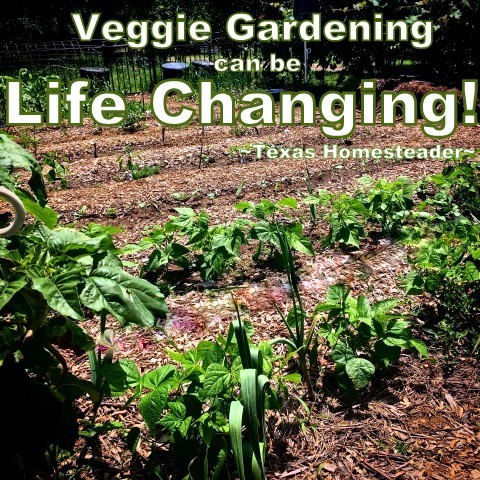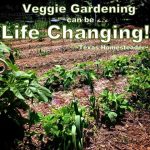 C'mon by & sit a spell! Come hang out at our Facebook Page. It's like sitting in a front porch rocker with a glass of cold iced tea – lots of good folks sharing! You can also follow along on Pinterest, Twitter or Instagram.
If you'd like to receive an email each time a new blog post goes live it's EASY to
Subscribe to our blog!