By Texas Homesteader ~
Well, it seems it's been a slow start in the garden this season. Here in Northeast Texas (hardiness zone 8) it's generally thought to be relatively safe to plant your veggie garden after Easter.
The temps had been warm in the weeks before Easter. And it lulled many into a false sense of security. Many gardeners jumped the gun & planted their garden a little early. But then a cold front came through and dropped temps into the upper 30's.
How has my garden fared so far? Well let's stroll through the garden and see what's going on…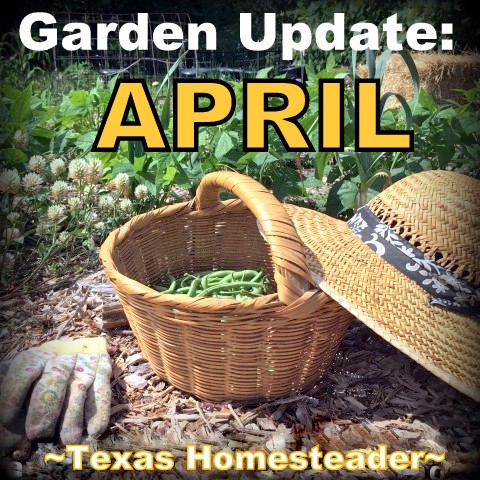 Plants Safe Until Temps Are 32 Degrees?
Now I always thought as long as the temperature didn't get down to 32 degrees fahrenheit (ie: freezing temps) that my garden plants would be safe. As it turns out, that's not necessarily true.
Depending upon the relative humidity on any given early-spring night you can get frost with temps as high as the upper 30's. So I don't ever plant if the temps are expected to be 38 degrees or less.
Thankfully I held off planting. But the delay meant I was later than I like in getting things going in the garden. But there are some successes.
Tomato Fiasco
You'll remember months ago I got a Self-Watering Planter and potting soil for Christmas. I already had an unopened package of Caesar lettuce seeds from last year, and I also had spinach seeds in my veggie-garden seed arsenal. So I planted spinach along one side of the long planter and lettuce along the other side.
But as the plants sprouted I wondered – hummmm… Those don't look like Caesar lettuce at all. They kinda look like… tomatoes! And a bunch of them!
So I pulled the tiny seedlings out and transplanted them into small yogurt cups that were saved for me by family members. As the seedlings grew it became apparent they were indeed tomato plants.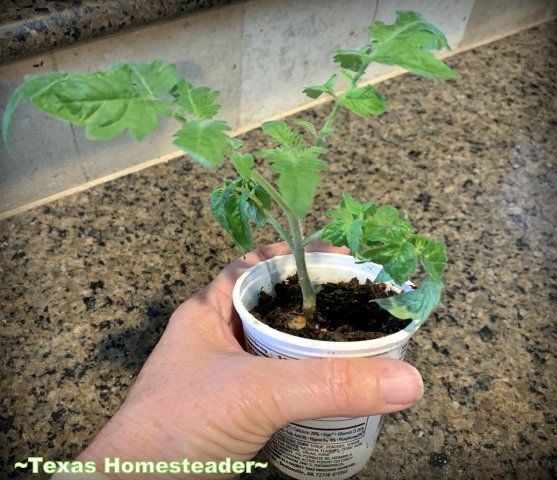 So I recently transplanted them into the garden. Thirteen of them! (my standard is about 4 plants in any given year) I think it's safe to say there will be tomatoes on our menu often this year!
Repurposing Idea: Protect Against Hail
Oh, and how about this repurpose??! In case this helps other cattle-raisers/gardeners out there.
I hate the plastic net wrapped around the hay we buy to feed our cows. It's always so hard to dispose of. But the weatherman was calling for hail a few nights ago. Ugh, how will I protect my tender newly-planted tomatoes??!!
Then inspiration hit. I used the discarded net wrap to cover the trellis over my fragile tomato plants. #UseWhatchaGot.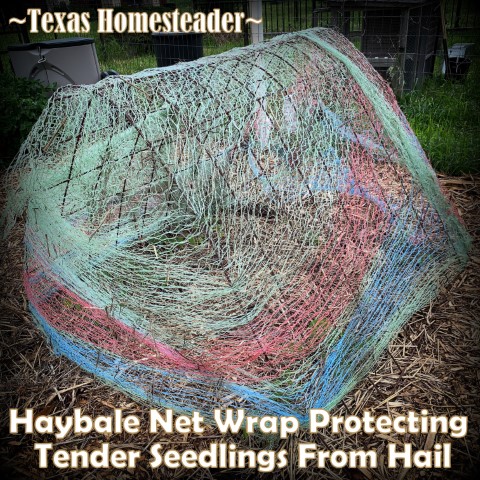 Watering… Already!
Our area of NE Texas is currently going through a drought. Even though April is supposed to be a very wet month for us, we've received precious little moisture so far.
So RancherMan has already hooked up the pump that pulls water from our Underground Cistern (one of the Three Rainwater Catchment Systems we use on the homestead.)
I've already had to use that captured water to keep the garden watered. Ugh. That doesn't bode well for the moisture expectations for the rest of the early spring season, and my garden is showing it.
Even though I'm watering regularly, it's really not the same for the plants as a good old fashioned rain shower. So things are slow to germinate.
Seed Planting
I planted seeds for several veggies directly into the garden, including green beans, red bell peppers, jalapeno, pepperoncini, okra, cantaloupe, watermelon, yellow squash, spaghetti squash and luffa. But the seeds are just now beginning to sprout.
When I plant seeds in the garden, I like to use this Homestead Hack of Using Twigs to mark the spot where seeds have been planted.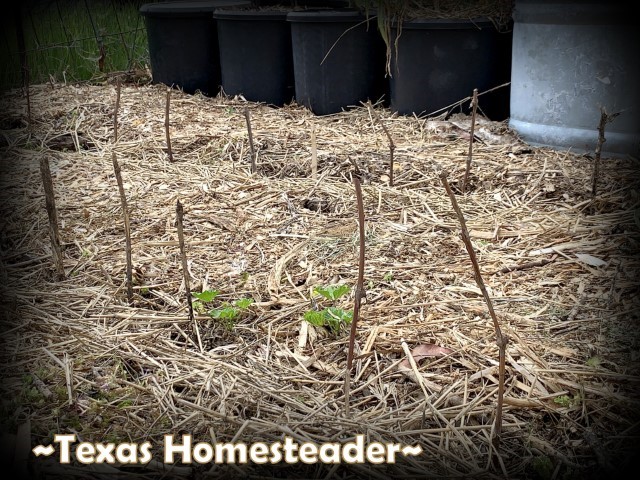 This accomplishes two things: It shows me where to concentrate the water now until the seedling surfaces.
It also helps me later in the season by indicating where to concentrate the water stream (at the actual stem and roots of the plant) when the plant grows and spreads along the ground.
Did you ever try to water a rambling cantaloupe vine and wonder if you were actually watering the roots of the plant or just the ground somewhere along the long vines? Yeah, that.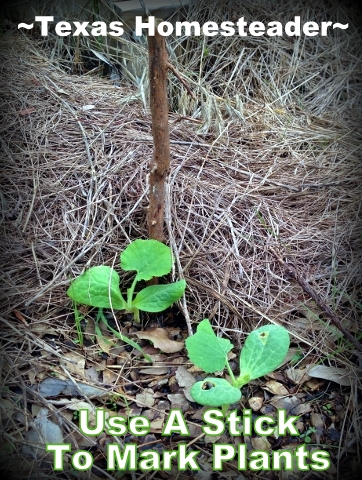 Asparagus Survived
The crazy winter storm we suffered resulted in many lost plants. When I didn't see my asparagus sprouting I assumed it was also lost. But…
I'm happy to say that although it's growing more slowly than it does in a typical season, it's at least producing. I'm harvesting asparagus spears each morning.
I've been washing, trimming and tossing the fresh asparagus spears in the freezer. That way no asparagus is wasted.
When RancherMan & I are in the mood for asparagus with our supper it'll be ready and waiting for us. Yea!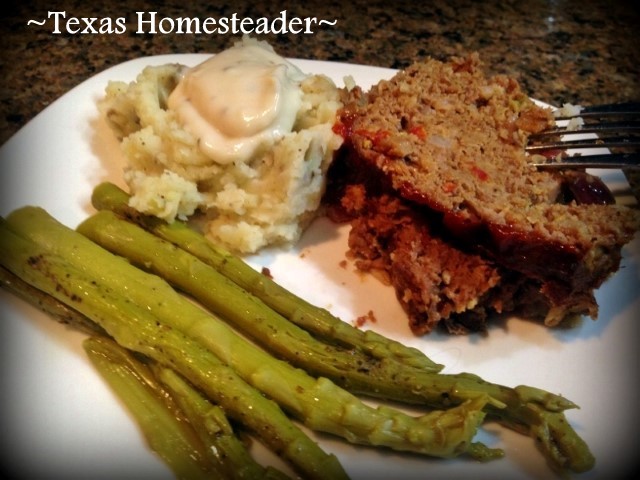 Strawberries Doing Well
A couple of years ago I bought a small pot of 'Everbearing strawberries'. I planted them in a galvanized trough next to our back porch deck.
They grew beautifully and even produced a few strawberries that year. And the next spring the plants returned, grew vigorously and produced even more strawberries.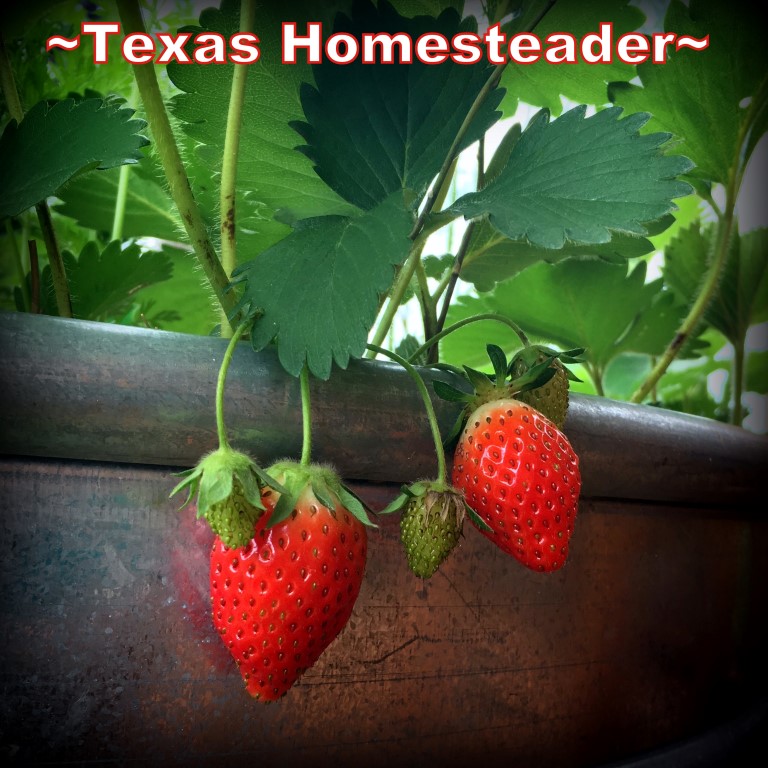 Before our winter storm this year I tried to protect them by covering the plants with dry leaves and a bed sheet. But, you know, -3 degrees and all…
Then surprise of all surprises, I see the strawberries survived and are growing beautifully, blooming prolifically and should be producing red ripe berries soon. OH YUM!
I'll be sure to use this hack to Trick Birds Away From My Strawberries. I'm happy to say that since placing these painted rocks around my strawberry plants I've lost precious few berries to the birds, although our backyard is filled with birds of all kinds.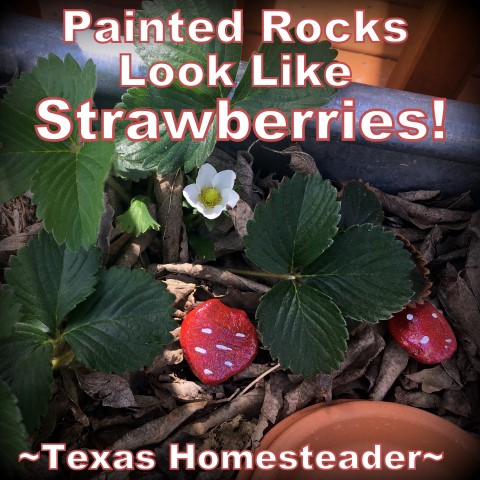 Miniature Blueberry Bush
A couple of years ago I planted a miniature blueberry bush in a small Galvanized Tub next to our back porch deck.
I love blueberries, and this bush really seems to love it there.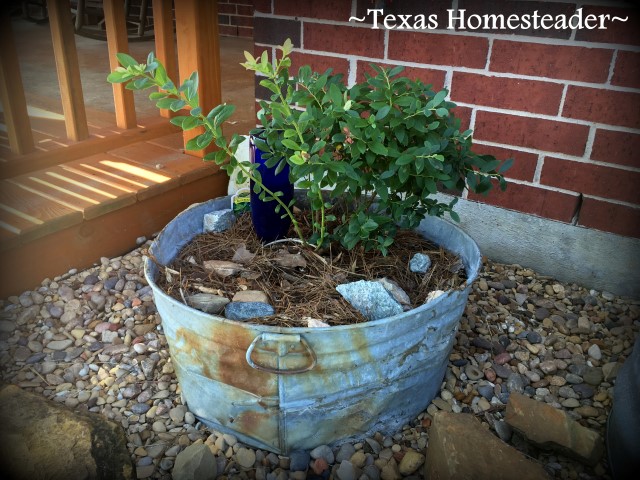 But with the snow storm I wasn't sure it would survive. I tried to insulate it with dry leaves and a sheet, the same as I did with the strawberries. Then I held my breath and waited…
It certainly got popped with the cold weather, but although I'll have to trim off some dead branches it looks like it will rebound.
Concord Grapevine
The Concord grapevines were trimmed back this year. Hard.
Using This Trick, last year's grape harvest was the most I'd ever gotten.
But the vines had since grown into a tangled mess. So I hacked the grapevine into the main leader branches and retied them to the wires.
I'm not sure if this will affect my harvest this year, but the grapevine has leafed out and is certainly beautiful. Fingers crossed!
Garlic & Onions
Various Kinds Of Garlic – I ran out of garlic last year, so this year I made sure to overplant it. And it's grown great!
I'll have elephant garlic and traditional garlic too. I'll be ready when I'm finally able to Harvest The Garlic in June.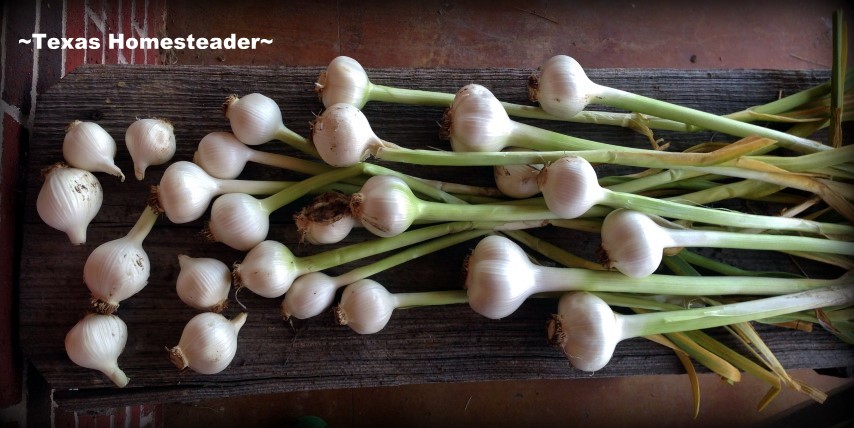 Egyptian Walking Onions – My onions are Egyptian Walking Onions. They are a 'plant it and forget it' kind of onion. They're small but strongly flavored.
And they reproduce by growing bulbules on the flowers, which then get weighed down and touch the ground. There they'll root and make new plants.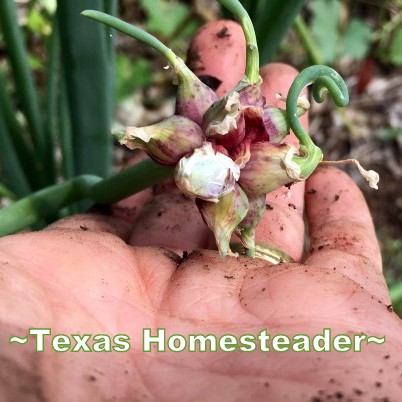 I haven't had to plant onions in years!
Herbs
Rosemary Sadness – OK, the big story here is my favored, huge, 9-ft wide Rosemary plant succumbed to the brutal winter storm. I'm beyond sad and have cut it back looking for any sign of life. There's none. And I've cut all the way back to the trunk itself.
But I've left the massive trunk skeleton 'just in case'. (why yes, I'm the eternal optimist. Why do you ask??)
On the slightly positive side I've found a small section of the rosemary that was buried beneath the snow and was therefore insulated against the most brutal effects of the storm. And it had apparently touched the ground over the years and rooted. So this little section has survived.
I'll transplant it at the base of this trunk and basically start over. But at least she'll still be here and will provide for us once again sometime down the road.
Sage Beauty – Other herbs fared better since they were planted on the south side of the house. My sage plant is impressive, growing larger every year.
And this time of year it's in beautiful purple bloom. A gorgeous example of edible landscaping.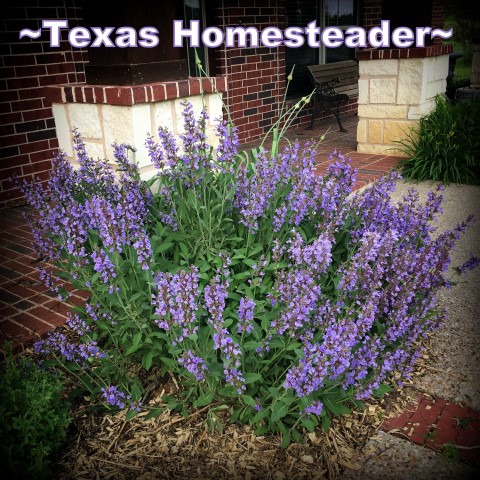 Stevia Multiplication – I allowed my Stevia Plant to flower and go to seed last fall.
This spring I was pretty excited to see all the stevia plants sprouting forth in our front bed.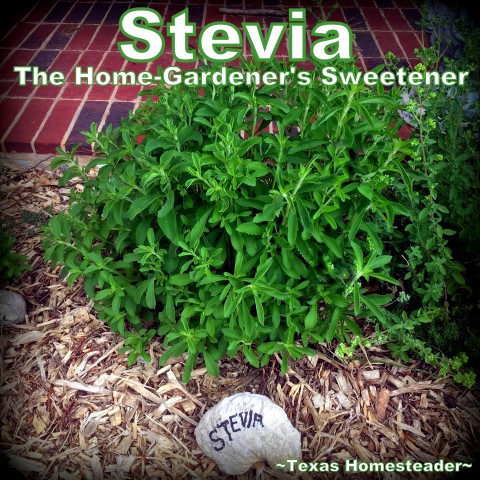 I'll relocate the tiny seedlings to various places in our landscape and allow them to grow. I'd love to harvest/dehydrate more stevia this year to have it available all year long.
Growing your own sweetener? How SWEET! (see what I did there??)
Oregano Monster – My oregano is going c-r-a-z-y! I won't have a shortage of oregano, y'all! It's grown huge, spilled over its raised bed and out into the yard.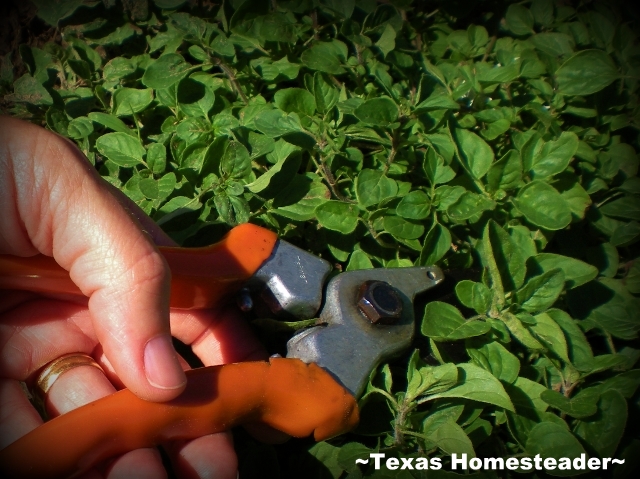 That's a good problem to have I suppose. I'm offering fresh herbs to family and friends at church. You know how much gardeners like to share the bounty.
Thyme Abundance – I had a beautiful thyme plant years ago and it grew well for a couple of years and then died during one of our many droughts.
So I bought another one and it's done well for years. Last year I took part of it and transplanted it into the Edible Landscape around our Outdoor Living Area and it grew well.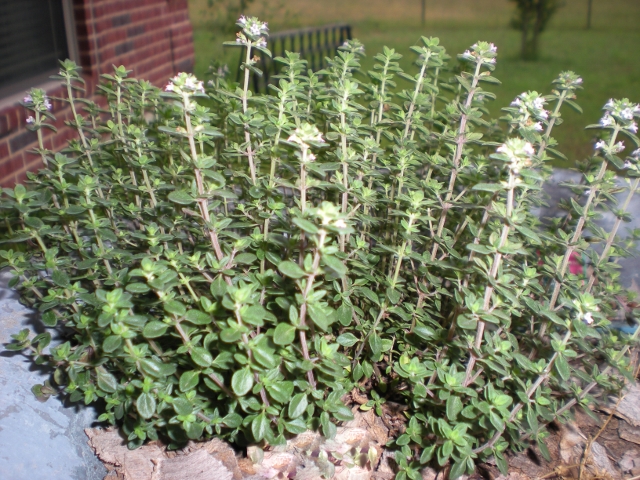 Even though the thyme is planted on the north side of the house and susceptible to the same winter storm as the rosemary, it rebounded beautifully this spring.
Like the oregano it's growing out of its raised bed and darn near into the yard as well! Gotta love it.
So there ya go – some sad news in the garden, some really good news & some slow & steady progress. But still the promise of a productive season this year.
How's your garden doing so far?
~TxH~
Links In This Post:
My Favorite Garden Hacks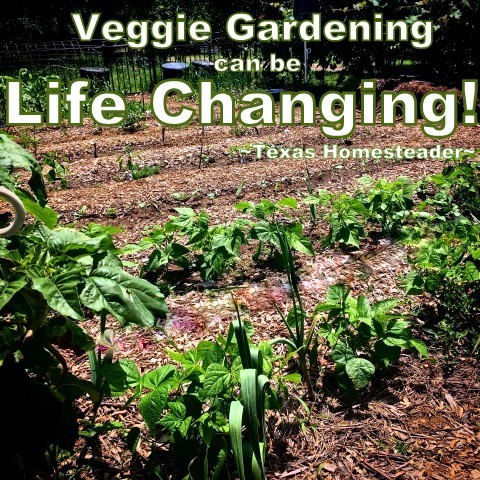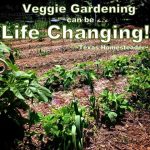 C'mon by & sit a spell! Come hang out at our Facebook Page. It's like sitting in a front porch rocker with a glass of cold iced tea – lots of good folks sharing! You can also follow along on Pinterest, Twitter or Instagram.
If you'd like to receive an email each time a new blog post goes live it's EASY to
Subscribe to our blog!