by Texas Homesteader ~
WHEW!  April is traditionally a busy gardening month anyway but since RancherMan & I changed up our whole garden area this year it's really busy at the Taylor Household!  As you know, the tenacious Bermuda grass was creating way much more weeding work than necessary by growing underneath the boards of our raised beds where they were neigh impossible to dig out.  RancherMan always says "Work Smarter, Not Harder" so last fall we ripped out the raised beds, split the garden almost in half (now sharing with the chicken run) and started over.  It's making for lots of work for us, but the efficiency of this layout should give us close to the same production with a fraction of the daily maintenance required and hopefully, finally, allow me to win the battle against Bermuda grass!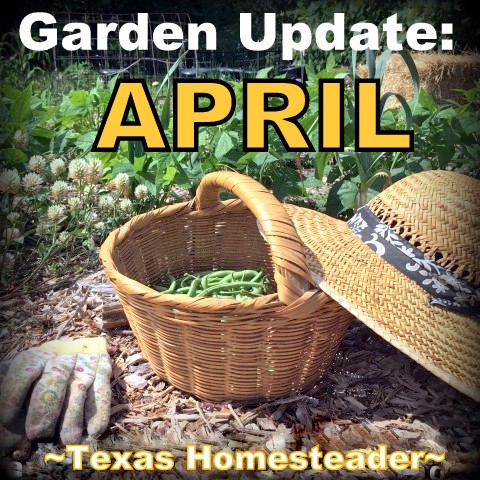 After RancherMan tilled several times & I raked as many of the grass runners as I could, we started preparing for our vegetable garden.  We found an avenue to obtain as much Free Wood Mulch as we wanted so I first lined the perimeter of the garden with leftover empty paper feed sacks and topped the paper with bark mulch to both make it look nice as well as give me a walking surface.  My hope is that this combination will keep grass runners encroaching from the exterior of the garden at least manageable.  (fingers crossed!)  Time will tell…
Then we lined the walkways between my planting rows with the same flattened paper sacks and bark mulch and then I got to planting. Even though we cut the garden area almost in half, my planting spaces are now much more efficiently laid out with a lot less wasted space so I should be able to roughly harvest the same amount of produce with this smaller area.  Less weeding, less maintenance and the same veggie harvest?  YES PLEASE!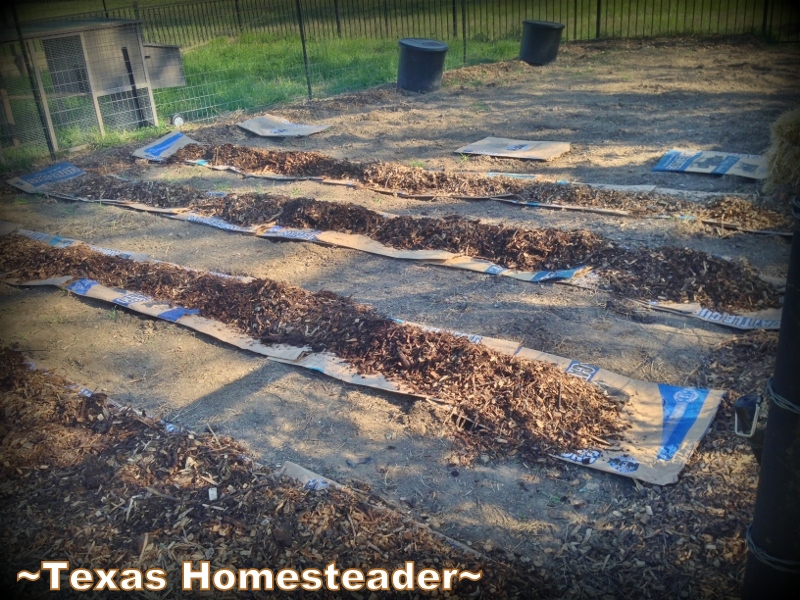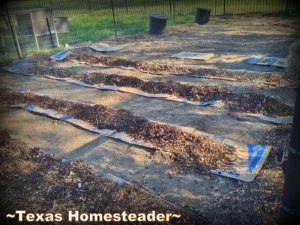 Here in planting zone 8 we're typically able to safely start planting outside around Easter or after.  As I typically do I started my Indoor Greenhouse about 6 weeks in advance, planned my garden layout and vegetable options and planted my heirloom seeds.  But an illness in our family this spring kept me from my traditional tasks and my neglect kept the indoor greenhouse from performing as it should.  So this year I had to purchase some of the veggie plants for the garden but I still planted some heirloom seeds directly into the garden for things like zucchini & green beans that I knew would grow fast & still have enough time to produce.   I also planted a row of mammoth sunflowers along the side of the garden that borders the chicken fence.  It serves two purposes – I always plant them for my mom since she mentions every year how beautiful they look in my garden (they're my faves as well) plus they will shade the chickens this year during the hot Texas late afternoons.  Win/win!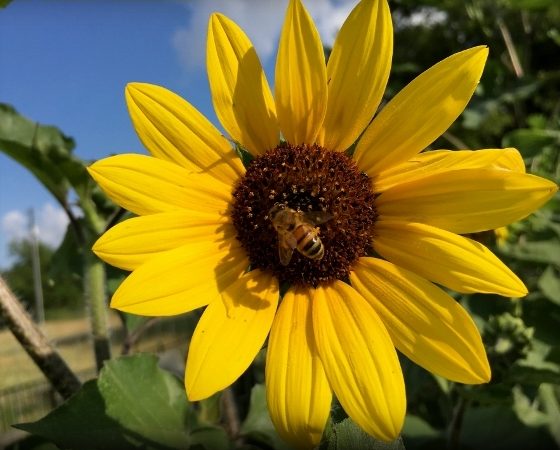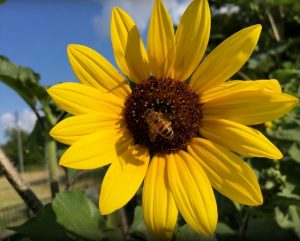 So far I've been busy planting:
Tomatoes – 6 heirloom slicing, 1 hybrid Roma
Peppers (hybrid) – Red, green and yellow bell peppers & jalapeno
Heirloom Squash – Zucchini, Spaghetti squash
3-sisters garden (heirloom corn/heirloom sugar-pie pumpkin/hybrid pole beans)
Heirloom Green beans (bush)
Hybrid Okra
Heirloom Pickler cucumbers
Hybrid Melons – cantaloupe & watermelon
Onions & garlic
Herbs: Sage, Oregano, Basil, Thyme
Mammoth Sunflowers (you know, 'cause they make a veggie garden pretty!)
What are you planting this year? How are you planning for excess production?
~TxH~


C'mon by & sit a spell!  Come hang out at our Facebook Page. It's like sitting in a front porch rocker with a glass of cold iced tea – lots of good folks sharing!  You can also follow along on Pinterest, Twitter or Instagram.
If you'd like to receive an email each time a new blog post goes live it's EASY to Subscribe to our blog!