We're all trying to save money these days. I'm sharing 5 Frugal Things we were able to do to easily save some cold, hard cash. Everything from selling unused jewelry, saving on property taxes, a special birthday treat and more. Check it out, y'all!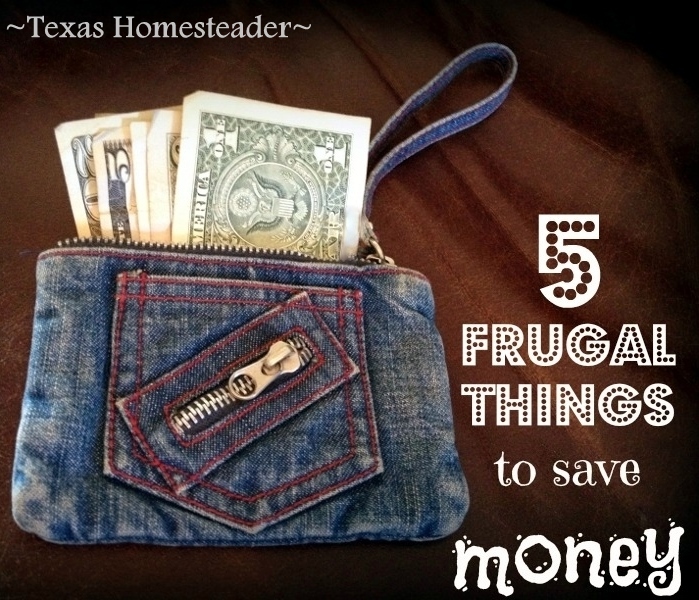 (Note: Some links in this post will take you to other related articles for further information. But links preceded with * are affiliate links. If you click and buy something I could receive a tiny commission.)
Adjusting Property Tax Liability
Now I must start by saying I have no problem paying my fair share of taxes. Those taxes pay for schools, roads and more for the benefit of all.
BUT, sometimes things change and you might find yourself paying more than your fair share. This was recently the case for RancherMan & me.
So we made a quick trip to the tax office with supporting documents to plead our case that the county should lower our tax liability to the correct amount.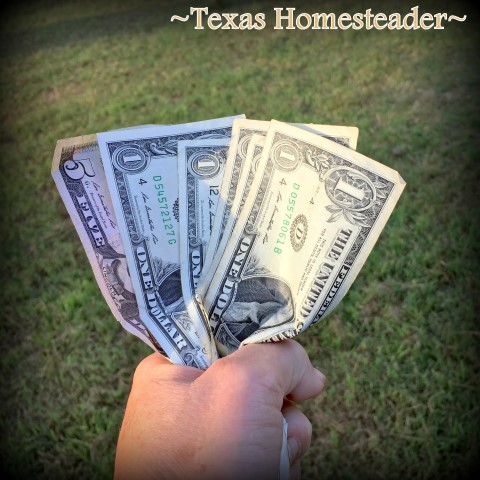 The county appraiser agreed with us. Our meeting with the appraisal review board is now scheduled for next week.
Selling Unused Jewelry
I have several small pieces of gold/diamond jewelry that were purchased in my younger years. But, you know, my life has changed since then.
I'm a simple girl – even more so than the girl of my youth. Although I have some nice jewelry that I enjoy wearing from time to time, there are several beautiful but non-sentimental pieces that I just don't wear anymore.
Those pretty pieces of jewelry have just been stored away for years. And to be honest, I'd rather have the cash!
We could potentially make the most money trying to sell it ourselves of course. But we're time strapped right now with familial issues.
So RancherMan & I took those pieces to a jeweler to sell to them and get a fair price.
Some jewelry companies will buy the jewelry to resell as it is. Others are only interested in the actual gold content to melt down to make new jewelry. So it makes sense to look around to get the best deal for the jewelry you have.
Unusual Way To Use Garlic Scapes
I planted lots of garlic last October – over 100 plants! The scapes on all those garlic plants are all coming up now. (Scapes are simply the garlic's bloom)
It's recommended that you snap scapes off to allow more of the plant's growing energy to focus on making larger heads of garlic.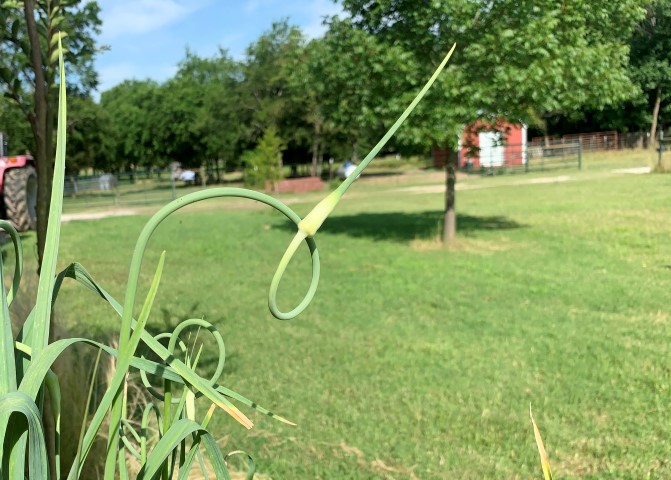 Scapes are wonderful to cook with and have a more subtle garlic flavor than the pungent garlic cloves themselves. But there are way too many scapes growing than I can possibly cook with at one time.
So I decided to dry and powder them instead. I snapped them all off the plants, brought them inside and chopped them up.
Now it's true I could dry them in my *Excalibur Dehydrator more quickly. But that seems a little overkill for just a couple of cups of chopped fresh garlic scapes.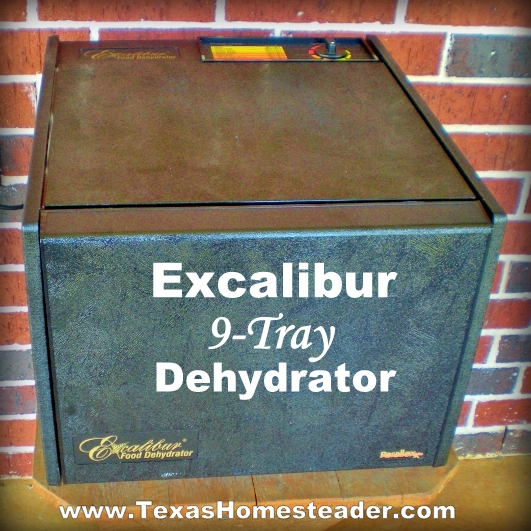 So instead I spread them out on a plate to allow them to air dry. (yes, my house smells a little like garlic, but RancherMan loves that aroma so I guess there's that. HA!)
When they're completely dry I'll use a special *Coffee Grinder I keep for just such purpose. I'll grind them into powder and store them in a repurposed spice jar. That way I can use them to season our food for months!
Selling Chainsaw Replacement Parts
This week we sold several parts off of a name-brand chainsaw we owned that no longer worked.
I mean, just because the chainsaw itself isn't working anymore doesn't mean someone doesn't need various replacement parts from it such as the chain guard or recoil starter.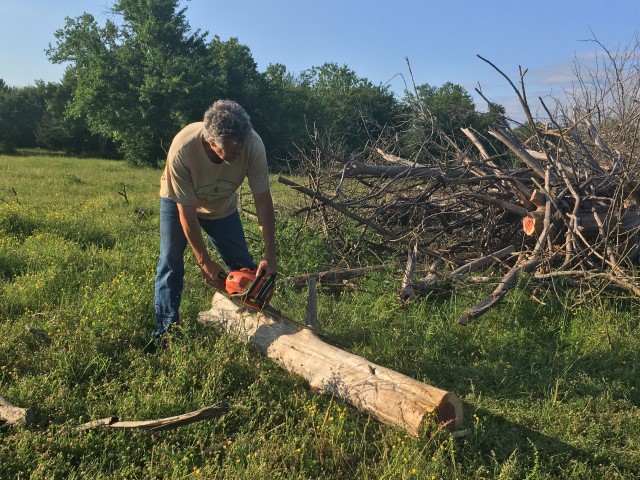 RancherMan has made pretty good money disassembling broken items over the years and selling the remaining working parts.
He's sold various working replacement parts from lawn equipment, our microwave, and even our refrigerator and MORE when those things quit working and finally seemed beyond repair.
If you're wanting to sell replacement parts, unused electronics or household items there are many simple selling avenues to use. We've successfully sold various items on Facebook Marketplace, Etsy and Craigslist too. So many options!
What's not to love? We've kept things we could no longer use out of the landfill. And the working parts from those items landed in the hands of people who could actually use them, who saved them money over buying new. Plus RancherMan & I made some cold, hard cash to boot!
Simple Birthday Party Cake Idea
My mom had a birthday recently. The family planned to gather and celebrate with her. But there were serving limitations at the venue.
So we bought pre-wrapped snacks in chocolate and raspberry flavors and shaped them into a special cake for her. We even placed a battery-operated flickering candle in the heart since open flame was restricted.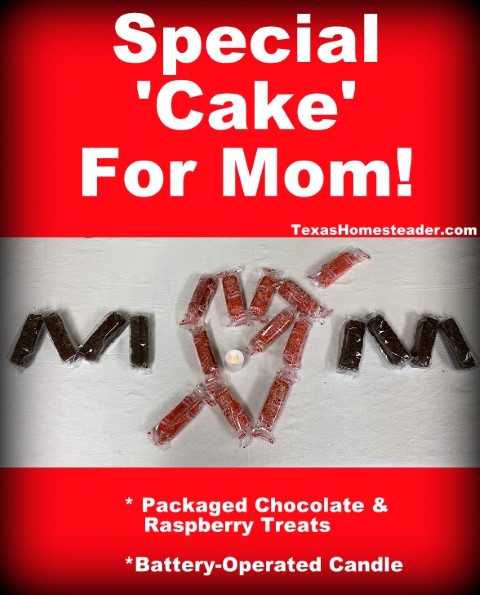 To enjoy the birthday cake guests simply chose the treat they wanted and enjoyed them completely mess-free – even the younger children.
This might be a cute, fun and inexpensive idea to honor your mom on Mother's Day too.
Think Outside The Box To Save Money
So if you're trying to save money, think outside the box. It's often much easier than you'd believe! What are your 5 frugal things this week?
~TxH~
This post categorized in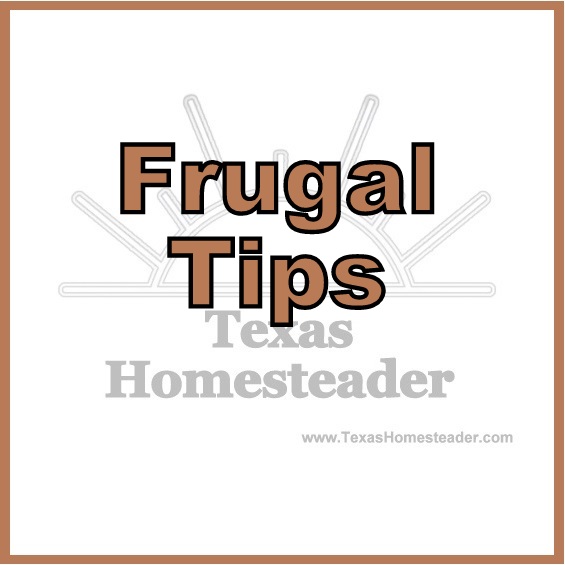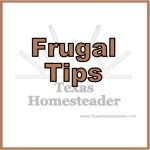 Other Frugal Tips
…and many MORE!


C'mon by & sit a spell! Come hang out at our Facebook Page. It's like sitting in a front porch rocker with a glass of cold iced tea. Lots of good folks sharing! You can also follow along on Pinterest, Twitter or Instagram.
If you'd like to receive an email each time a new blog post goes live it's EASY to
subscribe to our blog
Save