by Texas Homesteader
Recently RancherMan & I needed a spray bottle to fill with iodine for our cattle from time to time, such as newborn calves' umbilical cords, etc.
I hated to spend the money on a small lightweight spray bottle. But I found a trick to getting better spray bottles for cheaper. Check out this clever Homestead Hack for saving a few bucks if you find yourself in the same position…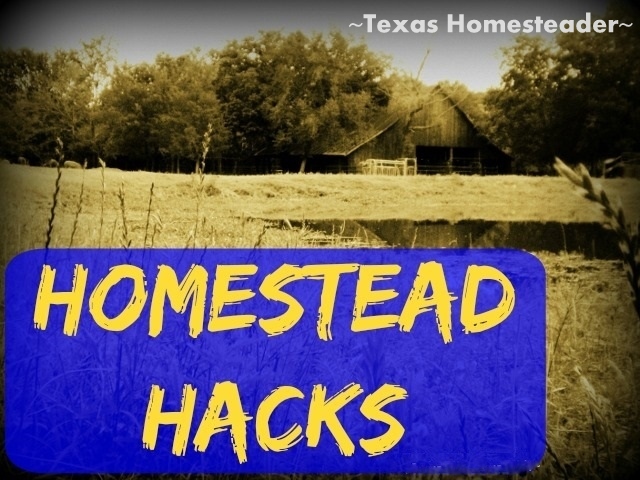 How To Find Repurposed Spray Bottles For Free
In the past we've had family members save us their empty heavier-duty spray bottles. We've simply rinsed out and repurposed for whatever need we had. It keeps a used spray bottle out of the landfill while still filling our need.
But this time there were no repurposed spray bottles to be had. So we were faced with buying one.
First we searched at our local big-box store while we were there to pick up other things. We did find small spray bottles but I was displeased at their price.
Really?? For a small, lightweight empty bottle??
A Less Expensive Spray Bottle Purchase Option
Then later when we were driving by an "Everything's a Dollar" store we decided to stop in and see if they had spray bottles for less cash there.
Of course they did but instead of picking it up and feeling all clever and proud of myself for saving a few bucks, something just didn't seem right.
These spray bottles were indeed inexpensive, but they were so lightweight and flimsy. It would probably work for our purpose, but for how long? Hummmm…
A Better Solution Than Buying An Empty Spray Bottle
Then the little light bulb went off in my head. Hey, EVERYTHING in here is $1, why don't we buy a spray bottle with something already IN it?
RancherMan & I walked to the cleaner isle and he found some glass cleaner in a very heavy-duty spray bottle that will work quite nicely for us. He frequently uses cleaner in his shop and his container is almost empty.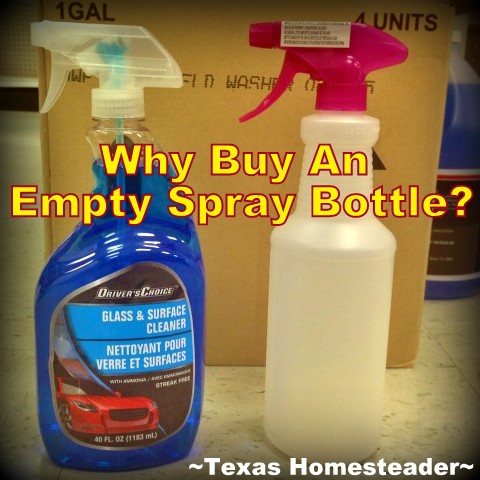 So we'll be able to refill that container when it's empty with the contents of this new spray bottle. When our new spray bottle is empty we'll simply wash it out, fill it with iodine, relabel the bottle & use it for our new purpose.
Two important notes
Of course you never want to mix chemicals so be sure to practice safety. Always wash out your container before filling it with anything else.
And also always label with the correct contents.
So if you find yourself needing a spray bottle for various purposes around your own home, think outside the box.
First ask family members to save their empties for you. They'll be happy to do it and it's an easy and inexpensive way to repurpose.
Repurposing Is good for you, good for the environment.
If no one has a used spray bottle and you find like us that you must purchase one – buy something you know you'll use anyway in a spray bottle. A Two-Fer win since you're not plunking down your money on an empty bottle!
~TxH~
Other Frugal Tips
…and many MORE!


C'mon by & sit a spell! Come hang out at our Facebook Page. It's like sitting in a front porch rocker with a glass of cold iced tea. Lots of good folks sharing! You can also follow along on Pinterest, Twitter or Instagram.
If you'd like to receive an email each time a new blog post goes live it's EASY to
subscribe to our blog
Save