Like many of our ag friends here in NE Texas we've suffered through two consecutive years of drought. Due to the heat & lack of rain there has been wide-spread damage to our trees. Our cedars were hit particularly hard and we lost about 80% of them, but our other trees were weakened as well.
In their compromised state, last years unforgiving weather pushed many of them over the edge and we had a heavy die-off of our trees.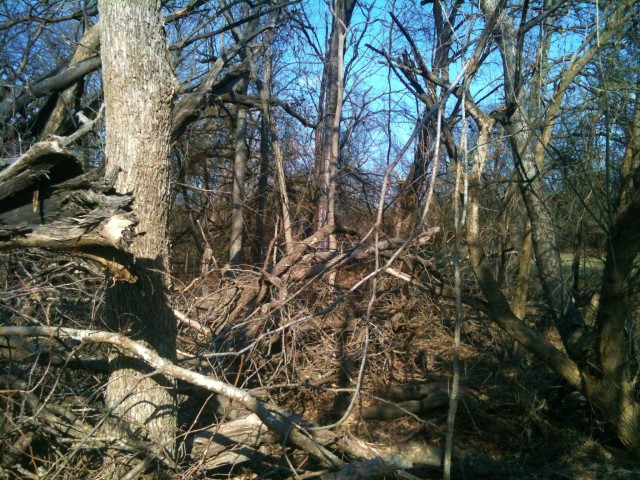 Now you must know that one of the staunch rancher's rules is that if there's a tree limb anywhere on your property that's going to fall, it will fall on a fence somewhere.
G-U-A-R-A-N-T-E-E-D!
Ask anyone with farm-animal fences and they'll confirm, it's a certainty. We've been very busy clearing dead trees before too much damage is done to the fences. I'm not going to lie – it's almost a full-time job. Thank goodness for good machinery.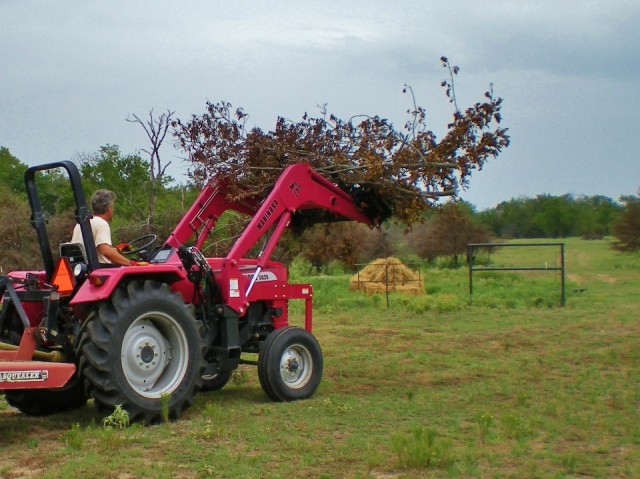 Which brings me to the next point of this tree-dying post. When we first laid eyes on this beautiful place and decided to call it our own, the land was covered with prolific trees called "Honey Locust": Pretty name, MEAN tree!
The multi-pronged thorns on these trees grow up to 1-ft long and will even flatten a brand new tractor tire (ask me how I know) The trunk grows thick with these sharp thorns making removal of these trees extremely difficult, how in the world can you even reach this trunk with a chainsaw? To make matters worse, when the branches of a Honey Locust tree shed and the cows step on them it will cause them to limp for days.
For over 13 years we have been working hard to rid our property of each and every one of these awful trees. Yes they're beautiful, yes they're interesting, yes they've GOT to go!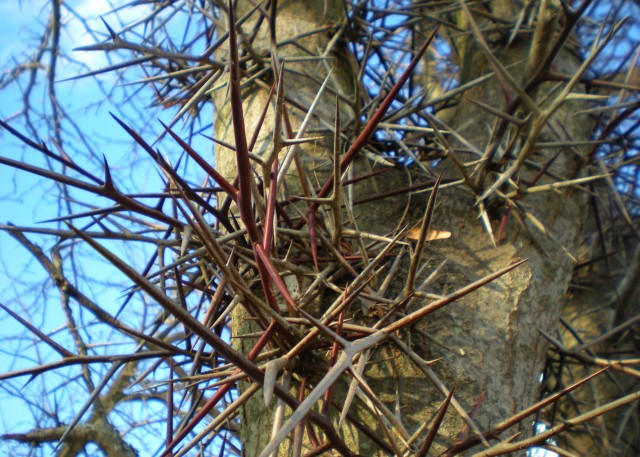 The drought has obliged us somewhat in our Honey Locust elimination efforts. An area between our feed shed and the pond contained a small yet dense grove of these trees and they're all now dead. I should be happy, but the question remains: NOW WHAT??
The trees are collapsing and broadcasting thorns everywhere. We can't navigate this tight area with the tractor to drag these limbs away and picking these awful limbs up by hand and dragging them to a burn pile should certainly involve hazardous-duty pay. Once these thorns stick you, your skin will swell into a painful lump that will last for days. (again, ask me how I know)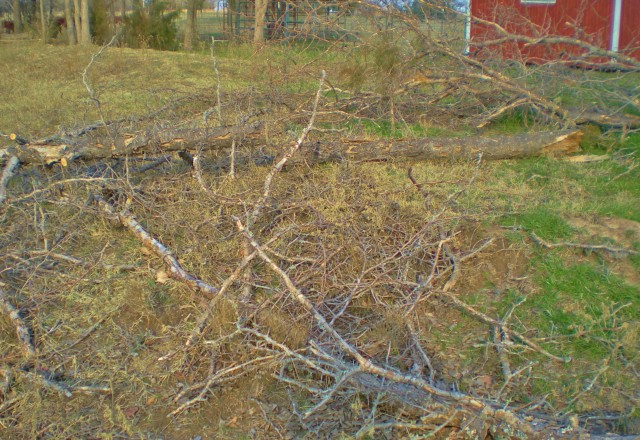 So… Anyone wanna come clear out these vicious tire-flattening body-maiming limbs for me? Anybody? Yes? No? 😉
~TxH~
Native Trees & Plants
Other Native Wildlife Posts
~TxH~


C'mon by & sit a spell! Come hang out at our Facebook Page – it's like sitting in a front porch rocker with a glass of cold iced tea – lots of good folks sharing! You can also follow along on Pinterest, Twitter
If you'd like to receive an email each time a new blog post goes live it's EASY to
Subscribe to our blog!