by Texas Homesteader 
We have several registered Hereford cows and we breed them using A.I. At a recent Noble Foundation seminar we attended, the presenters noted that A.I. typically results in a positive pregnancy only about 50% of the time, of course we already knew that.
Even with its reduced effectiveness It's worth the effort for us, we're a small homestead and would like to eliminate the expense of having a high-quality bull in our pastures yet we still want to maintain superior genetics in our herd. But the fact remains that this procedure will, in the best of circumstances, only yield a positive pregnancy about half the time. Repeat A.I. sessions are common and expected.
Enter #20 – This girl is a breeding machine. RancherMan became a certified A.I. technician in November 2010 and our first attempts at the procedure on our own ranch occurred in May of 2011. Good ole #20 took on her very first session and delivered an awesome bull calf in March 2012.
We allowed her some recovery time after calving and attempted to A.I. her again, but we performed the procedure a month in advance to give us a chance to catch her up if she didn't take. True to her first experience she bred on her very first session – now making her a month ahead of time! Now folks, in any rancher's book this girl's a keeper!
Now that she's proven herself to be an awesome breeding machine even when using a 50%-at-best technology, minstrels will be singing songs about her years after she's gone!
(Que mandolin and tambourine…)
In the very near future we will be purchasing some young registered heifers to replace some of the herd we were forced to sell during the last two years of drought. I'm hoping good ole #20 will show them the ropes and share with them her secret.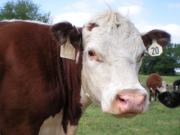 In the meantime, join me in welcoming #20's newest beautiful contribution to our herd. This little heifer will no doubt carry on mamas fertility awesomeness and become a leader among cows! Welcome to the ranch, little one…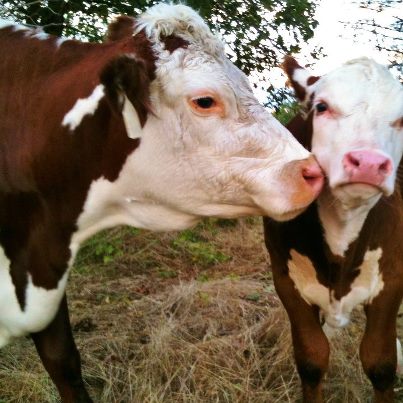 ~TxH~
Other Ranching Articles


C'mon by & sit a spell!  Come hang out at our Facebook Page . It's like sitting in a front porch rocker with a glass of cold iced tea.  There are lots of good folks sharing!  And you can also follow along on Pinterest, Twitter or Instagram
If you'd like to receive an email when a new blog post goes live,
subscribe to our Blog!