by Texas Homesteader ~
Y'all know I have to have my hands in the dirt. I don't have any control over it – that's just something buried into my DNA. But do you wanna know a secret? I don't really enjoy gardening (I know, REALLY??! gasp!)
But it's true. I don't enjoy the planting, weeding, watering, maintenance, etc. But I really love the harvesting and that makes it all worth the toil.
Harvesting fresh veggies from my own garden minutes before supper is healthier than veggies traveling all those miles to get to my supper table. Plus food this fresh just tastes better! And I've often said that growing your own food is like printing your own money. Pounds & pounds of fresh, organic produce for just the price of a small packet of heirloom seeds? Yes please!
Wanna see how my garden is doing? C'mon in, I'll share my April garden update!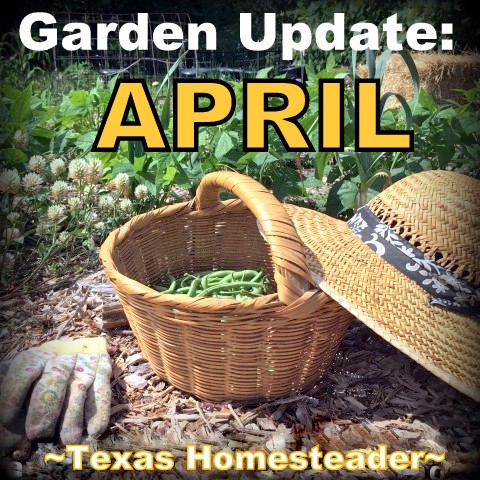 I plant my heirloom seeds in repurposed Cardboard Tubes in my 'Indoor Greenhouse' and I planted the seedlings in the garden a few weeks ago. But the weather's not cooperating. We're getting waves of cooler weather & it's much cooler than the seedlings like. Some have withered away, others are just not growing vigorously yet. But warmer weather is coming & I'm expecting an explosion in growth.
Pre-Planning For Less Weeding
I heard of biodegradable weed block and I was intrigued. Weed block that naturally biodegrades over the season and can just be turned into the soil? Yes please! So I'm experimenting with that this year. After the weed block was laid I simply cut an 'X' in the paper to plant.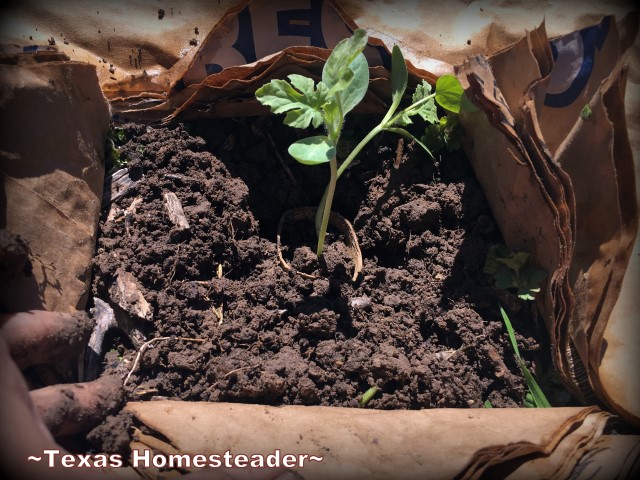 3-Sisters Garden
Native American Indians knew the wisdom of the Three Sisters Garden. The corn grows tall, the pole beans use the corn stalk for support and also stabilize the corn plant from wind & provides nitrogen to help the corn. The squash vines aided by the nitrogen from the beans grow long to cover the soil both protecting it from the hot sun & preserving moisture.
I look forward to seeing all those seedlings grow. Then I'll once again dream of the bountiful harvest the garden will provide.
April Goodness
On a bright note, my grapevine is bursting forth and I'm hoping to get a great grape harvest this year.
And many of my herbs were planted in my edible landscape. Just because a plant is edible doesn't mean it can't be beautiful! Lots of those herbs are coming back this year. My sage is growing like gangbusters and blooming beautifully. I've got oregano coming back and thyme too. My stevia is even coming back strong.
The blackberries I planted along the fence are blooming and so has the apple tree & wild plums. These blooms are hints of a delicious harvest in a few weeks.
Although my pear tree was finally in full bloom earlier this year, a rogue cold front came barrelling through. Three nights in a row the temps got down into the teens. So I'm guessing I'll have to wait another year before I'm able to harvest pears. Grrrrrr…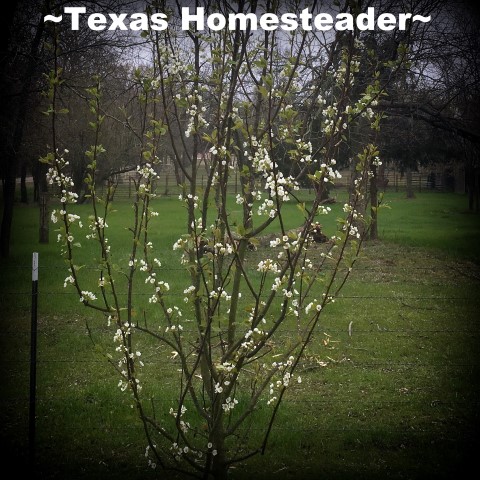 So there's a quick stroll through my garden. It's early yet and I've had setbacks for sure, but it still promises to provide lots of delicious nutrition for us this year.
What's growing in your garden? Are you already planting or still in the planning stages?
~TxH~
My Favorite Garden Hacks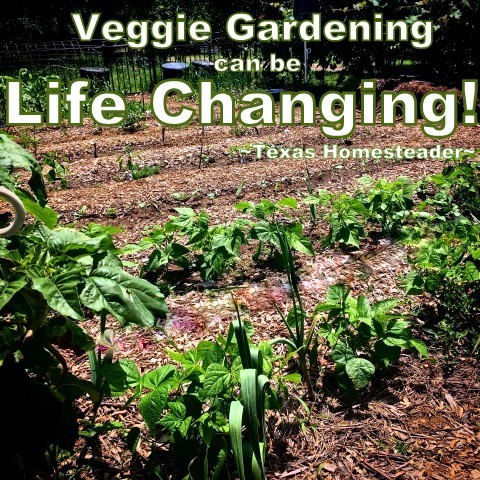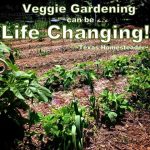 C'mon by & sit a spell! Come hang out at our Facebook Page. It's like sitting in a front porch rocker with a glass of cold iced tea – lots of good folks sharing! You can also follow along on Pinterest, Twitter or Instagram.
If you'd like to receive an email each time a new blog post goes live it's EASY to

Subscribe to our blog!