by Texas Homesteader
This year has been a year of firsts for us here at the homestead. I enjoy raising bottle baby calves each spring. But due to an illness I wasn't physically able to raise them this year.
RancherMan sensing my sadness bought me baby chicks. We had always known we would raise chickens one day, he thought this year would be a good year to start. He was right! Raising those cute little baby chicks pacified the 'raising farm babies' urge in me.
But when the chickens grew I once again began to miss those bottle babies, so RancherMan bought me WEANED bottle babies. Awwww… all of the cute lovable neck-scratching cuteness with none of the work!
I'm very much enjoying both the chickens and calves, and I love RancherMan so much for realizing this need in me. But he wasn't through yet – RancherMan decided he would spoil me with yet another small yet lovable animal – GOATS!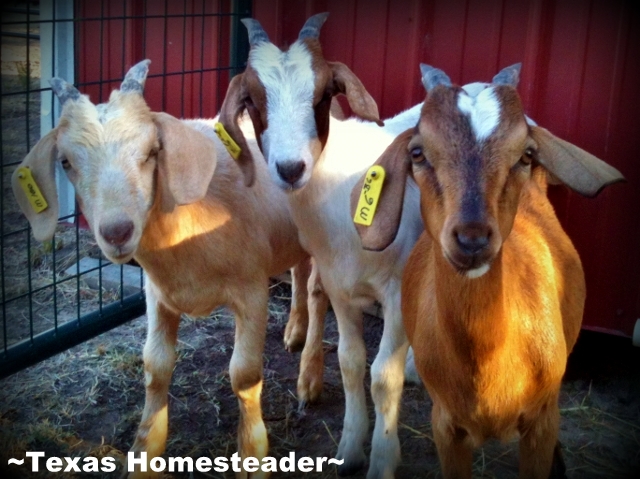 We had been considering raising a few goats for years, we found a breeder for these young wethers in a nearby town. These boys are about 50/50 Boer/Kiko cross.
I had never heard of a Kiko goat but apparently this cross gives a growth vigor that one breed alone does not, and they are supposed to be lower maintenance. Lower maintenance is a good thing since we're brand-spankin' new at raising goats!
We wanted to use goats to clear some brushy areas for us. Although we currently have 6-strand barbed wired fences we know we'll need something a little more goat-proof where these guys will be working.
When our goat-proof fences are in place I'd love to have the goats follow our cattle in our pasture rotations. The cattle would go through the rotation first & graze the best grass, the goats would follow and get the forbs and brush so our tractor mower can stay in the barn! LOL
The chickens have been great organic pest control against grasshoppers & flies and these little guys will be our organic weed control. Man I love this life!
We used our bottle baby pen to receive the wethers when we brought them home. They will stay here as they learn this is their new home and as they get to know us. We've set up water and hay, as well as goat feed and they seem pretty happy in their new home.
They're being weaned so they spent a little time calling to mama, but that only lasted a few days.
In the meantime we're shoring up the barn pasture with goat fence to hold them & give them more roaming room. We'll be figuring out how to confine them to an area each day to begin clearing fence lines and creek areas.
Has anyone ever used goats to clear underbrush? How did you confine them to their work area?
~TxH~
Other Ranching Articles


C'mon by & sit a spell! Come hang out at our Facebook Page . It's like sitting in a front porch rocker with a glass of cold iced tea. There are lots of good folks sharing! And you can also follow along on Pinterest, Twitter or Instagram
If you'd like to receive an email when a new blog post goes live,
subscribe to our Blog!