by Texas Homesteader 
We've all seen the news stories – it's impossible to avoid the bombardment of images from Ferguson Missouri that shock & sadden me.  Of course the media is giddy with excitement, it's their job to zoom in on chaos and tilt the story to try to entice feelings of anger or fear out of their viewers, even where none existed before.  I'm not here to write about the merits of either side of the issue, I'm here to voice my sadness over the entire ball of wax.
I'm saddened over the apparent deterioration of humanity against humanity, the groups on both sides of the issue that care only about themselves and are willing to step on their brothers to get it.   Dr. Martin Luther King once said "Returning violence for violence multiplies violence, adding deeper darkness to a night already devoid of stars… Hate cannot drive out hate: only love can do that."  What a wise and peace-loving man he was!  And even all these years later his words ring as true as ever.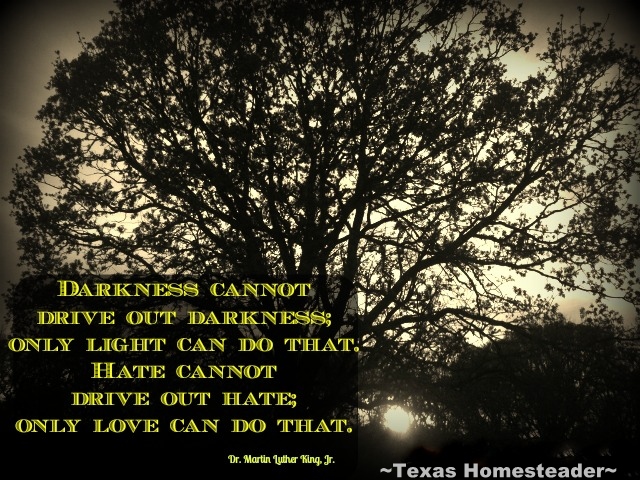 With Christmas around the corner I'm typically filled with the joy and hope that the season always brings for me.  I believe strongly in the ripple effect, that what you do touches those around you whether you notice it or not, and their actions then touch others, and so on.  I often see random acts of kindness toward complete strangers and it fills my heart with love, eager to complete my own acts of kindness toward others. And isn't that a wonderful thing?  But this year I'm feeling different, fearful, shocked and sad – almost wondering if it's worth it this year to try to feel the joy.  What a tragedy!
I believe this world is filled with both beauty and ugliness, but you see what you look for.  If you look only for the bad things of this world, bad things are all you'll see.  But if you look for beautiful things, those things of beauty will pop out at you instead.  So I'm making a determined effort to see beauty and I challenge you to do the same.  Take a moment to notice the sweet old couple strolling slowly hand-in-hand, smile at the sound of children laughing and playing at the park.
And yes, step out and do a complete random act of kindness for a stranger and ask them to pass that kindness on.  We all have a hand in healing our nation & we need to start by seeing the beauty to return our hearts to a place they should be this time of year.  I'm reminded of the lyrics of a song that seems to bring a tear of hope to my eye:
Let there be peace on Earth,
And let it begin with me.
Let there be peace on Earth,
The peace that was meant to be.
With God as our Father,
Brothers all are we,
Let me walk with my brother,
In perfect harmony.
Let peace begin with me,
Let this be the moment now,
With every step I take,
Let this be my solemn vow,
To take each moment and live each moment
In peace, eternally.
Let there be peace on Earth,
And let it begin with me.
May our merciful God in heaven touch our hearts and return peace and brotherhood to our beloved country.
~TxH~
Other Humanity Posts
…and MANY MORE!

C'mon by & sit a spell!  Come hang out at our Facebook Page . It's like sitting in a front porch rocker with a glass of cold iced tea.  There are lots of good folks sharing!  And you can also follow along on

Pinterest

, Twitter or Instagram
If you'd like to receive an email when a new blog post goes live,


subscribe

to our Blog!