by Tammy Taylor
We raise registered Hereford cows as our primary ranch mission, but we also have stocker cows/calves that we keep on a shorter-term basis to make proper use of our pasture grass excesses.  We feel good about the fact that the stockers that come here are treated kindly and are allowed to just be cows – grazing under that blue Texas sky and interacting daily with us and all their cow friends.  Our clients have said they appreciate the benefits of a calm animal that's been treated with kindness and respect.  We think it's just the right thing to do.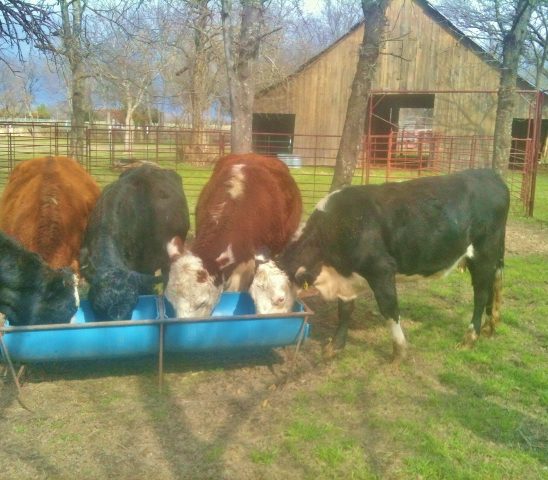 Often times a client that has purchased from us before comes back to purchase again.  Every now and then you get that repeat client that is just super-fun to visit with – BONUS!  Thus was the case for us this week, these two drove in from Royse City, not far from us.  They had purchased a stocker cow from us last year. RancherMan & I were both pretty pleased to receive their call that they would be coming by to look at our cows and discuss another purchase.
She told me they have been naming their cows "T" names. Last year's cow purchased from us was named "TAMMY".  (awwww…  blushes)  We chatted casually about children and grandchildren and of the life each of us enjoy in our own small corner of the world.  I thoroughly enjoyed our visit.
Today they came back to pick up their cow.  But when they arrived I was surprised to be presented with a couple of printed recipes that she & I had talked about during our visit the previous week.  WOW, how thoughtful.  I can't wait to try out these recipes and you can be sure I'll post them when I get to try them out and they rock my world!
Although we enjoy visiting with most of our clients, when these two left we felt like we were waving goodbye to friends.  And THAT my friends is a wonderful benefit of doing what we do for a living!
~TxH~


C'mon by & sit a spell!  Come hang out at our Facebook Page . It's like sitting in a front porch rocker with a glass of cold iced tea.  There are lots of good folks sharing!  And you can also follow along on Pinterest, Twitter or Instagram
If you'd like to receive an email when a new blog post goes live,