by RancherMan
We've all heard this at one time or another. Maybe at the vet, maybe at the auction or even while helping a friend work some new cattle. Wild cow!
No matter how hard you try or how carefully you watch them come through the ring, once in a while you end up with one. And once you get them home it doesn't take long to figure out that this cow is going to be trouble.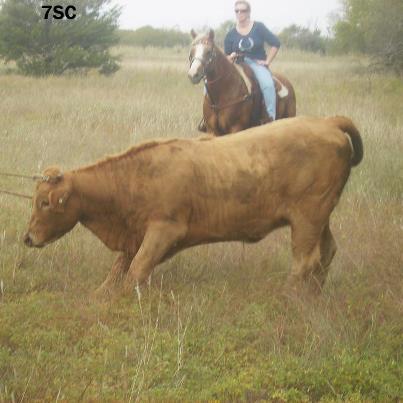 Professional Cattle handlers wrangling a wild cow for us

Not all wild cows are a problem for all ranchers. Some cows aren't "wild", just edgy or jumpy. Some are unwilling to go into a pen. Others won't push. In some operations these traits don't mean the cow has to go. At a large ranch, letting an unruly cow run with the herd a while will sometimes settle them down. Sometimes working with the cow closely everyday will help them trust you and calm down.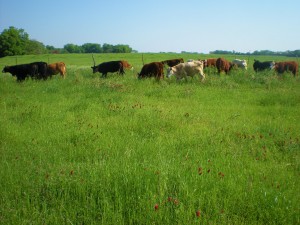 We like our cows to be very gentle, yet want them to understand that just because we're walking around them doesn't mean we're going to feed them. Lots of times we just want to walk among them and check them for different things. We are gentle with our cattle. We do not own a shock stick, we have "tap sticks". Those are just long, fiberglass sticks we use to tap on the cows to get them to go in a certain direction when we are working them in the pens. There are only two of us so calm, gentle easy going cows are a must. A 1,000 lb cow can easily injure someone, even by accident.
One of the most dangerous professions is ranching. Many injuries happen while working with large animals in close quarters. With this being said not only are calm cows a must, it is also important to be aware of everything around you while in these situations.
Even the best cows have bad days. They may have an illness or injury that will make them somewhat unpredictable. You might be working a cow and have her separated from the calf, this always makes a cow nervous.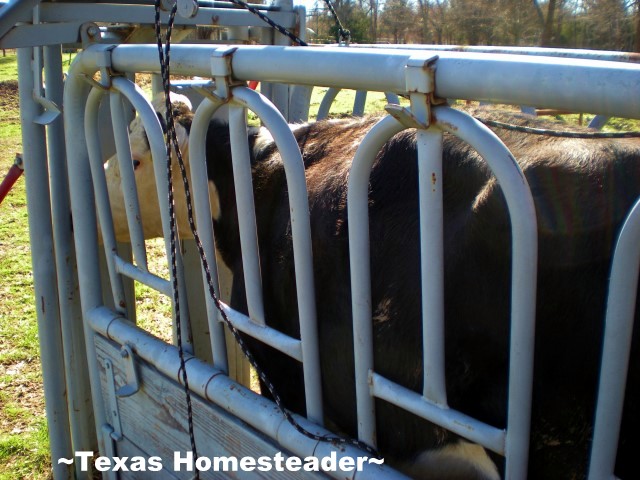 Bulls are a whole different story. Even the best bull in the world is still a bull, and he's going to act like a bull. When you walk among your cattle regularly you don't notice how they are growing.
One day when he was around 5 years old I was in the pasture checking cows and he strolled over to me and I realized he was looking me right in the eyes. Now understand that I'm 6′ 3″, so you can guess the size of this boy.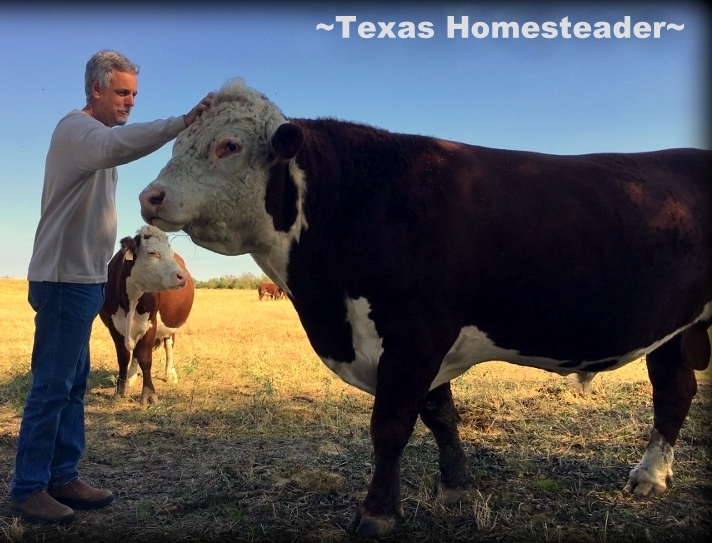 We decided to sell him and start using an A.I. program.  Before we sold him we had him collected for future use with A.I. We took him to our vet for routine testing for collection and I asked the vet what he thought the bull weighed. His response was I don't know, but when you worm him you better worm him for two.
In closing I would like to impart a couple of thoughts. When working with any large animal in a confined area, first and foremost have an escape route. Always remember that these are animals and each has a different personality. They are usually easily spooked when confined, so move slowly and in view of them. And lastly, if at all possible never work them alone. This is how most serious and fatal injuries occur. Always have someone with you to help.
~TxH~
Other Ranching Articles


C'mon by & sit a spell!  Come hang out at our Facebook Page . It's like sitting in a front porch rocker with a glass of cold iced tea.  There are lots of good folks sharing!  And you can also follow along on Pinterest, Twitter or Instagram
If you'd like to receive an email when a new blog post goes live,
subscribe to our Blog!