by Texas Homesteader
Yesterday we began touring our old barn.  If you missed it you can see it here.  Today we'll finish our tour.  Grab your coffee and come with me!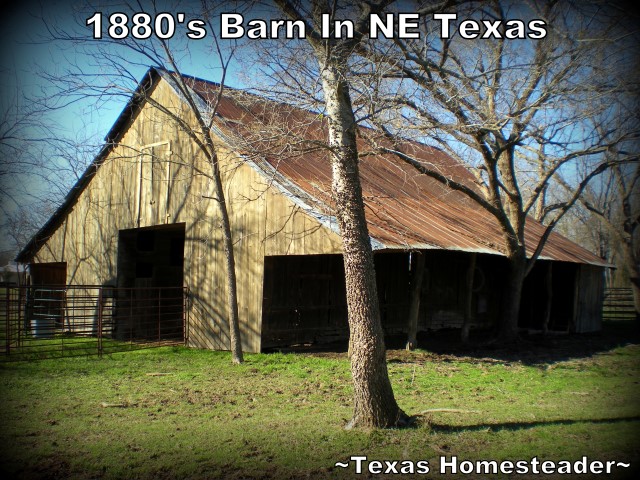 We're still looking at all the rooms and pens in the main runway – we saw the ones on the right side yesterday so today let's check out the ones to the left. Looking left we see many different enclosed spaces and storage areas.  What rustic yet beautiful detailing.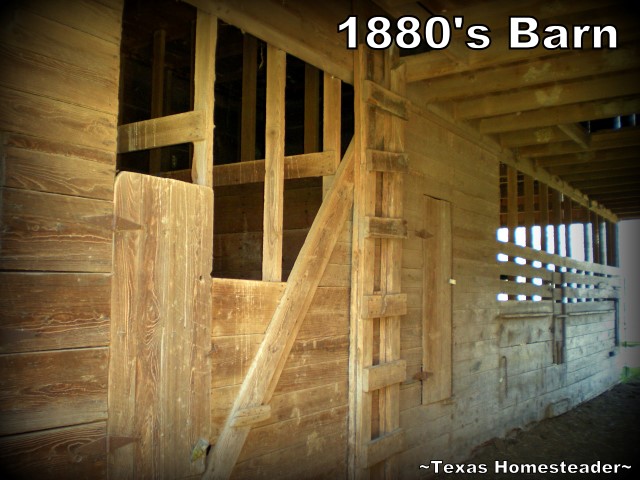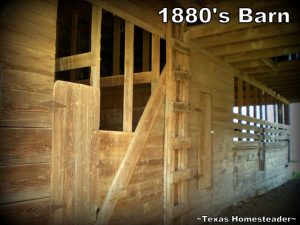 This door leads to a very small fully-enclosed room, apparently used originally for storage of tools, tack or feed.  There's a railroad spike driven into the wall in this room for hanging things – we've left it as it was when we found it.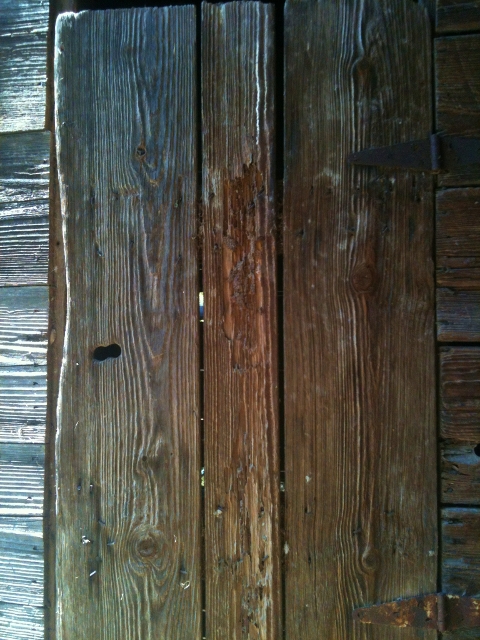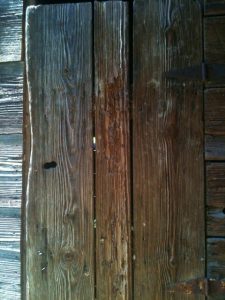 I love this feature in the door. Apparently it originally had a rope handle, as the worn area shows years and years of use. Notice the beautiful old wood patina.
This is the door to another room in the main run, but they didn't make the door the full height of the opening, I'm assuming for light. It's interesting that there's a small floor and room built above this room between the ground floor and the hay storage level and they've cut this hole for access. I'm not sure what it was used for.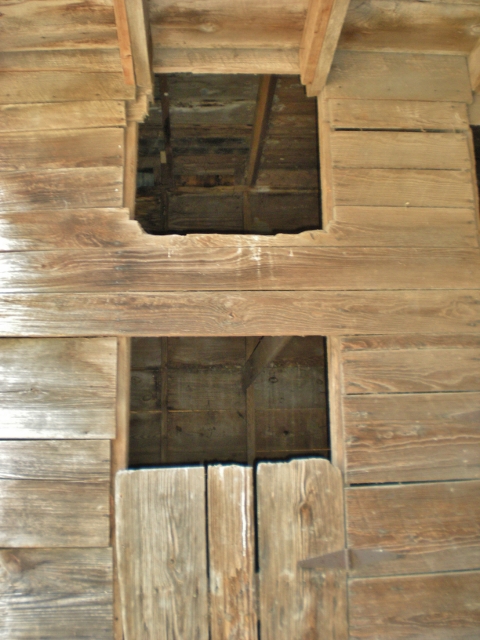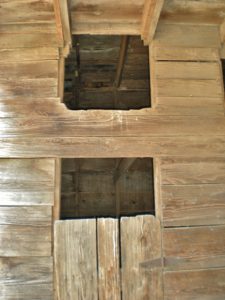 This is further down the main runway. I believe the slats surrounded a corn crib. I find it interesting they built two half-doors here.
Now we're looking back toward the front from the corn crib. There's a very narrow shelf built under the first venting slat. Anyone know why this was done?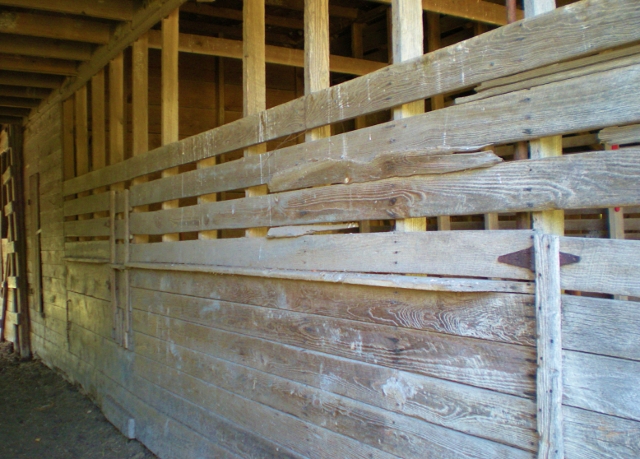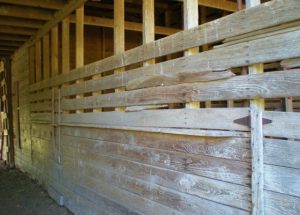 This is looking directly into the corn crib area. Try as I might I couldn't get a straight shot of it – LOL. We tore out the rotting floor and now use this space to store our tractor and a few implements.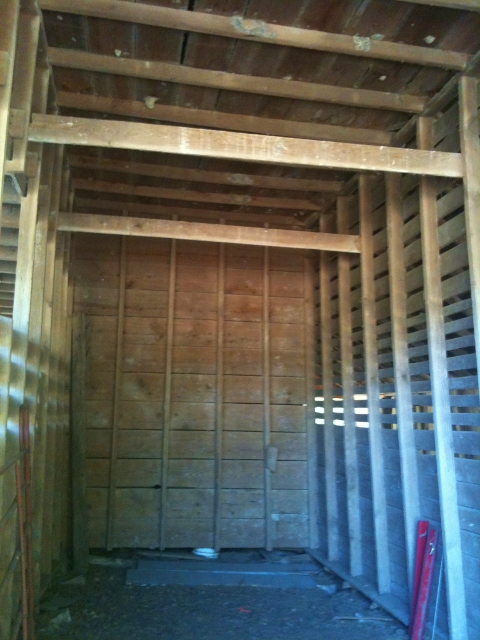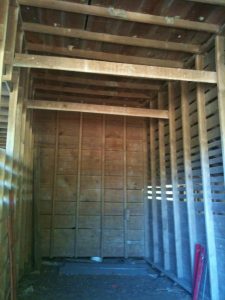 Now let's go to the section on the far left of the runway.  This is a long open storage area, maybe for buggies, etc?   We use it for storing fencing materials & square bales to feed confined animals during treatment or weaning. The slats for the corn crib can be seen from this side as well.  There are openings cut into the wall that lead into some of the rooms we saw from the main runway.  There's also the same narrow shelf that we saw at the corn crib on the other side.  I'm sure it had a purpose I just have no idea what it was…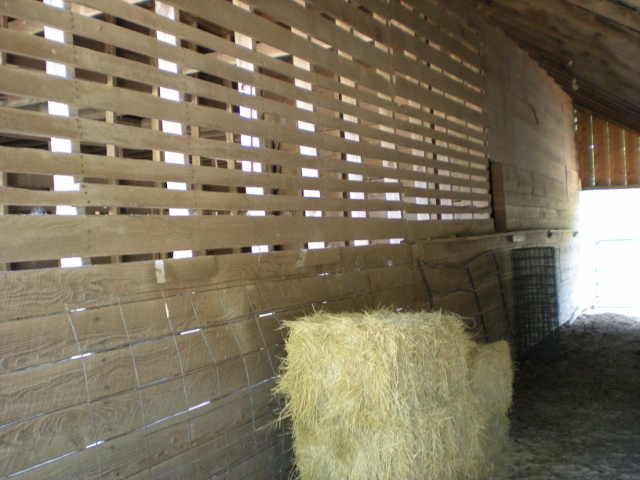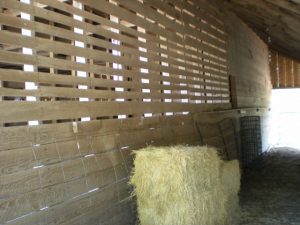 Here's an inside shot of the wood-shingled roof, long since covered on the top side with tin roofing. Fascinating! What a cool ceiling view from this storage side!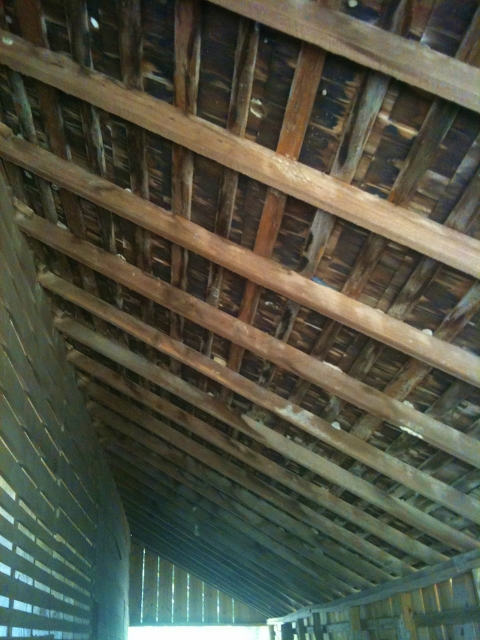 I love this old post, maybe originally an electric pole or something and then used in the barn to hold tack?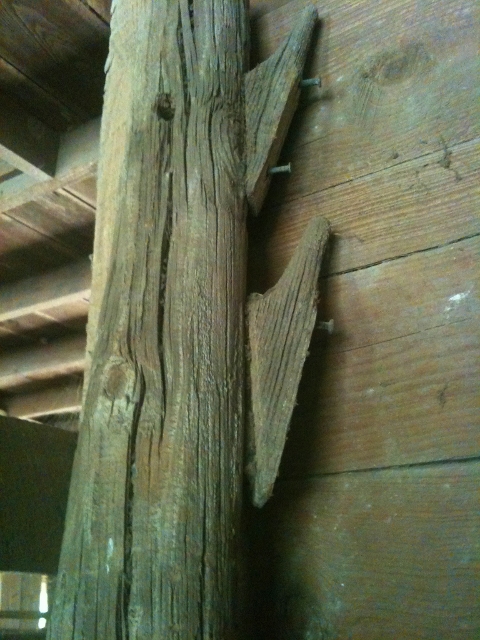 A close-up of some of the old square nails used in the barn construction. The old square nails coupled with the texture of this very old wood is beautiful to me – love it!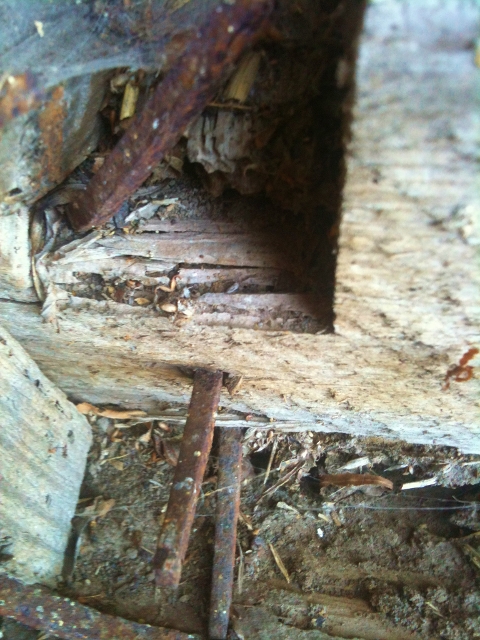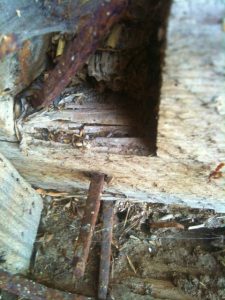 And finally here is the view of the back of our barn where we have our working sweeps and chutes.  Even though this barn is over 125 years old, it's still a working barn and important to our daily ranching activities.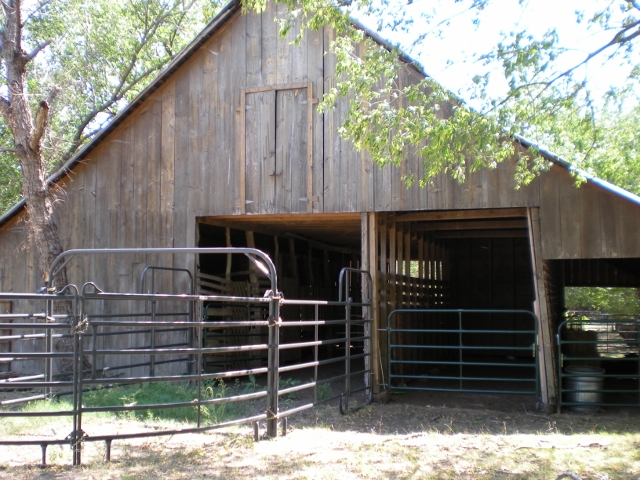 WHEW!  Sorry for the last two days of picture-heavy posts but a pictorial tour of our old barn just wouldn't be the same without, well PICTURES! This historic barn means so much to us and I hope you enjoyed your close-up tour.
~TxH~
Other Homesteading Posts
Love Our 1880's Barn? See More!


C'mon by & sit a spell!  Come hang out at our Facebook Page. It's like sitting in a front porch rocker with a glass of cold iced tea – lots of good folks sharing!  You can also follow along on

Pinterest

, Twitter or

Instagram

.
If you'd like to receive an email each time a new blog post goes live it's EASY to


Subscribe to our blog

!
Save