by Texas Homesteader
Recently on my Facebook page I shared a story that I read about how much food is wasted in this country – everything from harvest waste or culls in the field to grocery store waste.
I commented that it was a shame that more edible & in-date food destined for the dumpsters for whatever cosmetic reason couldn't be used instead to feed hungry people.
Many of my followers chimed in that it was a shame indeed. But one person was angered by the story for some reason that I still don't quite understand. As a matter of fact he was indignant and abrasive to many various commenters.
Now I love FB and I typically enjoy it immensely. But this internet troll incident got me wondering if public social media sites like Facebook are really a friend or a foe?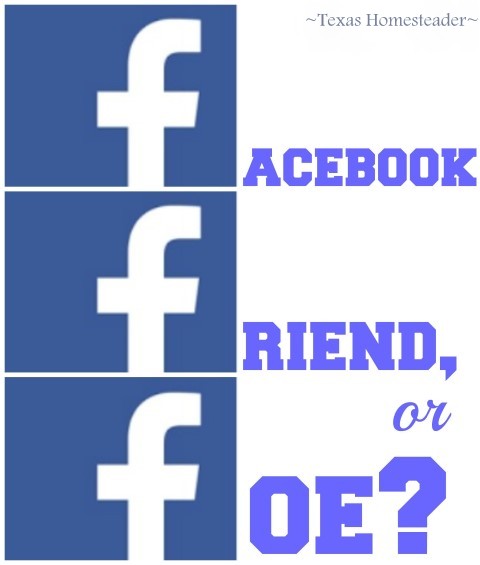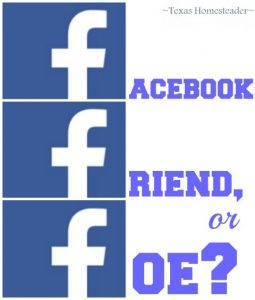 What Is An Internet Troll?
Wickipedia defines an internet troll as: "a person who sows discord on the Internet by starting arguments or upsetting people, by posting inflammatory, extraneous or off-topic messages in an online community with the deliberate intent of provoking readers into an emotional response or of otherwise disrupting normal on-topic discussion, often for their own amusement." It certainly sounded like a troll situation here.
Although I'd never personally dealt with a troll situation before I know you don't 'feed' the trolls by trying to reason with them. But I made rookie mistake #1 – I did.
I tried to appeal to his sense of reason & compassion, but all were met with scorn and out-lashing of anger. Then I made rookie mistake #2 – I reminded myself of the rule when I posted "Don't. Feed. The. Trolls!" which just made him explode in anger. (I take responsibility for this one, I should have never posted that statement)
Dealing With Internet Trolls
So at first I tried just hiding the abrasive comments but this guy was blasting one right after another, even sending hateful FB messages to me behind the scenes. So I decided to just block him from my page altogether.
Now I realize I don't know this man nor am I aware of the trials or struggles he deals with with in his own life – I don't know his personal battles. Perhaps people react strongly and negatively about a topic that has affected their lives somehow and for whatever reason this was a trigger for him.
He has been in my prayers that his heart receives comfort and that I receive forgiveness for anything I may have done to contribute to his anguish…
But It's My Facebook Page!
But this was my FB page! I should not only be allowed to post about topics I deem appropriate but also be expected to protect my followers from such verbal abuse from an obvious troll.
In the end I think I did the right thing by blocking him. But I hate the discomfort I felt over the whole situation. It has certainly made me take a different view of our blog's FB page.
For as long as it's been active I've thoroughly enjoyed my interactions with followers of our page. They've always been kind and supportive. As a matter of fact I feel a warm friendship with them and I enjoy sharing what we're doing here at the our Homestead and asking for advice when I run up against something that puzzles me.
Why The Anger Out There?
But because of this hateful blast I've pulled waaaaay back from interacting with my dear followers. I guess it just seems uncomfortable now.
If I can so strongly offend someone simply by addressing hunger in our nation, what the heck else could I say and inadvertently stir up someone's ire enough to pummel me verbally and very publicly on my own FB page?
Perhaps it's just a shadow of the bigger problem out there. This anonymity of the internet that allows us to so easily hit our fellow social media interactors below the belt and then simply walk away.

Dividing Lines In The Sand
It frustrates me sometimes when I see so much "Us Versus THEM" in the media these days. Democrats vs Republicans, North Versus South, White Versus Black. Almost every segment of our culture seems to require a bold dividing line in the sand to separate US from THEM.
Why??
Those on the other side of 'The Line' are our brothers & sisters. We're all different and we live different lives. I have the right to life, liberty and the pursuit of happiness – and so do you!
Our views might be the same, and they might not. Things we value might be the same, and they might not.

We're All Different
I love a steak but you're a vegan? That's OK

I hate jogging but you enjoy a good 5K? That's OK

I love to garden but you love to shop? That's OK!
The point is we are not all alike, and by golly that's OK. As a matter of fact our diversity is a beautiful thing.
We're all inhabitants of this big blue planet we call earth. So why not endeavor to practice civility and empathy more often with each other.

If I see something on your wall that I don't agree with, I'll move on down the newsfeed until I find something that interests me. And I hope you'll do the same.
We're not all alike, and that's a wonderful thing. Let's embrace humanity for once – the similarities & the differences – and just learn a little tolerance. I pray for a kinder, gentler nation. What a wonderful world that would be!

~TxH~
Other Humanity Posts
…and MANY MORE!


C'mon by & sit a spell! Come hang out at our Facebook Page . It's like sitting in a front porch rocker with a glass of cold iced tea. There are lots of good folks sharing! And you can also follow along on

Pinterest

, Twitter or Instagram
If you'd like to receive an email when a new blog post goes live,


subscribe

to our Blog!
Save