by Texas Homesteader ~
Living here has taught me to make the most of what we already have. It's really very easy when you learn to do little things each day to save a few bucks. It's rarely the big grandiose things that make the most financial difference, but the small daily tasks repeated over & over.
So I'll share with you 5 frugal things we did this week to save money. It has a nice little side benefit of almost always being gentler on the environment too!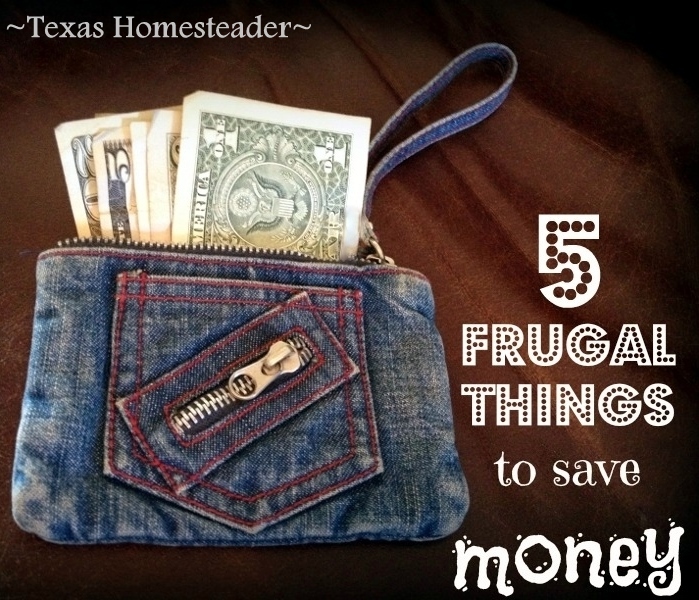 1, Covered-Dish 2-Fer-One: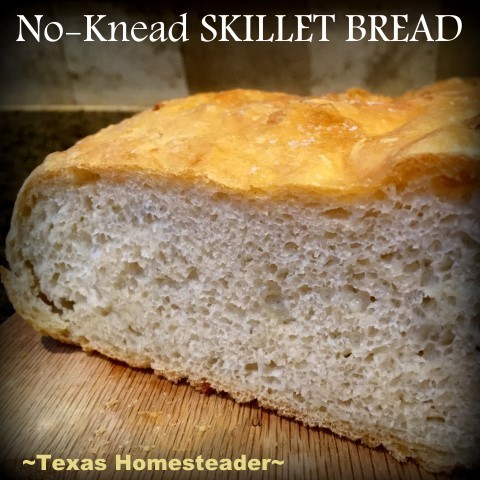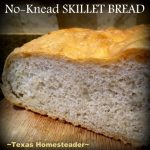 We were invited to two family dinner gatherings this week. Since they were only a day apart, I decided to make No-Knead Skillet Bread for both gatherings. I simply made the single recipe and divided the dough in half when it was time to bake. The result was a smaller, flatter loaf that was easier to tear apart for dipping.
I also infused some olive oil with fresh herbs from my garden, adding a splash of balsamic vinegar. At both gatherings, the bread & oil were very well received.
2. Batching Errands:
Since we drove into the 'big city' for those gatherings, I used the opportunity to visit establishments not available to us out here. You know, bulk stores & such. On this trip I stopped at Winco and bought a 25-lb bag of flour. As always I'll freeze it for at least 24 hours before storing it in my pantry to make sure I don't have to deal with pests.
We also stopped at a home improvement store to check out some things RancherMan had his eye on, and a clothing store to pick up something for my mom. And we stopped at a farm & ranch store to pick up a few things for our cattle that were priced significantly less than we could buy them in our surrounding area. Batching errands like this saves both gas & time for us.
3. Saving The Last Of Our Garden Harvest:
My garden was close to a big, fat bust this year. We received flooding rains just before spring, then almost nothing for the rest of the growing season, throwing us once again into a gripping drought. This was followed by a record wet & soggy September & October. My poor garden never knew what hit it!
My harvest was almost nothing all season long. But when the drought was over, my Anaheim pepper bush that I fought tirelessly to keep alive during the drought went c-r-a-z-y!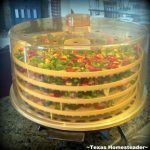 We're supposed to get our first killing frost of the season & I'll not let one pepper go to waste! So I harvested everything on that pepper bush and brought all the peppers inside. But what to do with them? When I posed this question there were lots of recommendations on our Facebook Page such as cowboy candy, pickling or fermenting them. Although they're all good suggestions, I need to preserve them in a way that we'll actually use them.

So I brought them in & diced them up (seeds & all). Even though there were lots of peppers, it was quick work because I used my *Chop Wizard (have I mentioned how much I love this thing??) I used the largest chop-sized insert then plopped the chopped peppers on my dehydrator trays. It would have been waaaay overkill for me to pull out my *9-Tray Excalibur for this small task so I just used my backup dehydrator, a standard household-sized unit.
After they were dehydrated I put the seeds in a repurposed jar to use in cooking. They're only mildly spicy so I'll probably toss a few into my next batch of Cowboy Chili for just a little sumpin' extra. The dried peppers were ground into powder for a lightly spicy seasoning to use all winter long.
4. Homemade Light-n-Sheer Face Powder:
I've made my own sheer face powder for years. I love that I can adjust the color based on the seasons. I use a small canning jar to hold it, and a large makeup brush to apply it.
Now with the winter months coming on I made it just a shade lighter than my summer color. Simple, quick, inexpensive. Yep, that's how we roll in the Taylor household!
5. Replacement Tires for Tractor: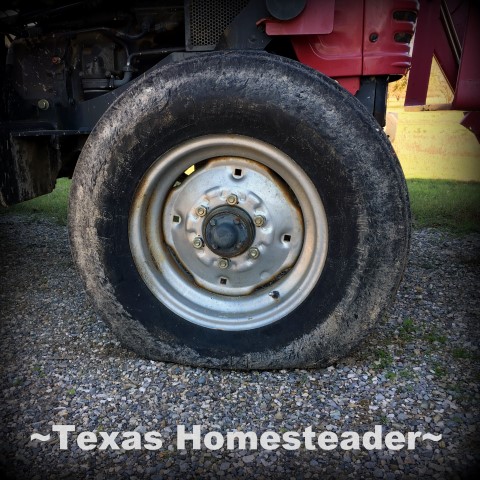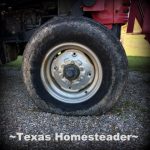 We have two tractors – mine is smaller and used mostly for maintenance. But RancherMan's got the larger one with more horsepower equipped for a heavier workload such as hauling hay. We started noticing that one of his front tires has been going flat often. The last time he hauled hay it gave up the ghost completely and split, spewing a geyser of tractor sealant with every rotation.
So he called and got the price for someone to come to our ranch & replace/re-mount the tractor's front tires. Whew – it was not in our budget!
Not to be deterred, RancherMan hit the internet. He ordered 2 front tractor tires from a tire company online. They were shipped Fedex directly to our home. RancherMan removed the front tires & rims from the tractor and took them and the new tires to a local tire shop. They installed the new tires onto our rims and RancherMan brought them back & mounted the new tires onto the tractor. Done & done!
No, it's not a one-stop shop as would have been the case with the onsite job. But by doing it this way he saved over $100! That's quite a chunk of change saved in our already-tight budget!
Daily Life, Saving Money
Of course there were other things throughout the week that we typically do. As always, most of our meals were cooked from scratch, which is always a money saver. And I used the Cook-Once, Eat-Twice method so many nights were still homemade goodness with heat-n-eat convenience. I made RancherMan's favorite Sandwich Bread out of that bulk flour I bought and whipped up some Homemade Yogurt too.
These are just a few examples of ways we've been able to incorporate money-saving tasks into our everyday activities. Have you discovered a money-saving task this week too? Share! We can all learn from (and be inspired by) each other!
~TxH~