by Texas Homesteader ~
I love all things denim. So it's lucky for me that I get plenty of denim material to craft with. RancherMan's hard on his jeans – working cattle, or fencing, or in the shop building or repairing things. I have lots of fun Projects Using Denim from his worn jeans.
But my absolute favorite is my dish carrier. When we go out to eat I carry it into the restaurant with me. With its denim cover & bamboo handles it looks purse-like enough that it doesn't feel odd carrying it in. I get so many compliments on it! Then after our meal I can place our leftovers into the enclosed dish & bring them home. No wasted food and no crappy flimsy styrofoam container. And to celebrate Throwback Thursday, I'm sharing again how easily I made it.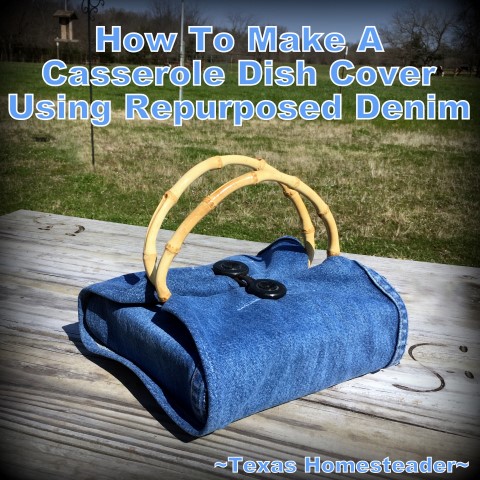 Denim Crafts