by Texas Homesteader ~
*contains affiliate link
RancherMan & I love this life we live in our little piece of NE Texas paradise. Oh it's true we work many more hours than we ever did when we were corporately employed, but our hours are our own. It's our decision what to plant in the garden or when we will wean the calves. It's our decision whether to take up beekeeping or to plant winter pastures. The success and failure of this life we love is determined by our hard work, the weather and sometimes sheer luck. Being self employed is like that. But being self employed also means we no longer have that cushy salary and basketful of benefits. It's a sacrifice we're both more than happy to make.
One of the things that makes this life possible even with much less income is being very mindful of our expenses. Oh I'm not saying we don't spend money and that when we do we don't strive to buy the best quality we can afford. But small leaks sink great ships. So I'm mindful of those small leaks. Here are 5 frugal things we did this week.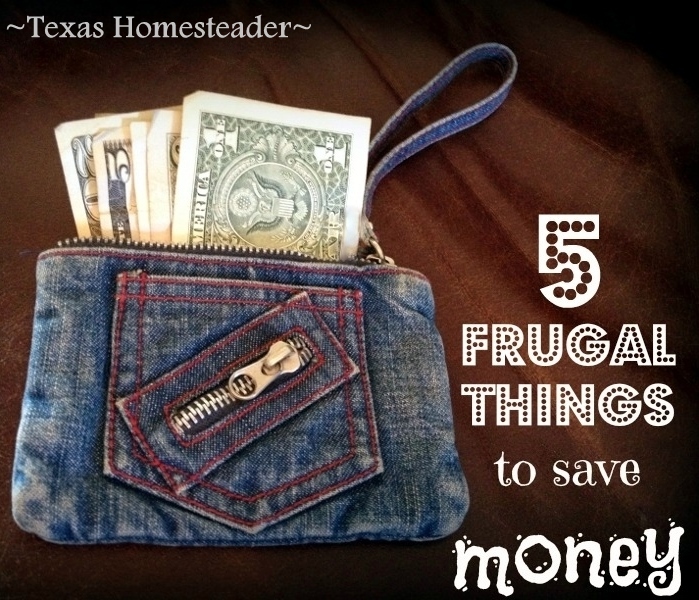 I wanted to hang out with my parents. Oftentimes we'll meet at a restaurant & enjoy a meal together, but there's no money in the budget for that this week since we already had a birthday gathering scheduled with friends later in the week. So I invited my folks to our house for supper instead. I pulled my *Solar Oven out and sliced onions, peppers and a couple of chicken breasts with diced tomatoes & Italian seasonings. I served it over a bed of herbed brown rice & it was delicious.
I was given a large quantity of fresh carrots recently. Not wanting them to spoil I shared with family & friends. Then I set to peeling, chopping, blanching & dehydrating the ones that were left. Those dehydrated carrots are so compact they now fit in quart jars. I slapped these cute reusable *chalkboard labels on the jars to easily identify the contents. Now I'll have carrots all winter long to add to my Endless Soup for virtually no cost.
Our church is doing a World Communion Sunday service this week. They asked several people to bring bread popular in different countries for this service. Many went to the store & bought various types of bread to bring. But I looked up a recipe for boule (a free-form bread shaped like a squashed ball) and whipped up my bread contribution for just pennies. There was enough leftover for RancherMan & me to enjoy too. Be watching, I'll share this recipe soon!
I've always pushed back against pouring potable water on the ground. Except in the most dire of circumstances only rainwater or gray water is used for outside plants. But here in our part of NE Texas, no rain has fallen the entire month of September! We've now once again slipped into drought conditions. (sigh…) But thankfully I've been able to store collected rainwater from previous rains. I'm able to use the watering can and keep our landscaping and even fall veggie garden plants watered.
Once a month we gather with a group of friends & celebrate the birthdays that occurred that month. Gifts are not expected but several friends like to give a card or a small gift. Now I love these people like family & like to give a little something, but there's precious little money in our budget for these things. So I gave these cute jars of bath salts using repurposed canning jars and wrapped in pretty pink paper and ribbon. Even the gift tag was repurposed from lovely greeting cards I'd received. A thoughtful gift need not cost lots of money to show your friends that you love them!
So there ya go – my 5 frugal things this week. Of course there were other everyday things such as cooking from scratch for our meals, using my homemade mouthwash daily, applying my homemade face powder makeup, etc. But I'm hoping the 5 things above might provide food for thought for your own household. Sometimes it just takes thinking outside the box or seeing what others are successfully doing to help you think about ways to save money in your own household.
So, what did you do in your own household to plug those small leaks this week?
~TxH~
~ ~ ~ ~ ~ ~ ~ ~ ~ ~ ~ ~ ~


C'mon by & sit a spell! Come hang out at our Facebook Page. It's like sitting in a front porch rocker with a glass of cold iced tea – lots of good folks sharing! You can also follow along on Pinterest, Twitter or Instagram.
If you'd like to receive an email each time a new blog post goes live it's EASY to Subscribe to our blog!
*Amazon affiliate – *Sun Oven Affiliate
Save
Save
Save
Save
Save
Save
Save
Save
Save