by Texas Homesteader ~
Well, it's been a pretty strange spring so far for us in NE Texas. Pretty strange indeed! Many areas all around us have received plenty of spring rains but for some reason it always seems to miss us here on the homestead. Although May is our rainiest month of the year we have areas in our backyard that are pretty bare where the ground is parched & cracked. Scary! Hopefully that's not a sign of things to come this year. I've been watering with a 2-gallon watering can which takes a lot of time and doesn't water as thoroughly. But RancherMan set up the cistern pump for me today so I'll be able to use that rainwater captured in the 18-ft deep cement cistern from now on. If we get any rain at all in the coming weeks that cistern will fill back up! With the cloudy & cooler weather we've had, the garden has really been slow in taking off. But I've had some successes too. C'mon along with me for a stroll through our garden.
The mammoth sunflowers I planted in my 'indoor greenhouse' earlier this year sprouted and transplanted just fine. But they seem to be leggy and lagging well behind the ones I just planted directly into the soil weeks later. I'll probably just plant them directly in the garden next year. Oh, and the volunteer sunflower that sprouted over in the chicken coop side of the garden enclosure is going crazy, well over 7-ft tall now. The chickens are using it for shade! LOL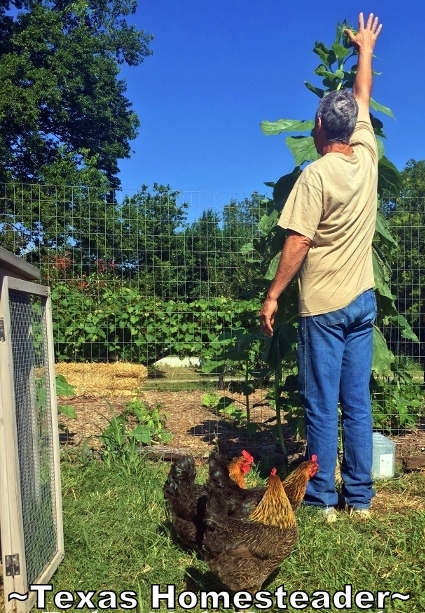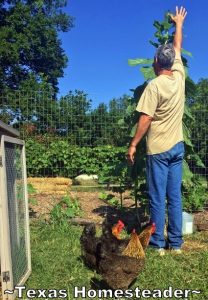 The heirloom green beans are doing well too. I've planted 3 rows with a few weeks between each row's planting. That way I'll be able to harvest from row one as row two is growing and row 3 is sprouting. Then when row 1 is done I'm still harvesting from row 3. It should keep us in green beans longer. Even with the slow going with the weather this spring, I'm finally seeing little green beans forming. So I'll be harvesting from row 1 in no time!
The little watermelon pods that I planted this year were given to me by a sweet friend when her father suddenly passed away. He was an avid gardener and my friend gifted me all his seeds. What a precious gift! The watermelons were in little peat pods. You just pull away the paper top & pop 'em in the ground. They were a few years old so I didn't know if they would sprout or not but both did. Yea!
My tomatoes and peppers were a big, fat bust this year. None of my pepper seeds sprouted in the 'indoor greenhouse' this spring so I planted seeds directly in the garden after the danger of frost had passed. So far none has even sprouted. Although I know this weird spring has things behind, it's already May and I hate to stand by & hope any longer. So I purchased 3 bell pepper plants from our local Farmer's Market and plopped them into the ground.
I also purchased from a local store a jalapeno plant, an Anaheim Pepper plant and a sweet red pepper called 'Giant Marconi'. I've never heard of Giant Marconi before but they're all in the ground!
My corn this year is also gifted to me by my friend. Her father had tons of Kandy Korn seeds so I planted several in my 3-Sisters Garden. I also planted black-eyed pea seeds from her father. And of course I planted my heirloom pumpkins to round out the 3-Sisters Garden. All are doing great.
I planted peanuts in another section of the garden and they're making a modest showing. But the dry ground means they're not growing as robustly as they will once I'm irrigating from the cistern. That irrigation will mean I'll be able to keep them watered a little more thoroughly and they should take off.
There are also volunteer vines that have sprouted in this area and I'm allowing them to grow as a living mulch for my peanuts. I'm not sure yet what the volunteer plants are yet. Based on last year's plantings they're either pumpkin, watermelon, spaghetti squash, cucumbers or cantaloupe. My money's on cantaloupe, any of you think differently?
The onions have done well, both purchased sets as well as my perennial Egyptian Walking Onions gifted to me several years ago. And my garlic is going gangbusters so I'm pretty excited about that too. I'll be harvesting them soon. I mulched the onion & garlic beds heavily with leaves my father gifted me. That leaf mulch is amazing!
My grapevine is going CRAZY, I think it will be a banner Concord Grape year this year! I typically make my grapes into grape juice for RancherMan but I just may make a little jelly with some of them this year. Maybe. We already have so much jelly this year since I've already made a double batch each of Sweet Clover Jelly as well as Honeysuckle Jelly. Some jars will be given as gifts but you can only use so much jelly! We'll see how our jelly coffers are looking when the grapes are ripe.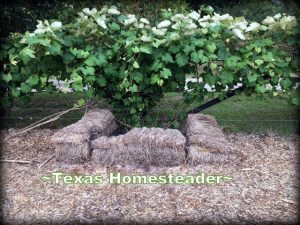 The blackberries are finishing up their berry bearing for the year. I've harvested lots from this little vine and RancherMan loves for me to make Blackberry Cobbler with them. I'm all too happy to oblige him! LOL
And one of the most exciting developments this spring is the appearance of tiny apples on my apple tree! It's a dwarf tree and it's struggled mightily with the year-after-year droughts we've been dealt. (We're already in a drought this year!) There's just no way to keep them watered deeply enough when the surrounding ground is so dry it wicks away any water dropped on it. But it looks like it's at least attempting to produce for me this year. I'm so excited about that!
Other things toitering along are the okra plants (every single one of those seeds sprouted!), and yellow squash. The cilantro is starting to take off and there's One. Single. Pea. Plant. LOL! My volunteer tomato is hanging in there and the cantaloupe is (of course) going like gangbusters. So there's what's going on in my little garden. Although it's struggling to get started I'm pretty excited about the few successes I've seen. And I have no doubt it'll take off once our weather stabilizes and I'm able to irrigate properly. How about your garden? What are you excited to be planting this year?
~TxH~
C'mon by & sit a spell! Come hang out at our Facebook Page. It's like sitting in a front porch rocker with a glass of cold iced tea – lots of good folks sharing! You can also follow along on Pinterest, Twitter or Instagram.
If you'd like to receive an email each time a new blog post goes live it's EASY to Subscribe to our blog!
Save
Save