by Tammy Taylor
*affiliate link
Well, well, well, what a year it's been! First our area of NE Texas was deluged with record weeks-long rain & flooding AFTER I planted my tender seedlings this spring of course and none of them made it. So when the rain broke I planted seeds directly into the garden, and of course the flooding rain came back killing them as well before they even got a start. Not to be deterred I planted yet a third time, in some cases buying young seedlings since there was no longer enough time for a plant to germinate, grow & produce before the season was up. Then came the Texas summer heat & grasshoppers! REALLY??! It's almost like Mother Nature has decided I shouldn't have a garden this year. But I'm a pretty determined gal – see how I've fought back…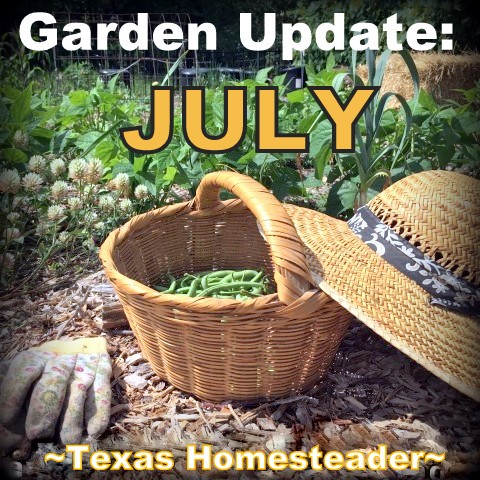 A Very Wet Spring
With the almost daily torrential rain through June and partially into July, that dang Bermuda grass has really made a run for it! I attempted to squelch weed growth early this year by incorporating the deep-mulch method of gardening. And although it worked beautifully to keep weeds from coming through it didn't stop the march of the Bermuda runners from outside the garden. Those dang runners skipped on top of the mulch throwing down roots as they went along and marched right into my raised beds.
And with the wet weather there wasn't much I could do about it until it was almost too late. Oh yeah, I've launched a vicious battle against the grass that threatened to take over my garden but it seems so overwhelming!
Grass & Weeds Take Over
Yeah folks, I'm certainly keeping it real today – this is my garden reality! The temps have really heated up now. So I'm trying to stick to evening hours in getting out there and working these beds. Each evening when the sun's rays get a little longer and the brutal heat starts to wane just a tad I'll go out there and focus on one spot at a time.
I've cleared the madness from my cucumbers, my asparagus and my one surviving zucchini. By golly I'll continue until I get the upper hand on it! RancherMan & I are contemplating changing our entire garden plan next year to sidestep the Bermuda grass issue. Perhaps we'll build beds that are about 3-ft tall. Lots of work for sure, but look at the work it will save! I'll be sure to share our decision this fall.
Plagues of Grasshoppers
Of course along with the battle of the Bermuda grass I'm also fighting a battle with grasshoppers. Last year we had a grasshopper invasion of biblical proportions. I'd NEVER seen that many hoppers at in my life! They were killing everything in the garden, shrubs, even repeatedly stripping every leaf off of my apple trees in an attempt to kill them!
This year the grasshoppers are back to regular levels, but they tend to pick a plant and attack it until it dies. Right now they're focused on my poor lone surviving spaghetti squash. Although the damage is severe, I'll keep Diatomaceous Earth sprinkled on the remaining leaves. The hoppers are not too fond of it. I'm hopeful that this plant will recover & produce, although c'mon – it's already mid summer. Does it even have enough time before frost? We'll see.
Some Veggies Growing Well
There is some good news in all this madness, my cucumbers are growing very well. I've planted them next to the garden fence and placed a trellis for them to grow up and then along the fence. Those heirloom pickler cucumbers are already producing well too! I'm currently experimenting with making different recipes of refrigerator pickles one jar at a time while it's giving me 5-6 cucumbers a week.
And when it's in full production I'll make & can some sweet pickle relish for our homemade egg-salad sandwiches. Plus I'll probably can some dill pickles as well.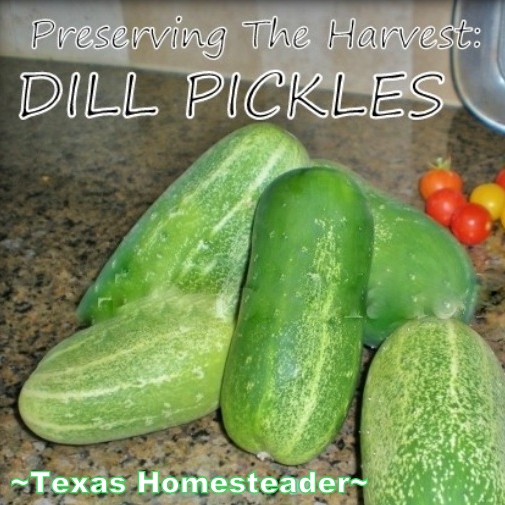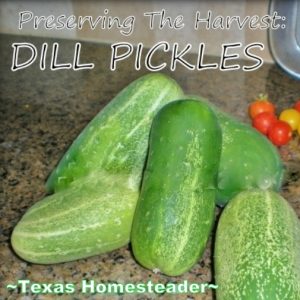 Surviving Zucchini Plant
As I mentioned above I do have one surviving zucchini plant. So far it's healthy and has not been attacked by either grasshoppers or squash bugs. (knocking vigorously on wood) Earlier this year I discovered the deliciousness of zucchini noodles. Now I'm very interested in experimenting by dehydrating those noodles in my beloved whopper 9-tray *Excalibur Dehydrator for use this winter. I know zucchini typically over produces so my fingers are crossed that this plant will thrive. Stay tuned, y'all, I'll be sure to share when I complete my noodle experiment!
Edible Landscape
Other than those bright garden spots the main success I've had this year is in my Edible Landscape – far away from Bermuda grass invasion in my actual garden. You see, each year I plant various edible things in the 'flower bed' next to our front porch. I also plant up the area around our back porch and even plant some huge water troughs.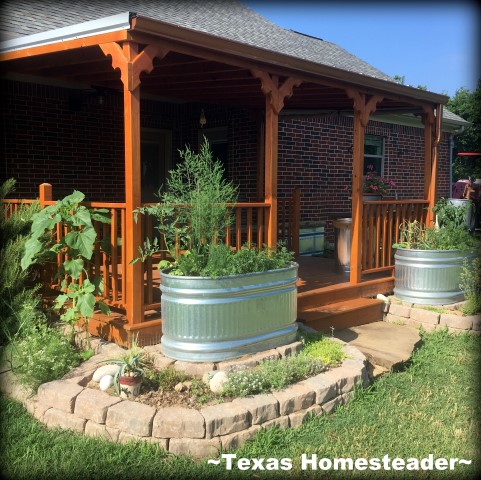 For instance this year I've once again successfully planted basil. I noticed a bloom shoot coming up and I've read that basil will continue to produce as long as you don't allow it to bloom. I'll be hacking that plant back to about 3″ from the ground. No worries, I'll be dehydrating that garden goodness and allowing the plant to produce for me all over again!
I've also been successful in this same edible landscape at planting sage, although our free-range hens almost wrecked it when it was just a seedling. I incorporated a Homestead Hack to stop their scratching & foraging and the plant has recovered enough for me to also harvest the top 1/3 of the plant and dehydrate those leaves for my kitchen. Now that's home-grown goodness, right there!
And a volunteer cantaloupe has been allowed to grow throughout this bed, becoming a living mulch to keep the soil shaded and conserve moisture. And I noticed it's now offering up its first fruits to me. What a win/win situation!
Mint Is King!
And I planted a powerhouse plant in one particularly barren section of my edible landscape beds – mint! My favorite aunt shared her plants with me & I've plopped several startlings down in this traditionally difficult area of the edible landscape hoping it'll do what mint does – grow vigorously! I've used spent straw to mulch around this area and keep the mint healthy & growing.
Although the plants took a giant step back when I ripped them up at my aunt's house & shlepped them 6 hours home, I noticed they're recovering and now a few are even trying to bloom. So they must be happy in their new home.
I must confess I've planted mint several times before and although almost anyone has mint that goes crazy and takes over, mine has always died. I'm hopeful this mint will take over this west-facing part of the edible landscape. It's hard to get anything to grow here because of the intensity of the evening sun. I even found a way to keep that mint properly contained!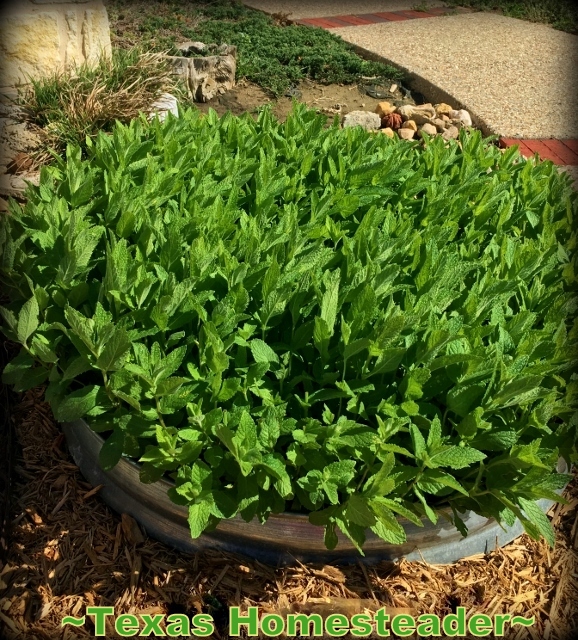 There are other successes as well. My carrots that I planted as a border to my edible landscape are growing. Although the grasshoppers have hit their tops pretty hard I should be able to at least dig up some small carrots in the next few days. And the swiss chard I planted from seed is beginning to sprout. I'm using it for a backdrop to my edible landscape. I think it'll be beautiful. (and EDIBLE!)
Survivors In The Veggie Garden
In the vegetable garden there are a few surviving green bean plants although they haven't produced very heavily, and a surviving tomato seedling that's just now getting its feet in the ground – we'll see if there's enough time for it to produce. And the peanuts that I planted (although pretty well covered with grass) appear to have at least partially survived this crazy weather. I've never planted peanuts before so I'm anxious to see how that goes!
So there ya have it – my July veggie garden tour. How's your garden doing?
~TxH~
C'mon by & sit a spell! Come hang out at our Facebook Page. It's like sitting in a front porch rocker with a glass of cold iced tea – lots of good folks sharing! You can also follow along on Pinterest, Twitter or Instagram.
If you'd like to receive an email each time a new blog post goes live it's EASY to Subscribe to our blog!
*Amazon affiliate
Save
Save
Save