by Tammy Taylor
Well this has been a strange year indeed for the NE Texas gardener. In May our area received almost daily torrential rainfall and much flooding. Of course this was AFTER I planted my tender little seedlings from my indoor greenhouse. I attempted to replant from seed directly into the garden but they drowned as well. Third time's a charm… Come see how my garden's making out these days…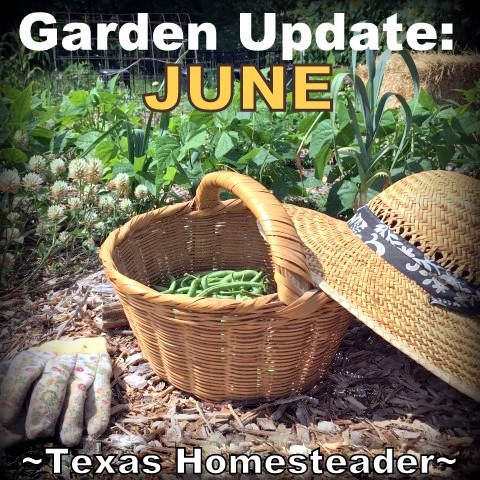 Although May was wet, wet, wet – June greeted us with hot, hot, HOT. The rain taps were turned off completely and temps soared to near-record highs causing brand new struggles in the garden.
Deep Mulching Fail?
Y'all remember this year I'm experimenting with the "deep-mulch" method of gardening to thickly lay hay mulch in not only the raised beds but also the walkways to eliminate weeds? I had RancherMan drop a full roll of winter-grass hay into my fenced garden where I then spread it out over the entire garden area – walkways and all. It's supposed to eliminate the grass & weeds that we usually have to mow in the walkways and also eliminate the hand-pulling of the grass that always reaches the raised beds causing so much work every year.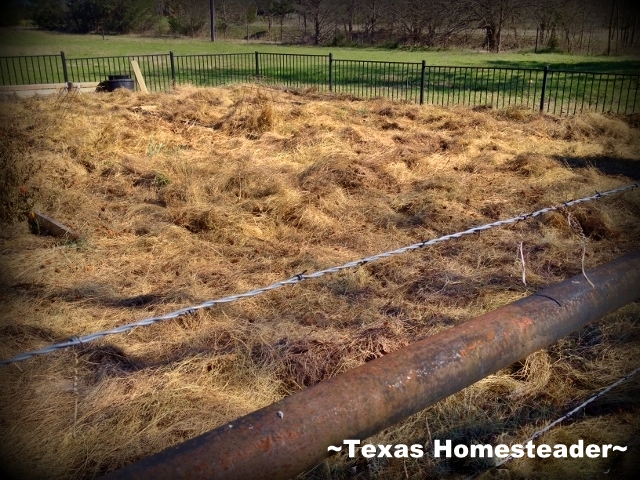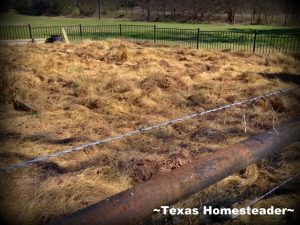 Well, it worked… Kinda. Oh the mulch did keep the weeds away but during that wet spring we suffered through the Bermuda runners grew like banshees through the fence & OVER the hay mulch and set roots into the hay as it marched inward toward and into my raised beds. (sigh…) Now RancherMan can't mow it because the ground's covered with about of foot of loose hay so it's a jungle in there that I'll have to clear by hand.
Epic fail?? Not really, I think the weird wet weather pattern both prevented me from needed maintenance before it got out of hand as well as driving the Bermuda grass to grow with significantly increased vigor. If you don't battle Bermuda grass (or if you have a way to control it) I'd say give it a try, it can save lots of back-bending work.
How about the veggie plants? Well let's see, I do have tiny cucumbers beginning to show so I'm pretty pleased about that. I'll be eating a few cucumbers fresh but I'll be focusing on making dill pickles and sweet relish with them too.
Elephant Garlic Harvest
And I was able to harvest a nice group of elephant garlic this month. After the plants were dug up I stripped away the outside membranes and the garlic is currently curing on a table on our back porch. When they're fully cured I'll wrap the stems with string & hang them in my pantry.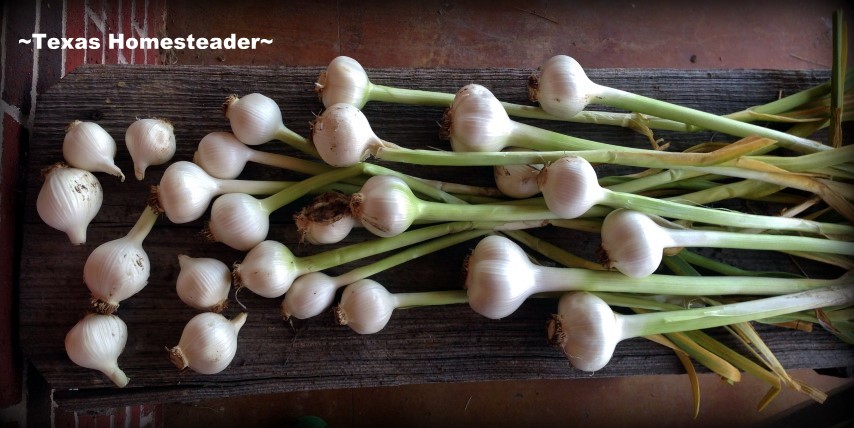 I saved the bulblets that form on the garlic cloves and I'll be reworking the row where the garlic plants were harvested. I'll plant those bulblets back into the row and mulch over them so they can grow for next year's harvest.
My concord grapes are going crazy and producing very well. Now that the wet weather is behind us I need to focus on tying up the vines so they'll continue to grow laterally along the fence. I'm excited to harvest grapes soon as some of them are just beginning to turn purple.
Irrigation
Daily garden tasks have certainly increased, I went from pulling mulch away from my plants so they could dry out to adding lots of our spent straw mulch to moderate the soil temperatures and conserve moisture. I'm using the captured rainwater from my rain barrel as well as our underground cistern to keep those tender plants watered daily.
I have many bell pepper plants growing. A few survived the month-long water deluge and I also purchased some tiny seedlings recently to replace the ones that succumbed last month. These tiny plants are no more than a couple of inches high. But my hope is that once they take off we'll have as many bell peppers as we can eat & still plenty to preserve through dehydration!
Squash
I can't believe I had a couple of spaghetti squash survive the second seed planting. The plants appear to be healthy and growing. But I was beyond dismayed to go into the garden one day and see the dreaded coppery-colored eggs on the back of the leaves, as well as some adult squash bugs.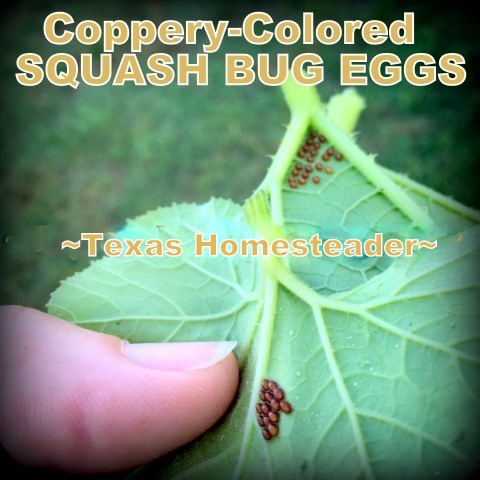 Y'all know how disastrous they can be, killing kill your plants overnight! So I sprang into action, incorporating the Homestead Hack I told y'all about a few days ago to eliminate them and I've not seen another squash bug nor any more eggs, but I'll certainly be diligent and check several times a day just to make sure.
The blackberries (dewberries?) produced well this year but now that the harvest is over I'm tying up the vines so they'll grow along the fence. I was lucky this year and harvested plenty of blackberries to make my handsome RancherMan several batches of his favorite Blackberry Cobbler and I still have plenty of frozen berries to enjoy throughout the year.
The onions are done for the year as well. Although I didn't get near the harvest I was hoping for because of the rain, I was gifted some Egyptian walking onions from a very sweet friend. I plopped them into the wet muddy soil, covered 'em with mulch & hoped for the best. So far they're doing fine and I should be blessed with a great harvest later on. For now I'll just cover them thickly with straw mulch & let them do their thing.
Tomatoes were a bust this year, both from the seedlings planted this spring as well as the seeds sewn directly into the soil. I buckled & bought some sad tiny tomato plants the same time I bought the bell pepper plants – the jury is out on whether or not they'll make it with this harsh weather shift. One's gone, two left to struggle on…
3-Sisters Garden
As I typically do, I planted a Three-Sisters Garden – corn to grow tall and provide support for pole beans, which use the corn's support to grow upward and sugar pumpkin to cover the soil to protect it from the sun, both corn & pumpkin using the nitrogen the beans provide for stronger growth. It's a very symbiotic relationship & I love it.
Unfortunately, yeah, you guessed it… I did get a couple of the corn plants to actually germinate & survive, and although I planted numerous sugar pumpkins only one of those survived. Still "kinda" like a 3-sister's garden, just a sister short… LOL
The peanuts I planted this year are still alive & kickin', although they're somewhat stunted. The wet/cool May caused the rye grass to grow tall & strong, shading out my peanuts. Now that the heat of June has arrived and the rye is dying out I'm leaving the rye grass roots and about 2″ of the stem to shade the soil the peanuts are growing in – I expect to see the peanuts take off now! But I've never grown peanuts before, does anyone know when it's time to harvest? I'm assuming the same as potatoes, after they bloom & the plant dies but any advice would be appreciated.
The row of green beans had the same problem as the peanuts with the tall rye grass shading them out, but I'm doing the same thing in this row, leaving the stubble of the dead rye grass to help the beans along. I see signs of life in that row, plus I planted another secret handful at the edge of one of my raised beds so one way or the other I'll get at least a small harvest of green beans from this planting. I'll be planting another row of green beans in the coming days too – gotta have those fresh green beans!
So there ya go, a quick stroll through my veggie garden. Yes it's been a challenge this year but I'm determined to squeak though and have at least a small amount to harvest this year. How's your garden doing?
~TxH~


C'mon by & sit a spell! Come hang out at our Facebook Page. It's like sitting in a front porch rocker with a glass of cold iced tea – lots of good folks sharing! You can also follow along on Pinterest, Twitter or Instagram.
If you'd like to receive an email each time a new blog post goes live it's EASY to Subscribe to our blog!