by Texas Homesteader ~
RancherMan & I are tackling our summertime chores during these dog-days of summer.  One of those summertime chores is to mow pastures after the cattle eaten it down & have rotated to a fresh pasture. WHEW!  It's hot out there, y'all!  We're very careful about our sun exposure since much of our tasks are done outside (You can read my Sun Protection Post Here).
But y'all know my heart has an environmental bend. And fueling our tractors has always hurt my crunchy-green heart. You see, since the fuel openings on our tractors are at the top of the hood, filling them with fuel always involved spilling fuel.  Always.  I don't blame RancherMan for this of course.  He had to first hoist a heavy 5-gallon fuel can to the top of our tractor's hood.  Then he had to tip the can trying to get the spout into the opening before fuel began to pour.  He did all he could to make sure it all went into the tractor's fuel tank but…
Then we stumbled upon a No-Spill Fuel Can!  That fuel can is probably hands-down my favorite environmentally-friendly item on our ranch.  I've heard others say they use it for their riding lawn mowers too.  So if you too hate to try to fill equipment with fuel without spilling, check out today's Throwback Thursday post, y'all!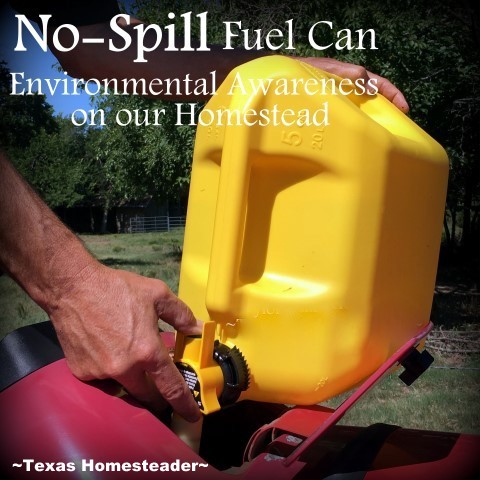 Save