By Texas Homesteader
Well it's July in Texas and it's hot, hot, HOT. I don't have too much room to complain I guess, we've had some rare breaks from the typical hot and dry summer with a few odd cool fronts that have come through as well as sporadic showers that we're blessed with every week to 10 days. Rare indeed. The pastures are greener than any other year in memory during this time of year – LOVE IT! My garden has benefited from the temperate weather as well. I'm able to harvest fresh veggies every day for our meal.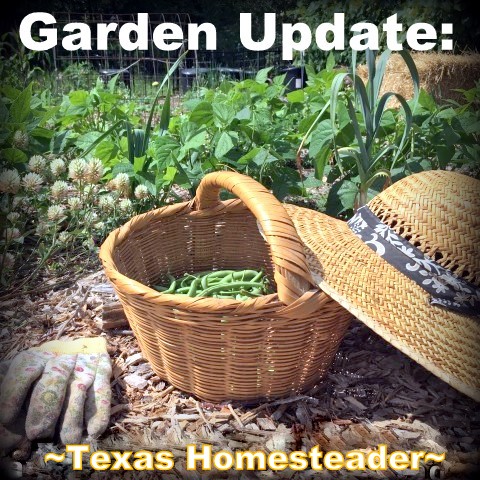 My tomato plants are loaded! I bring them in by the armloads and I've been enjoying them fresh and also freezing them for later.
Unfortunately I found the damage evidence of the dreaded tomato horn worm. As soon as I saw this damage I immediately started searching for the destructive little beast. The only thing I can figure is perhaps a bird got to him before I did, as there was no further damage after this. WHEW! Tomato horn worms can wipe out a plant in no time flat, stripping the leaves to only bare stems and they're so perfectly camouflaged that finding them is a 'Where's Waldo' type challenge!

Let's see, what else? Oh, I was so excited to harvest my very first ever Concord grapes. Oh my they're delicious!
I also got to harvest my very first apples from our miniature apple tree. This tree will only grow to about 10-ft tall so it won't overproduce with more than RancherMan and I can eat or preserve. The apples were amazing, sweet and crisp.
My jalapenos have been keeping us amply supplied, as well as our oregano, thyme and sage. I've already harvested the onion & garlic and the green beans are really winding down. I'm hoping to plant more for a fall garden in the next few weeks as green beans do amazing things during the fall.
And lastly, I have a special place in my garden where I transplant a seedling that sprouts from my compost. It's a fun game I play every year trying to figure out as early as possible what's going to grow. Some years it's tomato, some years squash. One year is was the pumpkin from our youngest daughter's wedding decorations! This year it was a cantaloupe – very exciting to me since I didn't get to plant cantaloupe this year! Oh the anticipation… It's almost ready to harvest and there are about 6 more following this one.
How is your garden growing?
~TxH~
C'mon by & sit a spell! Come hang out at our Facebook Page. It's like sitting in a front porch rocker with a glass of cold iced tea – lots of good folks sharing! You can also follow along on Pinterest, Twitter or Instagram.
If you'd like to receive an email each time a new blog post goes live it's EASY to Subscribe to our blog!