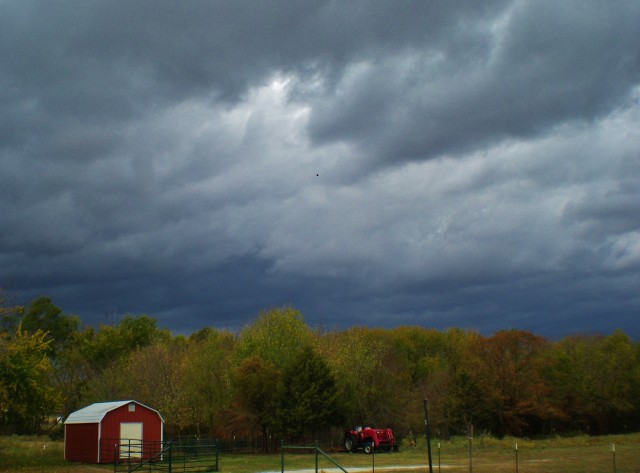 I've put in quite a bit of tractor time recently.  The weatherman is calling for a cold front to barrel through our part of NE Texas soon and I'd really like to get the hay pasture mowed before the rain hits.  The hope is that we'll receive the same blessing this winter that we did last year when we were surprised by the rye grass that sprouted in every available spot!  Our girls were calving on some of the most nutritious and lush-green winter pastures in recent memory.  (A double blessing after a year of brutal drought.)
Of course we learned the hard way many years ago to NEVER mow when the ground is wet – the ruts your tractor's tires make in the soft wet ground will be there until the end of time, except they will be in concrete-hard bone-jarring ground by summer! So I'm racing against the anticipated rainfall today.
I jumped on the tractor early this morning and have been making steady progress when I see the clouds begin to build to the north.  The breeze picks up and turns quite chilly and with each new swath that's cut around the pasture I glance at the sky and gauge how much time I think I may have left to mow.
THEN the breeze very suddenly turns into a blustery bone-chilling wind!  It's a clue to brace yourself for the cold front when you see this sight! BBBbbbrrrrr… The warm, sunny days we enjoyed this past week are giving way to cooler more seasonable weather here in NE Texas. But we're prepared and the firewood's been stacked and stands ready.