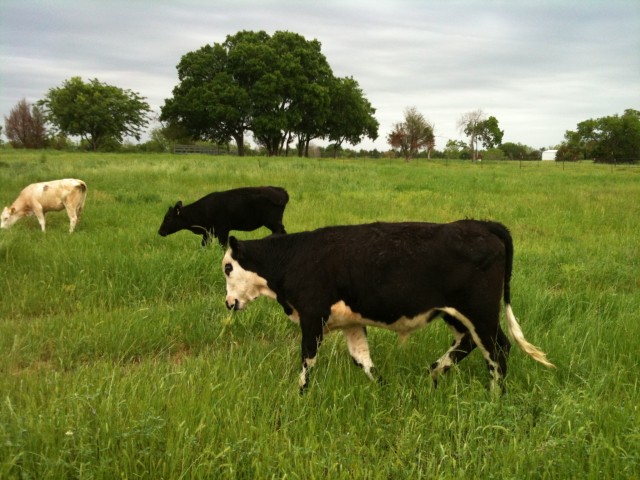 The spring grass is coming in and we want to buy stocker calves to fully utilize the excess pasture that's not being consumed by our registered Hereford herd. We went to the auction today and bought 4 new calves. After paying for our purchase we backed the truck with our goose-neck trailer to the loading area and our calves were loaded onto our trailer.
As we were pulling out and I was looking over our sales ticket I noticed they made a sizable error on the weight of one of the calves we had just bought, resulting in us paying several hundred dollars less than we should have. I brought this to my husband's attention and we immediately found a place to pull over and park as we both looked over the ticket and confirmed what we thought was an error.
Together we went back inside, waited in line and brought the error to their attention at the sales desk. They confirmed that their scales had apparently failed to reset from the calf that was sold before ours, resulting in our calf being priced out at the weight of the smaller calf that was previously sold. (apparently this happened for several calves after ours as well) We got back in the truck, navigated back through the crowded auction parking lot to the loading chute and unloaded the calf. The auction folks ran him back through the scale, had him re-weighed and reloaded him for us. We then parked the truck again, went back inside and wrote the auction a check for the difference we owed. The auction personnel were of course very appreciative for the honesty.
It was frustrating for this seemingly quick 4-calf purchase to take this much longer than anticipated, but it was well worth the extra time and the extra cost because we're still proud of the reflection in the mirror, and that's what it's all about!
~TxH~


C'mon by & sit a spell! Come hang out at our Facebook Page . It's like sitting in a front porch rocker with a glass of cold iced tea. There are lots of good folks sharing! And you can also follow along on Pinterest, Twitter or Instagram
If you'd like to receive an email when a new blog post goes live,